VISITORS







Client success stories
Updated: 2021-08-12 11:01:50
Van Kieu farmers escape poverty thanks to preferential loans
(VBSP News) In recent years, Van Kieu ethnic people in Truong Xuan commune, Quang Ninh district (Quang Binh province) have been granted preferential loans from VBSP' credit programs for poor households and ethnic minority households. Borrowing households have invested in farming and animal husbandry, including raising buffaloes and planting rubber trees, thus, gradually stabilizing their lives.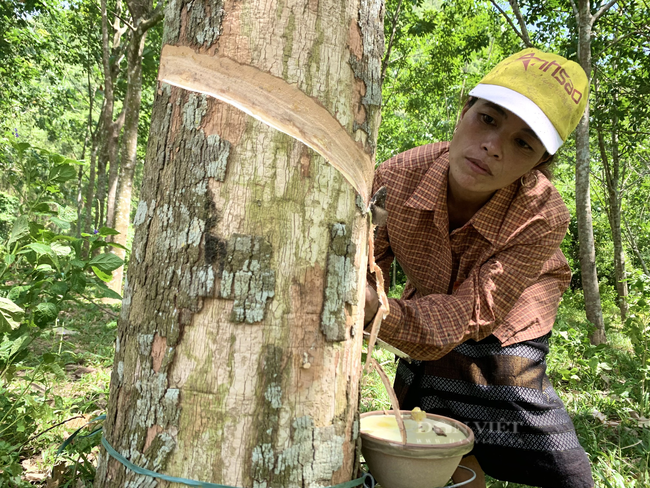 The rubber orchard of Mr. Ho Nam's family in Khe Ngang village, Truong Xuan commune, Quang Ninh district
Going to Truong Xuan commune, Quang Ninh district in the middle of August, here, the Van Kieu ethnic people live in villages close to the edge of the forest. Chairman of Truong Xuan Commune Farmers' Association Tran Dai Nghia said: "Van Kieu people no longer depend on the forest, they have determinedly borrowed capital from the state's preferential credit programs to invest in farming, raising livestock, many households have escaped poverty, had food to eat, and gradually developed their economy".
Passing through many hilly paths, we reached the house of Mr. Ho Nam, born in 1980, a Van Kieu ethnic, in Khe Ngang village, his family is a typical good business and production model of the locality. At that time, Mr. Hunan was shaving rubber in the orchard. His wife, Ms. Nguyen Thi Hoan, said: "In the past, my family was in the list of near-poor households of the commune. Livelihood at that time was only going to the forest to cut wood and hunt animal. Since 2015, knowing that I cannot rely on the forest forever to live, I discussed with my husband to switch to farming and animal husbandry. We asked the local government how to borrow money to create a livelihood. After that, my family had access to preferential loans from the credit program for near-poor households of VBSP Quang Ninh district and got a loan of VND 30 million. With capital in hand, we bought rubber trees to plant on an area of ​​12 hectares of the family's hill orchard and bought two heifers to raise.
After many years of cultivation and husbandry, now 12 hectares of rubber trees of Mr. Nam's family have given latex, every day, the couple goes to the garden to scrape rubber latex to sell. Besides, from the original 2 heifers to date, his family has 11 cows and raised 25 pigs. Every year, Mr. Nam's family earns more than VND 200 million from selling rubber latex, cows, and pigs. Especially, last year, his family was awarded the Certificate of Merit by the People's Committee of Quang Binh province for good production and business.
Being a Van Kieu ethnic like Mr. Ho Nam, Mr. Ho Minh from Lam Ninh village, Truong Xuan commune said: "I finished grade 9 and went to Saigon to work as a worker. I had no savings. In 2010, I packed my bags and returned to my hometown to start a business. My family is from Van Kieu ethnic group. Life was very difficult. When I came back from Saigon to tell my parents at home to start a business, my father gave me VND 400,000. That is a small amount of money which my parents have saved for many years. After that, I built a temporary living tent and planted acacia trees on my parents' 10ha land."
Later, with help from Truong Xuan commune authorities, he borrowed VND 50 million from the preferential loan of VBSP Quang Ninh district. With money in hand, he bought 10 cows and raised them in the forest. A few years later, Mr. Minh's cow herd gave birth and he sold 5 calves. He used money to dig a 60m2-wide pond and release 1,000 carp, catfish, and tilapia. After that, he continued to sell calves and bought 15 goats to raise in the garden.
Mr. Ho Minh said, 10 hectares of acacia trees he planted in 2010 have been sold twice so far, earning nearly VND 500 million/10 ha each time. Besides, he raised 20 buffaloes in the forest, every year he sold 3 for a profit of more than VND 100 billion. As for the goats, annual income from goat sales is VND 30 million. Minh also plans to sell 1,000 fish of all kinds in the near future. Currently, his family income reaches VND 200 million VND per year. He built a spacious house and a grocery store for his wife to do business. People in the village who want to raise buffaloes, goats and fish are guided by Mr. Minh.
Over the past years, the Farmers' Associations of Quang Binh province at all levels have actively and proactively coordinated with VBSP to support farmer members to borrow preferential loans from the Government to invest in farming, animal husbandry, and rural service industry development. The preferential capital from VBSP's credit programs not only helps farmers in Quang Binh province reduce poverty and gradually become richer, but also helps Farmers' Union staff work more closely with agriculture, farmers and rural areas. Cooperation with VBSP in providing credit also helps the Farmers' Union to attract more members and improve the quality of emulation movements.
Tran Anh
LENDING INTEREST RATE
Poor Households

Lending to poor households
6,6%/year
Lending to poor households in 64 poor districts as stipulated by the Government Resolution No.30a in 2008
3,3%/year

Near Poor Households

Lending to near poor households
7,92%/year

Students

Lending to disadvantaged students
6,6%/year

People in need of loans for job creation

Lending to business establishments owned by war invalids and handicapped persons
3,3%/year
Others...
DEPOSIT INTEREST RATE
Term
Deposit Rate
Overnight
3,04%/year
1 week
3,23%/year
2 week
3,5%/year
Others...