VISITORS







Client success stories
Updated: 2021-06-09 14:57:24
Policy capital helps veterans get rich
(VBSP News) Understanding conditions and needs of its members, the Cao Bang Veterans Association has implemented many solutions to effectively manage entrusted loans from VBSP. The Association has timely supported many members who are poor households, near-poor households and other policy beneficiaries to have capital for investment in production and business development to get rich.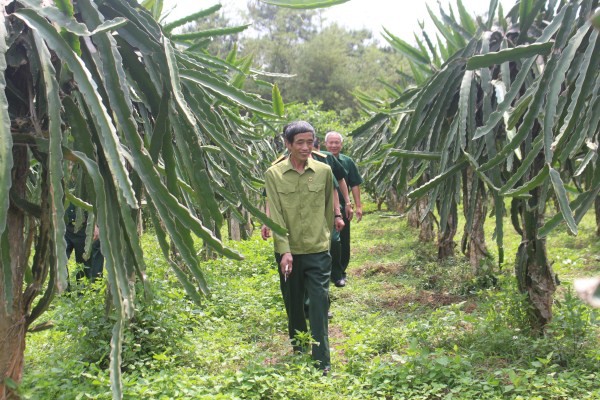 Policy credit has become a lever to help veterans in Cao Bang province overcome difficulties and get out of poverty
The Veterans Association of Hoa An district is one of the units that effectively cooperate with the district VBSP in managing entrusted loans. Currently, the Association is managing 53 Savings and Credit groups with outstanding loans of over VND 62 billion and over active 1,200 borrowers. Vice Chairman of the Veterans Association of Hoa An District - Nong Dinh Bui said: "The Association regularly strengthens, consolidates and improves operation quality of Savings and Credit groups as well as actively propagate and publicize guidelines and policies related to preferential credit, create favorable conditions for beneficiaries, including members, to access capital and use loans for the right purposes, thus, step by step improving the quality of life".
Mr. Hoang Van Tu from An Lai hamlet, Nguyen Hue commune is a typical member in economic development. At first, he chose the model of raising buffaloes and fattening cows. In 2012, he borrowed VND 10 million from VBSP Hoa An district to invest in buying galangal seeds. Realizing that vermicelli is a strong product of the locality, but people only produce it in a small and fragmented way, in 2013, he mobilized people to expand the area for growing galangal, and established An Lai Vermicelli Cooperative. .
With accumulated capital and loans from VBSP, he invested in building a factory with an area of ​​nearly 1,000m², buying machinery and equipment to serve the vermicelli production line. Every year, the cooperative provides the farmers seeds, guidance on care process, and fertilizes. During the harvest season, the cooperative collects galangal tubers and grinds them into powder, providing raw materials for cooperative members and households in the village to produce vermicelli.
After selling the product, farmers have to pay for the original seed. Up to now, the cooperative has 15 members, each year sells about 60 tons of vermicelli to the market, after deducting expenses, it earns over VND 200 million per year. In addition, Mr. Tu is also the leader of the Savings and Credit group of the Veterans Association of An Lai hamlet with 27 members, outstanding loans of over VND 1 billion.
The Veterans Association of Cao Bang province regularly direct and guide units to strengthen coordination with VBSP, Party committees, local authorities, entrusted mass organizations to improve the quality of policy credit.
Supervision of capital use and debt repayment are under good care. The Associations at all levels promote replication of good models and kinds of production suitable to each locality for members to apply such as: afforestation, fruit trees, livestock and poultry raising, service business... Up to now, the total outstanding policy loan through the Veterans' Association channel in the province has reached VND 482.3 billion, with 409 Savings and Credit group and 9,872 borrowing households.
Chairman of the Provincial Veterans Association Nguyen Thang said: "In the coming time, the Association will continue to work closely with VBSP; proactively advise the Party committees and local authorities to pay attention to supplementing capital sources for members. Regularly coordinate to supervise activities of associations, Savings and Credit groups at all levels, urge due debts, overdue debts, interests, and prepare records of debts at risk due to objective causes; coordinate with VBSP to review and re-evaluate all contents and stages of entrustment to have solutions to consolidate and improve the quality of entrustment activities in the following years".
Phuong Anh
LENDING INTEREST RATE
Poor Households

Lending to poor households
6,6%/year
Lending to poor households in 64 poor districts as stipulated by the Government Resolution No.30a in 2008
3,3%/year

Near Poor Households

Lending to near poor households
7,92%/year

Students

Lending to disadvantaged students
6,6%/year

People in need of loans for job creation

Lending to business establishments owned by war invalids and handicapped persons
3,3%/year
Others...
DEPOSIT INTEREST RATE
Term
Deposit Rate
Overnight
3,04%/year
1 week
3,23%/year
2 week
3,5%/year
Others...