VISITORS







News & Events
Updated: 2022-01-18 15:32:46
Women enjoy business success despite challenges of the COVID-19 pandemic
(VBSP News) Running a small business during the COVID-19 pandemic is a challenge for many people but it has provided a stable income for some women in the Mekong Delta city of Can Tho's Ninh Kieu District.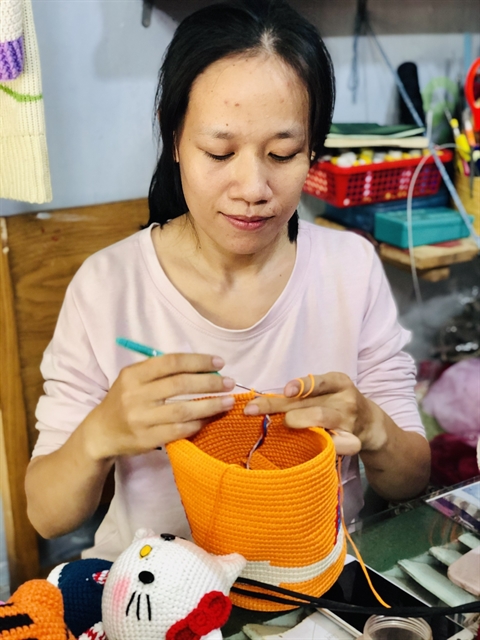 Le Thanh Ai Nhi, 32, makes a wool product at her shop in Thoi Binh Ward in the Mekong Delta City of Can Tho's Ninh Kieu District
Le Thanh Ai Nhi, 32, owner of a handmade wool shop named "Len Thỏ" in Thoi Binh Ward, has focused on selling her products via e-commerce channels instead of at her shop to adapt to the pandemic. Nhi says wool products do not get damaged when they are shipped, so it is very convenient for online ordering and delivery.
Nhi and her husband, who supports her to create wool products, constantly improve their skills to create unique items such as bags, thermos carriers, dolls, ao dai and shoes. Among them, Nhi's thermal wool bag has become one of the most popular products among domestic and foreign customers, she said. Many people have also ordered wool dolls of Vietnamese police officers and Cairojess' characters, especially as a wedding gift, she said.
Thanks to the popularity of the products, the revenue of the shop has not been significantly affected by the pandemic, Nhi says. She has a stable income and created jobs for five local women with an income of VND 5-8 million ($219-351) per month each, Nhi says.
Nhi says in the early days of starting a business in 2015, difficulties piled up. On the one hand, she only knew how to make simple products, mainly children's clothes, hats and shoes; on the other hand, no one knew Nhi in the handmade-product world. Nhi also faced a lack of capital to run her business. Thus, in 2018, she joined the "Women start a business" Club of the Women's Union of the ward. She borrowed VND 20 million ($876) from VBSP through the introduction of the club to invest more in her business.
Additionally, Nhi improves her skills every day to create unique products and always puts the quality of the product first, she says. Nguyen Hoai Hương, Vice President of the union, says that in addition to helping Nhi borrow capital from VBSP to develop her products, the union also brought Nhi's products to fairs of high-quality Vietnamese goods and handicraft exhibitions across the country. After the introduction at the fairs and exhibitions, the union saw the love of the customers for the handicraft items produced by Nhi's shop, contributing to Nhi's success, she says. "Nhi is believed to be one of the examples of women starting up a successful business," she says.
vietnamnews.vn
LENDING INTEREST RATE
Poor Households

Lending to poor households
6,6%/year
Lending to poor households in 64 poor districts as stipulated by the Government Resolution No.30a in 2008
3,3%/year

Near Poor Households

Lending to near poor households
7,92%/year

Students

Lending to disadvantaged students
6,6%/year

People in need of loans for job creation

Lending to business establishments owned by war invalids and handicapped persons
3,3%/year
Others...
DEPOSIT INTEREST RATE
Term
Deposit Rate
Overnight
3,04%/year
1 week
3,23%/year
2 week
3,5%/year
Others...