VISITORS







News & Events
Updated: 2021-12-31 16:37:47
Creating work opportunities for repatriated workers
(VBSP News) Surveys in Con Cuong district and Tuong Duong (Nghe An) show that most repatriating people are minor ethnic groups, who didn't take any vocational training. They work based mostly on their own experiences. Hence, it is considered that their conditions are both disadvantageous and beneficial. The local government encourages repatriating people to change careers, to create job opportunities for them.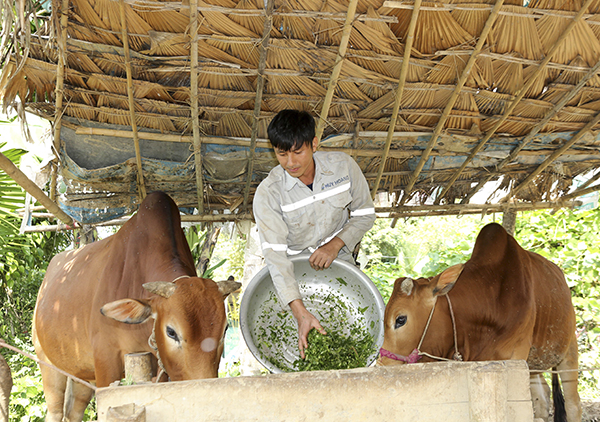 After settling down in his hometown, Mr. Luong Van Vinh, a resident in Tam Lien village, Tam Quang commune, Tuong Duong district was lent VND 50 million by VBSP to start his career.
Taking advantage of the local area
Lots of minor ethnic groups live in Con Cuong district, a mountainous, poor area. Due to the pandemic, the living conditions of people in Con Cuong become more and more difficult. The number of repatriating people who lost their jobs is predicted to increase in the near future. Hence, creating job opportunities is a prior mission of Con Cuong's local government.
The Chairman of the People's Committee of Con Cuong district, Mr. Nguyen Sy Kien shared that the government had researched and surveyed the work demand of repatriating people to provide the most suitable solution. Skilled laborers will be introduced to work in local manufactures, while the rest will start their own business by borrowing VBSP loans, such as farming, planting, etc.
For example, a poor village of Dan Lai people in Mon Son commune has lots of repatriating people. They are supported and encouraged by the local government to participate in developing traditional occupations such as brocade weaving, community-based tourism, forestation, and opening farm, etc. The Chairman of the People's Committee, Ms. Luong Van Hoa shared that the local government was making effort to find labor export markets, in order to increase their income, as well as contribute to the economic development.
The local government of the mountainous area - Tuong Duong district is also taking measures to support repatriated workers. Not only supporting them to find suitable jobs, but the government also organizes job counseling for workers. There are 2.000 join the job shop, 200 of them registered to work immediately.
The Party Committee Secretary of Tuong Duong district, Mr. Nguyen Van Hai shares that the priority task was finding jobs for repatriated workers. Therefore, several development strategies have been adjusted. Instead of focusing on developing trade, reducing the proportion of agriculture, the government will concentrate on farming and agriculture.
The importance of policy credit capital
Mr. Vi Van Thanh and his family live in Khe Ngau village, Xa Luong commune, Tuong Duong district. They came back to their hometown during the strongest outbreak of the Covid 19. Thanh and his wife use their saving money and borrow VBSP VND 50 million from the program of supporting employees directly affected by the Covid-19 to invest in farming and raising cows, rabbits. Until now, he has stabled his life and his average income reaches up to 5-6 million per month.
VBSP cadres in Con Cuong district also delivered the government funds to Dan Lai people in Mon Son. Due to that, job opportunities are created for Dan Lai people. Mr. Vi Van Binh, a resident in Xieng village, Mon Son commune shared that, thanks to VBSP, he is able to raise buffaloes, chickens, ducks to make ends meet. He will seek another job to increase the family's income after the pandemic ends. The farm will be taken care of by his wife.
The case of Mr. Le Van Co - Dan Lai people is another example. He borrows VND 50 million from VBSP, invests in gardening, raising cows to stable his life. His plan is to stay in his hometown, concentrate on gardening and farming to contribute to the economic development of Tan Son village.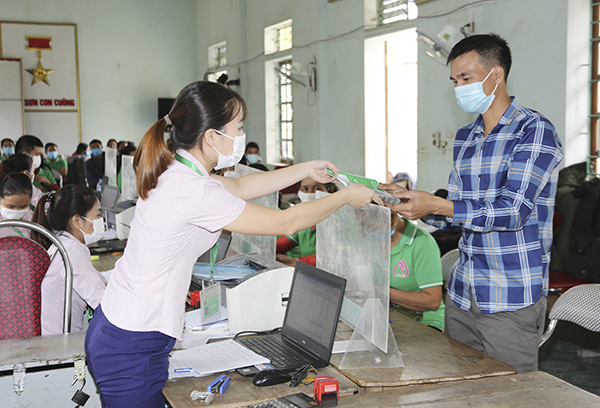 Le Van Co is happy when received the loans of VBSP in Mon Son commune
The Director of the VSPB branch in Con Cuong district, Mr. Nguyen Viet Nam informed that as soon as the local government received the information about the repatriated workers, VBSP had planned to review and grasp the demand, hence coordinating with other organizations to deliver the loans on time. By the end of October 2021, the total debt of the VBSP branch in Con Cuong district reached VND 472 billion with over 2.6 million households having outstanding loans and no overdue debts.
As can be seen, the policy credit is always a companion to the people and the government. Besides, the policy credit is considered as an integral part in terms of creating jobs and reducing sustainable poverty.
According to Nghe An Department of Labour, War Invalids and Social Affairs, there are about 100.000 repatriated workers returning from the South, 75.000 of them are of working age. Until now, 66.000 people are connected for jobs in the province.
The Vice Director of the VSPB branch in Nghe An, Mr. Nguyen Van Vinh said that the branch had disbursed the money on time to the right customers besides preparing for the need of repatriated workers. In particular, to minor ethnic repatriated workers, VBSP always spends their time and efforts to support people as much as possible.
Vbsp.org.vn
LENDING INTEREST RATE
Poor Households

Lending to poor households
6,6%/year
Lending to poor households in 64 poor districts as stipulated by the Government Resolution No.30a in 2008
3,3%/year

Near Poor Households

Lending to near poor households
7,92%/year

Students

Lending to disadvantaged students
6,6%/year

People in need of loans for job creation

Lending to business establishments owned by war invalids and handicapped persons
3,3%/year
Others...
DEPOSIT INTEREST RATE
Term
Deposit Rate
Overnight
3,04%/year
1 week
3,23%/year
2 week
3,5%/year
Others...