VISITORS







News & Events
Updated: 2022-01-10 14:29:47
Escaping poverty thanks to the policy credit
(VBSP News) Due to a lack of funds for economic development, many households in Yen Thuy district (Hoa Binh province) have struggled in poverty and hunger. Since accessing preferential loans from VBSP, many households have escaped poverty and gradually become rich.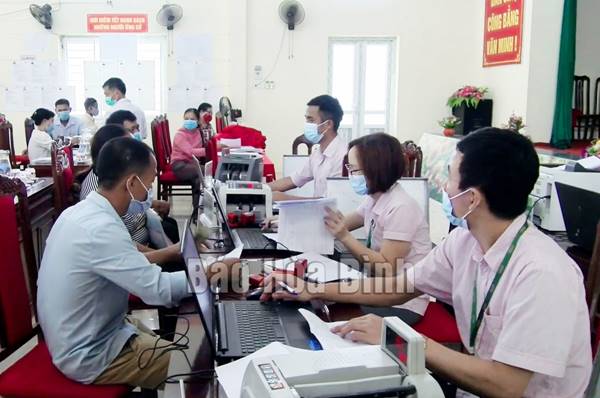 In 2021, over 2.3 thousand turns of customers in Yen Thuy district have received policy loans
The living conditions of Bui Thi Yen's family in Trung Hoa hamlet, Phu Lai commune used to be very difficult, which their income mainly depended on a few acres of fields. Her husband is often sick. Hence, her family has become even more difficult. In order to improve living standards and stable income, Yen is always looking for new opportunities to develop business. Through the Commune Farmers' Union, she had access to a preferential loan from the VBSP, with the amount of VND 50 million, to invest in raising reproductive cows. Until now, the cow has produced 3 cows. Yen has used the income from selling cows to pay interest and principal for VBSP. In addition, she also raises 2 sows more, bringing in an income of about VND 50 million/ year. Due to her diligence, hard work and eagerness to learn, Yen's family's economy has grown, with a total income of nearly VND 150 million/year.
Also used to be a poor household, in recent years, thanks to policy credit, Bui Thi Huyen's family in Minh Thanh hamlet, Yen Tri commune has reduced poverty sustainably. Four years ago, Huyen's family got a loan of VND 50 million from the VBSP's loan program for poor households to buy breeding cows. Besides, she also used the garden land to grow grass as food for cows. After a year, her family has 2 more calves. Along with livestock, the family grows pomelos and perennials. She shared that due to the policy loans, her family life was increasingly stabling and escaping poverty.
Otherwise, in Yen Thuy district, thousands of households have escaped poverty sustainably thanks to the policy loans. Over these 2 years, the COVID-19 epidemic has complicatedly affected all society. Therefore, the timely transmission has contributed to ensuring social security in the district. So far, the total outstanding loans have reached VND 308.6 billion, an increase of over VND 21 billion (7.48%) compared to 2020. Accordingly, over 2.3 thousand customers have been granted loans this year and more than 7.6 thousand active customers.
Furthermore, nearly 200 workers have been created jobs and over 1,300 clean water and sanitation works have been built. The transaction office simultaneously continued to implement many solutions to improve credit quality. By the end of November, there are 11 of 11 communes with good credit quality. Currently, the whole district has 186 Savings and credit groups, of which 158 are rated Excellent. As can be seen, policy credit has continued to be a lever for poor households and other policy beneficiaries in the journey of escaping poverty, contributing to accelerating the implementation of the National Target Program on new rural development in the district.
Vbsp.org.vn
LENDING INTEREST RATE
Poor Households

Lending to poor households
6,6%/year
Lending to poor households in 64 poor districts as stipulated by the Government Resolution No.30a in 2008
3,3%/year

Near Poor Households

Lending to near poor households
7,92%/year

Students

Lending to disadvantaged students
6,6%/year

People in need of loans for job creation

Lending to business establishments owned by war invalids and handicapped persons
3,3%/year
Others...
DEPOSIT INTEREST RATE
Term
Deposit Rate
Overnight
3,04%/year
1 week
3,23%/year
2 week
3,5%/year
Others...