VISITORS







Client success stories
Updated: 2021-11-24 10:25:11
Increasing income from planting Marigold
(VBSP News) Trinh Thi Soc Sa Ra, a resident in Cau Tre village, Long Thoi commune, Tieu Can district (Tra Vinh), is considered a hard-working and positive woman. Due to her dedication to plant marigolds on special occasions such as Tet, Sa Ra is not only busy at that time but also increases her income.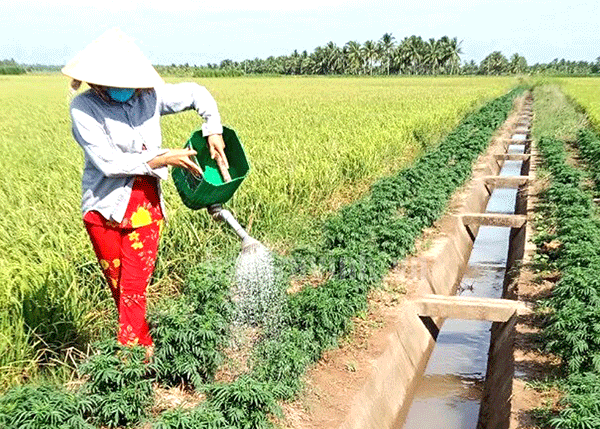 Trinh Thi Soc Sa Ra is planting Marigold
As one of the most popular flowers, marigold is specially chosen for Tet. Knowing that there is an increasing demand for these flowers, Sa Ra has first planted marigolds for her family and developed a business model for over 3 years.
Sa Ra was raised in a farm family. Hence, she is used to farming activities. However, Sa Ra has been planting marigolds for three years. Besides the full moon and end of the lunar month, Marigolds were planted in Khmer's special occasions such as Chol Chnam Thmay, Sene Bay, Ok-Om-Bok festival.
Using her 1.000 m2 area, Sa Ra plants 6.000 France Marigolds in Tet holiday and other occasions. Sa Ra shared that it took 70 to 80 days to grow a plant.
According to Sa Ra, farmers should put lots of time and effort into planting marigolds to have a bountiful harvest. The soil used for planting should be combined with organic fertilizers such as manure, rice husk or rotted and well-composted straw manure. Marigold should be planted in the nursery for 10 days before being transferred to pots or gardens. In order to grow a full-bloom flower, marigolds should be pruned after 30 days.
She also shared that although it costs little money to invest in marigolds, farmers should take time and take care of marigold every day. Each plant is sold with the price of VND 5.000 to VND 7.000. VND 22.000 - VND 25.000 is the cost of a potted marigold. Planting marigold increases Sa Ra's income to VND 10 million in Tet holiday.
In 2021, the VBSP branch in Tieu Can district supported Sa Ra with a loan of VND 50 million to expand her garden and develop her business.
Sa Ra uses VND 3-5 million from the loan to plant 2.000 marigold pots and 5.000 chrysanthemums to sell in Tet 2022. Selling marigold with an average price of VND 25.000, Sa Ra makes VND 10 million profit. She had a stable outcome when selling marigolds to traders and Long Thoi Service Cooperative.
She plans the accurate time to plant a full-bloom marigold. Sa Ra is planting 500 marigolds to sell in the Ok-Om-Bok festival, which is held on the full moon of October. These marigolds have been ordered by traders.
Ms. Thach Thi Chanh Oanh Na, the Vice President of Women's Union in Long Thoi commune considered that growing marigolds made a stable income for Sa Ra.
Vbsp.org.vn
LENDING INTEREST RATE
Poor Households

Lending to poor households
6,6%/year
Lending to poor households in 64 poor districts as stipulated by the Government Resolution No.30a in 2008
3,3%/year

Near Poor Households

Lending to near poor households
7,92%/year

Students

Lending to disadvantaged students
6,6%/year

People in need of loans for job creation

Lending to business establishments owned by war invalids and handicapped persons
3,3%/year
Others...
DEPOSIT INTEREST RATE
Term
Deposit Rate
Overnight
3,04%/year
1 week
3,23%/year
2 week
3,5%/year
Others...