VISITORS







Client success stories
Updated: 2021-10-22 09:04:59
A supportive leader in Ta Can Ho
(VBSP News) Hoang Seo Senh is a resident in Ta Can Ho village, Quan Ho Than commune, Si Ma Cai (Lao Cai). He has been playing the role of the leader of the Saving and Credit Group for 6 years and gaining the support of local people. Despite the VND 1 million allowances only, Mr. Senh is always dedicated to his work, supports people to approach the loan capital, guides them to use the loan effectively.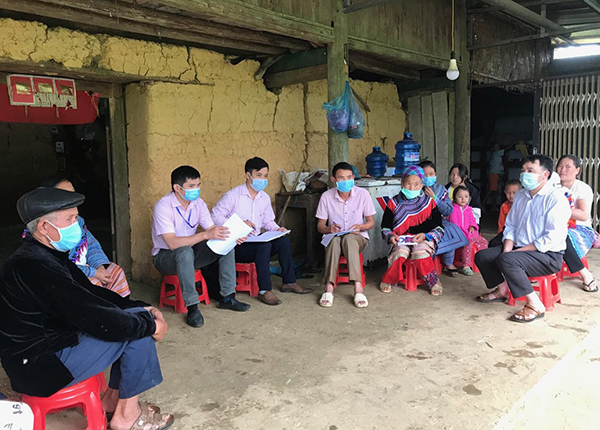 Senh (on the top right) introduces the policy credit to local people
As a young Party member, Hoang Seo Senh is a pioneer, an enthusiastic participant in joining the patriotic emulation, who always does his best in his work, helping others.
The Saving and Credit Group managed by Senh has 34 members, with a total policy credit balance of VND 1,562 billion. There isn't any overdue debt or accrued interest. The savings reach up to VND 25 million. Under the strict management of Senh, local people are able to use the loans on the right objective, besides paying debt on time.
In order to do his tasks effectively, Senh always joins briefings and training sessions, besides doing his research. He also actively participates in developing his family's economy. He is also dedicated to helping people in the village, instructing farming techniques. Thanks to that, many households have been supported to borrow capital to escape poverty, and many workers have stable jobs.
Hoang Seo Trang, another resident in Ta Can Ho village, Quan Ho Than commune, shared that Senh was a dedicated, responsible leader. He advises Trang to use the capital for the right purpose. Senh also instructs people to farm. He always reminds people to pay the debt on time, which strictly follows the rules.
Senh always follows up with members to remind them to use the capital for the right purpose. He also listens to his members sharing their difficulties. Hence, he collaborated with Vietnam Farmers' Union, VBSP and his members to tackle their problems. Thanks to the strict supervision of the loans, his Saving and Credit group works effectively. Senh's enthusiasm and dedication have helped many people to access preferential loans.
Senh always performs his assigned tasks well. With the determination to help people escape from poverty, Senh became the leader of the Saving and Credit group, representing his area and was highly appreciated by the VBSP in Si Ma Cai district.
The typical example like Senh has supported the VBSP to convey the preferential loans, as well as supported local people to invest and use the loans effectively. Senh has contributed to improving the quality of policy credit sources, effectively implementing the goals of poverty reduction, job creation, and social security in the poor border district in the mountainous Si Ma Cai.
Vbsp.org.vn
LENDING INTEREST RATE
Poor Households

Lending to poor households
6,6%/year
Lending to poor households in 64 poor districts as stipulated by the Government Resolution No.30a in 2008
3,3%/year

Near Poor Households

Lending to near poor households
7,92%/year

Students

Lending to disadvantaged students
6,6%/year

People in need of loans for job creation

Lending to business establishments owned by war invalids and handicapped persons
3,3%/year
Others...
DEPOSIT INTEREST RATE
Term
Deposit Rate
Overnight
3,04%/year
1 week
3,23%/year
2 week
3,5%/year
Others...