VISITORS







Client success stories
Updated: 2021-08-23 15:42:23
Overcome challenges due to preferential loans
(VBSP News) Ms. Nguyen Thi Duyen, a resident in hamlet 4, Son Thanh village, Yen Thanh district (Nghe An) has created a stable and happy life. Although her family has three people who have sequelae of Agent Orange, Duyen is satisfied with her life so far.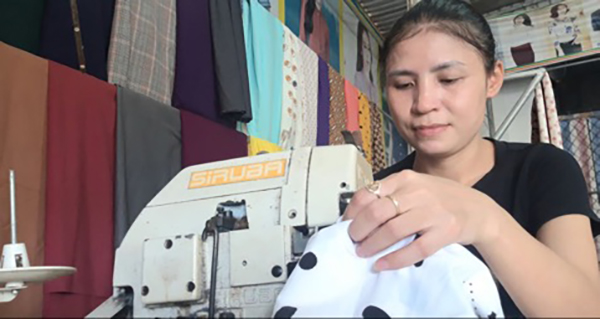 Nguyen Thi Duyen is making products for customers
Ms. Duyen is the second child in a poor, veteran family. Her father is Mr. Nguyen Quang Vinh, a wounded soldier who was poisoned by Agent Orange. Her mother is a farmer, Mrs. Vu Thi Bon. Mr. Vinh and Mrs. Bon married in 1973 and has three children. Unfortunately, their children were strongly affected by Agent Orange. All of his sons and daughters are deaf.
Her life was significantly changed in 2019, thanks to the policy credit program from the VBSP branch in the Yen Thanh district. Duyen learned sewing and became a tailor. Due to her talent, Duyen learned quickly, and her products always satisfied customers.
In June 2019, Duyen was admitted to the Savings and Credit group in hamlet 4, Son Thanh village and was considered to lend VND 20 million by VBSP to buy sewing machines. After 6 months, Duyen was able to pay the loan. In the first half of 2020, Duyen continued to lend VND 50 million from policy credit programs for near-poor-household. Duyen bought more machines, upgraded her store and opened vocational classes. Thanks to her intelligence, resourcefulness and creativity, Duyen helps people around her and makes lots of friends.
Duyen is proud of being a "teacher". She is grateful for being able to make her living, thanks to the loans from VBSP. In 2020, Duyen married the love of her life. She is happier when her son was born. His father, Mr. Vinh, is cheerful for his daughter.
In June 2021, Duyen paid all the loans with the total money of VND 50 million and escaped poverty sustainably. Not only her tailor store but also her class has developed significantly. Receiving support from veterans, Duyen lent VND 100 million from VBSP to expand her business. The VBSP branch in the province disbursed for her to invest money in sewing machines.
We were surprised because of Duyen's confidence, creativity and spirit. Duyen makes herself from a poor household to a stable business, all starting from the loans of VBSP.
Currently, Duyen teaches for six local people and makes a stable income of VND 80 million per year from her store. However, this year's income only reached VND 50 million due to the impact of the Covid-19 pandemic. However, she still feels grateful for her life, as well as the support from VBSP.
Vbsp.org.vn
LENDING INTEREST RATE
Poor Households

Lending to poor households
6,6%/year
Lending to poor households in 64 poor districts as stipulated by the Government Resolution No.30a in 2008
3,3%/year

Near Poor Households

Lending to near poor households
7,92%/year

Students

Lending to disadvantaged students
6,6%/year

People in need of loans for job creation

Lending to business establishments owned by war invalids and handicapped persons
3,3%/year
Others...
DEPOSIT INTEREST RATE
Term
Deposit Rate
Overnight
3,04%/year
1 week
3,23%/year
2 week
3,5%/year
Others...