VISITORS







Client success stories
Updated: 2021-07-02 10:57:48
Startup a business with mushroom cultivation
With the background as a teacher, Doan Van Dung has used the loan of VND 50 million from VBSP to start up. Until now, his mushroom farm has become a reliable address to provide oyster mushrooms, wood ear mushrooms for restaurants, eateries and consumers in many places.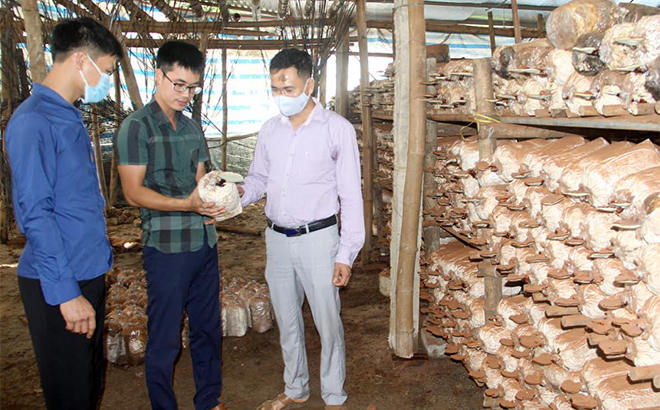 Doan Van Dung was born in 1988, which is a member of the Farmers' Association in Thanh Nien village, Minh Bao commune, Yen Bai city. From a teacher at Minh Khai Secondary School, in 2016, he resigned and focused on developing the family economy.
In 2018, after struggling to earn a living, realize that mushroom cultivation is simple and easy to implement with low investment costs and available local raw materials, Dung boldly invested and borrowed from the VBSP branch in Yen Bai city VND 50 million to start a business.
Initially, he ordered Ganoderma varieties from the Agricultural Genetics Institute, the Center for Research and Development of Mushrooms in Hanoi. Actively learning more from books, television, on the Internet and participating in training courses on knowledge and techniques, he has invested in growing oyster mushrooms and wood ear mushrooms. Continuously, he had built a closed mushroom production process and found many stable customers.
Up to now, his mushroom farm has become a reliable address to supply all kinds of oyster mushrooms, wood ear mushrooms to restaurants, eateries and consumers in many places. Particularly, Ganoderma lucidum is only enough to supply pharmaceutical companies and familiar customers in Yen Bai. It is known that for each crop, Dung's family grows 10,000 bags of oyster mushrooms, 5,000 bags of wood ear mushrooms and 1.5 thousand bags of reishi mushrooms. Therefore, he harvested nearly one ton of oyster mushrooms, three quintals of dried wood ear mushrooms and three quintals of reishi mushrooms. The price is 25-30 thousand VND/kg, 120 thousand VND/kg and 500-900 thousand VND/kg, respectively.
As a determination and real soldering-gun type guy, Dung has risen to get rich in his homeland, creating seasonal jobs for some local workers. Currently, the Commune Farmers' Association is helping him with the procedures to get a food safety certificate for Ganoderma products and branding for the product at the same time.
Vu Dong
LENDING INTEREST RATE
Poor Households

Lending to poor households
6,6%/year
Lending to poor households in 64 poor districts as stipulated by the Government Resolution No.30a in 2008
3,3%/year

Near Poor Households

Lending to near poor households
7,92%/year

Students

Lending to disadvantaged students
6,6%/year

People in need of loans for job creation

Lending to business establishments owned by war invalids and handicapped persons
3,3%/year
Others...
DEPOSIT INTEREST RATE
Term
Deposit Rate
Overnight
3,04%/year
1 week
3,23%/year
2 week
3,5%/year
Others...