VISITORS







Client success stories
Updated: 2022-03-29 14:24:33
Helping borrowers effectively use policy capita
(VBSP News) Every month, Mr. Pham Van Khanh - Leader of the Savings and Credit Group in Tin Nghia Hamlet, Xuan Thien Commune, Thong Nhat District (Dong Nai) receives about VND 1 million. However, this is not what has kept the nearly 70-year-old man attached to the role for the past 14 years.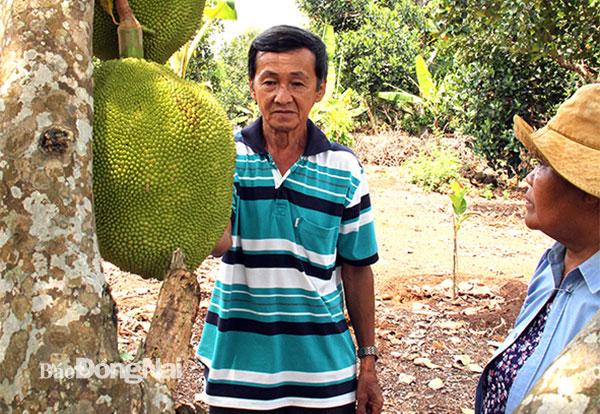 Mr. Pham Van Khanh discussed his experience in plant care with an ethnic minority household borrowing from VBSP
Previously, Mr. Khanh's family was a poor household. Through VBSP officers, his family has access to preferential loans from the State. Thanks to that, his family has capital to invest in livestock and farming. With the efforts of each member, his family gradually built a stable life.
"By joining policy credit activities, my family and I want to repay the attention of the local government during these difficult years. In my ability, I always try to introduce policy capital to people who are eligible for loans to helping people to rise up in life", Mr. Khanh shared.
Mr. Khanh is currently managing 56 members in groups 6, 7, 8 of Tin Nghia hamlet, Xuan Thien commune with outstanding loan of VND 1.3 billion. In which, there is a near-poor household and 14 ethnic minority households. Besides, Mr. Khanh also helped many poor households and other policy beneficiaries use loans effectively.
The borrowers in his group mainly use capital for farming, while he raises pigs, chickens, cows, grows many kinds of fruit trees for a stable income. Therefore, when the borrower wants to use the capital to invest in livestock or farming, he shares his experience in choosing plants, seeds and the care process. In addition to going to the member's house to collect interest and savings, he always visits and answers questions of people in the process of using loans.
As a member of the Savings and Credit Group managed by Mr. Pham Van Khanh, Mr. Tho Bo, of the Choro ethnic group, said: "Through the Savings and Credit Group, my family borrowed more than VND 40 million from VBSP. Not only managing capital and collecting interest, Mr. Khanh also often spends time coming to my house to share his experience in taking care of fruit trees and raising cows, even though there are many obstacles on the way. That's why each member loves Mr. Khanh very much."
With the efforts in the past time, the Savings and Credit Group managed by Mr. Khanh has no overdue debts and is always ranked well. In addition, through his advocacy, the members participated in saving at VBSP with a total amount of nearly VND 190 million.
vbsp.org.vn
LENDING INTEREST RATE
Poor Households

Lending to poor households
6,6%/year
Lending to poor households in 64 poor districts as stipulated by the Government Resolution No.30a in 2008
3,3%/year

Near Poor Households

Lending to near poor households
7,92%/year

Students

Lending to disadvantaged students
6,6%/year

People in need of loans for job creation

Lending to business establishments owned by war invalids and handicapped persons
3,3%/year
Others...
DEPOSIT INTEREST RATE
Term
Deposit Rate
Overnight
3,04%/year
1 week
3,23%/year
2 week
3,5%/year
Others...