VISITORS







Client success stories
Updated: 2021-11-23 16:02:25
Policy credit helps women take control of their lives
(VBSP News) Many rural women in remote, isolated and extremely difficult areas share the same desire to rise up and make their own lives. In particular, many people have started their businesses with VBSP's preferential loans, gradually overcoming difficulties, confidently taking control of their lives and thriving in poor rural areas.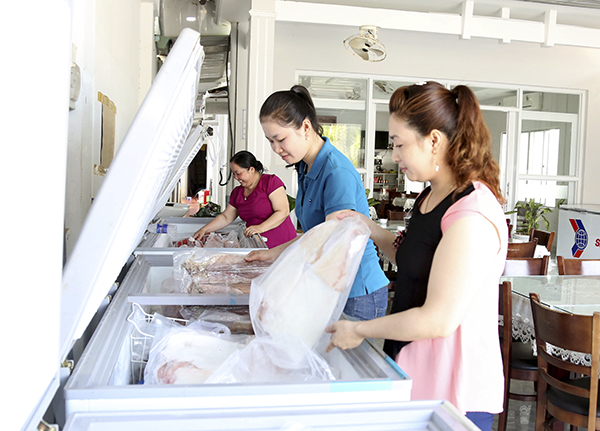 Thanks to policy credit, many women in Con Dao district (Ba Ria - Vung Tau) have confidently taken control of their lives
Ms. Nguyen Thi My Lien, born in 1976, is a typical example of good economic women among members of Quarter 2, Van Canh town, Van Canh district (Binh Dinh). At the beginning of her career, she faced many difficulties, that's why when she accessed VBSP's loan, it brought a ray of hope to change her life as well as many other women.
Back to 2015, when Ms. Lien was still a "sustainable" poor household in Van Canh town, she was lent VND 50 million from VBSP's poor households credit programs to invest in raising pigs. Thanks to diligently learning the experiences of previous farmers and actively learning, especially in disease prevention and control for pigs, Ms. Lien has gradually developed from small-scale farming to a concentrated farm. Currently, Ms. Lien's farm always maintains more than 100 pigs, providing a stable income for the family.
Sharing more about Ms. Lien's situation, the leader of the Savings and Credit Group in Quarter 2, Dang Thi Trong, said: Ms. Lien's family is one of many members of the group who have effectively promoted the loan source to get rich. Ms. Lien always shares experiences, helps and mobilizes relatives and groups members to use loans for the right purposes; contributing to the enrichment of neighborhoods and towns.
In addition, Ms. Nguyen Thi Ngoc Anh's family in Quarter 5, Thac Mo Ward, Phuoc Long Town, Binh Phuoc province is an example. Ms. Anh confided that her family borrowed VND 50 million from the poor households program in 2015 to invest in general husbandry. In 2021, her family has escaped from poor households to become near-poor households and must pay due debts according to regulations.
"However, I am always afraid because after paying off my debt, the capital source for reproduction is not much so it is easy to become poor again", she confided. At that time, introduced by the Women's Union of Quarter 5, her family was once again able to borrow a loan from the near-poor household program with the amount of VND 100 million from VBSP transaction office in Phuoc Long town. Therefore, she continued to reinvest in animal husbandry and raised the herd to dozens of cows.
It can be said that VBSP's credit programs have brought a bright future for poor households and other policy beneficiaries; helping disadvantaged people, including women, always be confident and integrate quickly into society, contributing to reducing the rate of poor and near-poor households across the country. More importantly, when they live well, they also have time to participate in social activities, contributing to many areas of social life.
vbsp.org.vn
LENDING INTEREST RATE
Poor Households

Lending to poor households
6,6%/year
Lending to poor households in 64 poor districts as stipulated by the Government Resolution No.30a in 2008
3,3%/year

Near Poor Households

Lending to near poor households
7,92%/year

Students

Lending to disadvantaged students
6,6%/year

People in need of loans for job creation

Lending to business establishments owned by war invalids and handicapped persons
3,3%/year
Others...
DEPOSIT INTEREST RATE
Term
Deposit Rate
Overnight
3,04%/year
1 week
3,23%/year
2 week
3,5%/year
Others...