VISITORS







Client success stories
Updated: 2021-11-08 14:16:08
Escape poverty due to the preferential loan
(VBSP News) Thanks to the policy credit fund, an increasing number of ethnic minority groups in Quy Hop (Nghe An) have escaped poverty and stable their lives. Following is a success story of Truong Thi Dieu Linh, a resident in Tan Mung hamlet, Tam Hop commune, Quy Hop district, who has overcome difficulties and escaped poverty.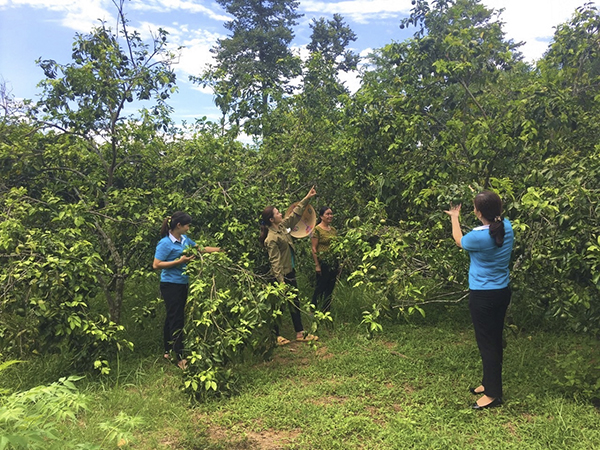 Dieu Linh's orange farm in Tan Mung hamlet, Tam Hop commune, Quy Hop district
Introduced by the Woman Union of Tam Hop commune, we visited Linh's economic model in Tan Mung hamlet. She impressed us with her friendly, casual and humility. Starting from nothing, Linh and her husband took lots of effort and overcame difficulties to escape poverty.
Linh shared that, in 2013, she and her husband owned a 2.5 ha land gifted by her husband's parents to grow bamboo. However, the income from growing plants was not enough to afford family life. With their spirit and motivation, they turned the deserted land into an economic model, an orange farm. To improve her work quality, Linh participates in training sessions by local organizations and learns from other households.
Linh has been lent VND 50 million from VBSP to invest in business development. Besides, she was supported by the local Woman Union, commenting that she would lend VND 20 million without any interest. Linh uses that money to grow 150 apple trees, 600 orange trees and 1ha of pineapple.
After 3 years of farming, Linh has income to pay all the debt. Linh also invests in chicken, pigs and traditional medicine, which she earns VND 300 million per year from that business. Not only escaping poverty but Linh also creates stable jobs for 3 women with an income of VND 3 million per month. She also guides and motivates her workers to develop the business.
Linh shares that the results she gained today thanks to the preferential loan from VBSP, especially the policy credit programs with preferential interest rates. Her family always put their best efforts into learning, applying high-tech methods in farming.
Alongside her business, Linh always actively participates in local activities of the Woman Union and others such as volunteering, dancing team and contributing funds to building new rural communes.
Truong Thi Dieu Linh is a typical example of a hard-working, creative woman. She always tries her best in escaping from poverty and become rich.
Vbsp.org.vn
LENDING INTEREST RATE
Poor Households

Lending to poor households
6,6%/year
Lending to poor households in 64 poor districts as stipulated by the Government Resolution No.30a in 2008
3,3%/year

Near Poor Households

Lending to near poor households
7,92%/year

Students

Lending to disadvantaged students
6,6%/year

People in need of loans for job creation

Lending to business establishments owned by war invalids and handicapped persons
3,3%/year
Others...
DEPOSIT INTEREST RATE
Term
Deposit Rate
Overnight
3,04%/year
1 week
3,23%/year
2 week
3,5%/year
Others...