VISITORS







Client success stories
Updated: 2021-09-29 10:36:54
Accompanying young women's entrepreneurial dreams
(VBSP News) Thanks to a loan of VND 20 million from the VBSP in Nghia Hanh district (Quang Ngai), Ms. Nguyen Thi Phuong from Dai An Dong 2 village, Hanh Thuan commune has successfully started a business by opening a children's clothing workshop.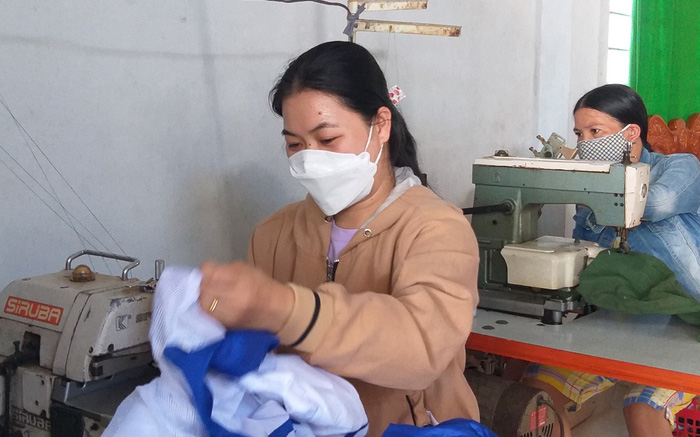 Ms. Nguyen Thi Phuong borrowed a policy loan to open a garment workshop
Although the COVID-19 epidemic has greatly affected economic development, at Ms. Nguyen Thi Phuong's clothing workshop, workers are still busy sewing and cutting. On average, Phuong's garment workshop produces 84,000 sets of children's clothes per year under orders of clothing stores inside and outside Quang Ngai province.
As a result, Ms. Nguyen Thi Phuong has an income of 12-15 million VND/month; at the same time, providing regular jobs for 10 workers at the workshop and workers receiving garment to work from home, paying wages by product, with a stable salary of VND 4 to 5 million/month.
Phuong was a garment worker in Ho Chi Minh City. Understanding the employment needs of women in rural areas who want to earn an income but at the same time, to take care of their family, Phuong discussed with her husband to leave Ho Chi Minh City to return to her hometown and open a children's clothing workshop in Dai village, An Dong 2, Hanh Thuan commune 8 years ago.
When it was first established, the clothing workshop had to go through many difficulties. The number of workers was only 5 people, and they do not have much experience in using sewing machines. The basic products meet technical requirements, but have not yet met the aesthetic requirements of the consumer market…
Ms. Phuong shared: "I always study hard in everything, try to overcome difficulties, ask for experiences and techniques from other workshops, provide training for each worker in the workshop. Thanks to that, our production and business became stable, affirming the prestige of the products, thus, orders are increasing with large quantity".
Ms. Vo Thi Kim Loan from Dai An Dong 2 village, Hanh Thuan commune has been sewing for Phuong's workshop for 4 years now, her job is very stable, on average she receives VND 5 million per month. "Since having this garment workshop, I don't have to work as a worker far away. I can be near my home, take care of my children's education and raise more cows and pigs, so my family's economy is stable. I will stick with Phuong's garment workshop for a long time in the future," said Ms. Loan.
Phuong always wants the garment workshop to be expanded and developed to create more jobs for women in the commune, help them have more income, and have time to take care of their families and raise their children.
Understanding her needs, in 2021, Ms. Phuong continued to be provided with a loan of VND 70 million from VBSP Nghia Hanh under Job creation program. With this capital, Phuong will move her workshop to a larger area, buy more machines to expand production, not only sew according to customer orders but also aim to design products with her own brand. .
It is known that, in addition to Ms. Phuong, in the past time, the Women's Union of Nghia Hanh district has also accompanied and supported 60 women to start businesses in many fields. Chairwoman of Nghia Hanh District Women's Union Nguyen Thi Kieu Hoanh said: "In recent years, from the loans of VBSP Nghia Hanh district, women's members have had access to capital for production and business development, sustainable poverty reduction. 3,579 households has received loans with total amount of over VND 143 billion".
The good achievements that women members in Nghia Hanh district have on their start-up journey are a great motivation urging Women's Unions at all levels in the district to make more efforts to continue to accompanying members. Now women are more confident, giving many creative ideas, and boldly putting the ideas into practice for success.
Articles and photos Nhu Dong

LENDING INTEREST RATE
Poor Households

Lending to poor households
6,6%/year
Lending to poor households in 64 poor districts as stipulated by the Government Resolution No.30a in 2008
3,3%/year

Near Poor Households

Lending to near poor households
7,92%/year

Students

Lending to disadvantaged students
6,6%/year

People in need of loans for job creation

Lending to business establishments owned by war invalids and handicapped persons
3,3%/year
Others...
DEPOSIT INTEREST RATE
Term
Deposit Rate
Overnight
3,04%/year
1 week
3,23%/year
2 week
3,5%/year
Others...