VISITORS







Client success stories
Updated: 2021-09-21 10:57:26
A passionate leader of Saving and credit group
(VBSP News) With a wholehearted for the poor, over 6 years, Ms. Phan Thi Cong, Leader of the Savings and Credit Group in Hon Ne Village, Ma Thanh Commune, Yen Thanh District (Nghe An province) has helped many poor households to have conditions for developing economic and escaping poverty sustainably.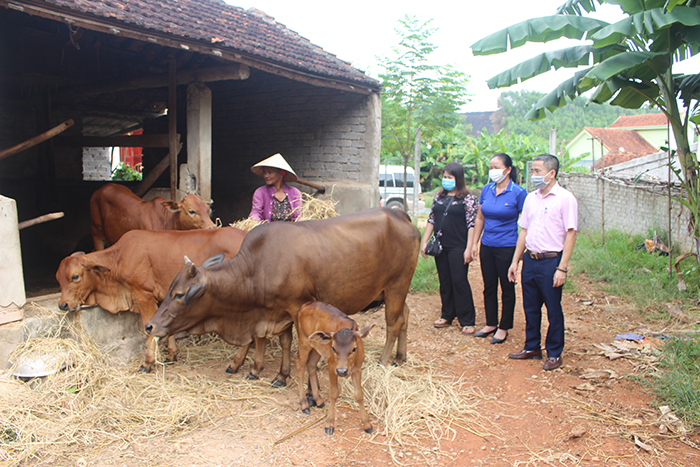 Ms. Phan Thi Cong (who in blue shirt) and the representative of VBSP in Yen Thanh district was checking the effectiveness of using loans
Due to an illness, Nguyen Ba Tien couldn't go to work far away. He also has to raise a small child by himself. With the advice and support of Ms. Cong, he was considered for a loan of VND 80 million from VBSP. He used the loan to invest in building a barn to raise 15 pigs and 200 chickens per batch. From a poverty-stricken household, his family has been rid of a precarious state. The family of Nguyen Ba Tien is just one of dozens of households in Hon Ne village that have escaped poverty thanks to VBSP's preferential loans. In which, there is a significant role of Phan Thi Cong, who is a leader of the savings and credit group. Undeterred by the hardships, she has learned experiences from other saving and credit groups. At the same time, she was proactive and actively participate in loan management training courses to accumulate more knowledge and experience.
As a "bridge" between local people and VBSP, she has supported many poor households in her village approach to the preferential loan, by propagating and guided about the loan program, preferential interest rates, how to apply and use loans suitable to their family circumstances. As a result, her group has 51 members with a total outstanding loan of over VND 2.5 billion. In which, several programs have large outstanding loans such as the escaped poverty program (VND 1.1 billion), poor households program (VND 250 million), near-poor households program (VND 470 million).
Thank the preferential loans from VBSP, many members have stable jobs and conditions to take care family. In particular, the Savings and Credit Group managed by her achieved a payment of 100% interest rate, 100% on-time debt, no overdue debt for 6 consecutive years achieve. Moreover, all the members have participated in deposits monthly. The amount of deposits of members is currently more than VND 117 million.
With a well-performing role of "bridge" between the VBSP and the poor households, Ms. Phan Thi Cong is loved by the local people in the village. She has been rewarded and recognized many times by the Women's Union and the locality for her outstanding achievements in policy credit activities.
Nguyen Thi Hoa
LENDING INTEREST RATE
Poor Households

Lending to poor households
6,6%/year
Lending to poor households in 64 poor districts as stipulated by the Government Resolution No.30a in 2008
3,3%/year

Near Poor Households

Lending to near poor households
7,92%/year

Students

Lending to disadvantaged students
6,6%/year

People in need of loans for job creation

Lending to business establishments owned by war invalids and handicapped persons
3,3%/year
Others...
DEPOSIT INTEREST RATE
Term
Deposit Rate
Overnight
3,04%/year
1 week
3,23%/year
2 week
3,5%/year
Others...