VISITORS







Press Release
Updated: 2021-08-09 14:47:58
Escape from poverty thanks to preferential credit capital
(VBSP News) Customer Dao Quang An was born and raised in Hong Linh hamlet, Hung Thanh commune, Yen Thanh district, Nghe An province. Not only was his family poor, but his parents also were died and his first brother was disabled. However, he boldly surpassed himself to do business with the hope of gradually stabilizing his life and escaping from poverty from VBSP's preferential capital.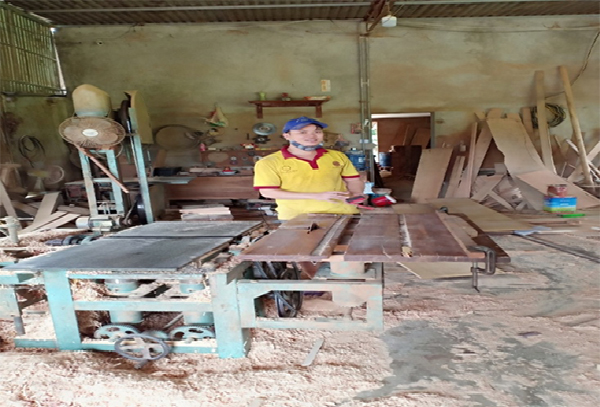 The wood shop of Dao Quang An's family
Due to the difficult situation, his family was considered by the village and the Commune Poverty Reduction Board as a poor household in the commune. He borrowed VND 30 million from VBSP's poor households credit program.
Thanks to his diligence and natural talent for painting and trained carpentry, he boldly opened a small wood shop at home. From VBSP's loans, he invested to buy some necessary machinery. By 2014, his family had successfully escaped from poverty.
During the loan process, his family always timely paid interest and principal, well complied with loan regulations, actively participated in group activities. In 2019, his family continued to receive a loan of VND 40 million from VBSP.
He used the loan to invest in more high-tech industrial pattern punching machines. From a small shop, up to now, it has been developed into a large one and created stable jobs for 5-6 workers with an average income of VND 6-9 million/person/month. His family's average income is currently VND 18 million/month.
He confided: "The VBSP's loans helped our family escape from poverty sustainably, we have made great efforts to overcome all difficulties, use effective capital, get stable job and good income as today. I hope this policy capital will continue to be the driving force that spreads to many disadvantaged people to stabilize their lives." In 2020, his family was voted as a good production and business family in the period of 2015 - 2020.
vbsp.org.vn
LENDING INTEREST RATE
Poor Households

Lending to poor households
6,6%/year
Lending to poor households in 64 poor districts as stipulated by the Government Resolution No.30a in 2008
3,3%/year

Near Poor Households

Lending to near poor households
7,92%/year

Students

Lending to disadvantaged students
6,6%/year

People in need of loans for job creation

Lending to business establishments owned by war invalids and handicapped persons
3,3%/year
Others...
DEPOSIT INTEREST RATE
Term
Deposit Rate
Overnight
3,04%/year
1 week
3,23%/year
2 week
3,5%/year
Others...