VISITORS







Press Release
Updated: 2023-05-26 16:00:22
Promotion of digital financial services to enable financial inclusion for the disadvantaged population in Vietnam
(VBSP News) The Forum "Promotion of digital financial services to enable financial inclusion for the disadvantaged population in Vietnam" is organized by Vietnam Bank for Social Policies (VBSP) and the Asia Foundation (TAF) with the funding support from the Australian Department of Foreign Affairs and Trade (DFAT) on the morning of May 23 in Hanoi. The Forum aims to increase awareness of digital finance in promoting financial inclusion in Vietnam through sharing the results of the project "Mobile Banking - Financial inclusion and economic empowerment for low-income people and women in Vietnam" (Mobile Banking project).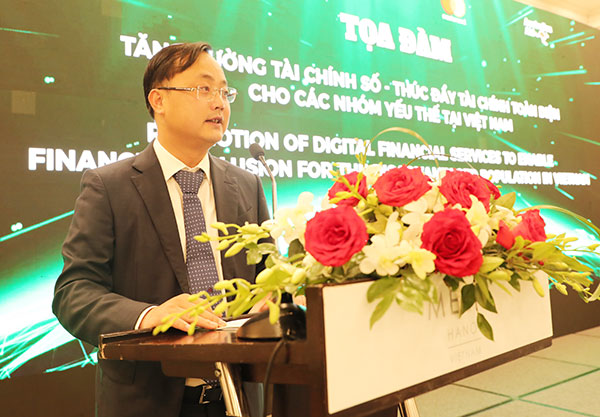 Director General of the International Cooperation Department of the State Bank of Vietnam (SBV) To Huy Vu speaks at the Forum
Attending the Forum were the Director General of the International Cooperation Department of SBV To Huy Vu; Deputy Director of the Strategy Institute of SBV Nguyen Thi Hien; Deputy General Director of VBSP Hoang Minh Te; Economic Counselor, Australian Embassy in Vietnam David Gottlieb; Asia Foundation's country representative in Vietnam Michael DiGregorio; Mastercard Country Manager in Vietnam Winne Wong and representatives of ministries, agencies and international organizations in Vietnam.
Speaking at the Forum, Director General of the International Cooperation Department of SBV To Huy Vu said: Over the past time, the rapid and non-stop development of the digital era has created a remarkable change in promoting financial inclusion. In particular, during the Covid-19 pandemic, digital finance shows even more importance in helping people access and use financial services conveniently and effectively, especially during the time of social distancing, the digital platforms such as mobile devices, the internet, cards linked to digital payment systems, etc., are replaced cash. In Vietnam, the result of digital financial development is one of the successes of the Party and Government's policy of promoting digital transformation. However, there are still many challenges and needs to take measures to consolidate such as issues of management, supervision, confidentiality, information transparency, etc. system safety, quality of infrastructure, as well as the trust, understanding, and capacity of customers in the financial-banking system and protecting financial consumers to maximize the benefits that digital financial inclusion brings.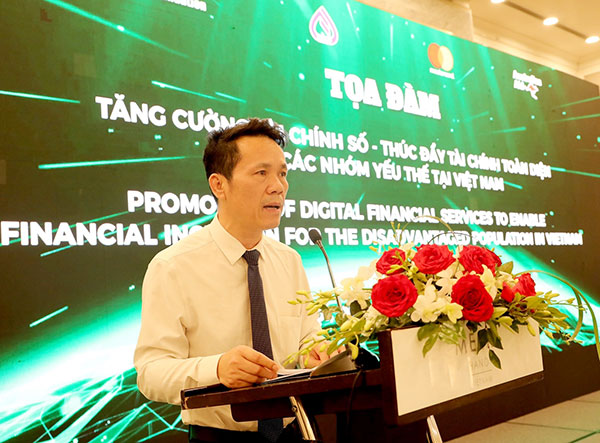 Deputy General Director of VBSP Hoang Minh Te speaks at the Forum
VBSP is a public financial institution that effectively implements the Government's social security policies for policy beneficiaries. The results of the VBSP's activities have positively contributed to the economic development associated with the implementation of the goals of poverty reduction and social security assurance.
By the end of April 2023, the total outstanding loans of policy credit programs reached more than VND 299 trillion, with 6.6 million borrowers.
Speaking at the Forum, Deputy General Director of VBSP - Head of Project Management Board Hoang Minh Te said: "Digital finance promotes financial inclusion in Vietnam" - is a topic that has attracted attention in the recent years. Facing the development trend of financial services, especially digital financial services in financial inclusion development, VBSP has identified financial inclusion as an important development direction to achieve the goal of providing financial inclusion services qualified and convenient services to poor customers and policy beneficiaries, especially customers in rural, mountainous, remote and isolated areas. Over the years, VBSP has taken the necessary steps to promote financial inclusion in the bank's customer community, contributing to the implementation of the National Financial Inclusion Strategy to 2025, orientation to 2030.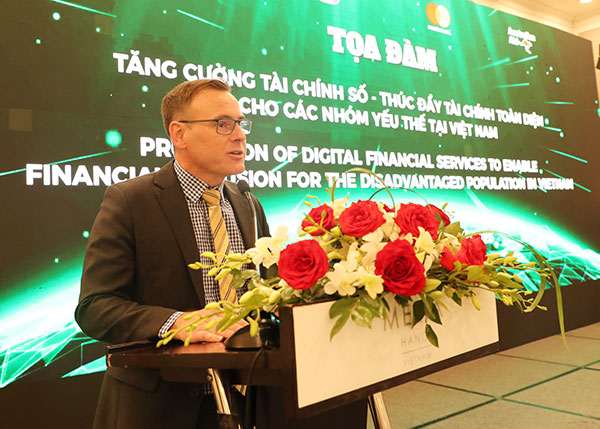 Economic Counselor Australian Embassy in Vietnam David Gottlieb shares his experience
Economic Counselor, Australian Embassy in Vietnam David Gottlieb said: One of the benefits of digital financial education for customers is to improve customers' sense of savings and ability to plan loan repayment. In addition, female customers have more confidence to discuss and make decisions about income-generating activities and promote opportunities to participate in community activities.
In the digital era, VBSP has made decisions to help its customers who are the poor and other policy beneficiaries, especially women, to step by step access banking products and services on mobile phones. With the support and cooperation of DFAT, TAF, Mastercard and technology partners, the Mobile Banking project has effectively promoted and supported VBSP to successfully develop a suitable digital financial platform for their target audience. The process of implementing banking services on mobile phones starts with the implementation of SMS for VBSP customers; followed by piloting the application of Policy Credit Management and most recently the VBSP SmartBanking application.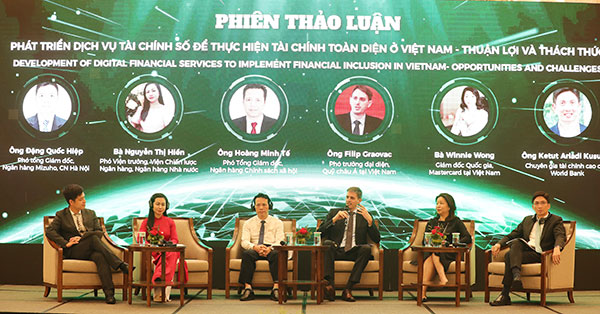 Speakers discuss at the Forum
With the Policy Credit Management application, after nearly two years of implementation, up to now, 47,786 people/26 provinces and cities have used it, of which more than 25,759 are the leaders of the savings and credit groups. This application is easy to download via smart phone, allowing officers of mass organizations, VBSP Board of Directors, leaders of savings and credit groups, village heads, local poverty alleviation officer timely get information and more effectively perform operations in the lending process and policy credit management.
Most recently, the VBSP Smartbanking application, after nearly 3 months of implementation, has had 75,000 accounts, generated more than 642 thousand transactions, equivalent to an amount of more than VND 5,400 billion. The application initially promises positive impacts, helping people, especially women, have more access to diverse and effective financial services, contributing to connecting people in VBSP locations with the digital economy.
Talking at the Forum, the speakers believed that, from the results achieved in the Mobile Banking project, VBSP will continue to take important steps to help the poor and other policy beneficiaries access financial services on mobile phones, bringing outstanding benefits to customers, contributing to realizing the goals of national digital transformation, so that everyone can enjoy the fruits of growth and make sure anyone is left behind.
vbsp.org.vn
LENDING INTEREST RATE
Poor Households

Lending to poor households
6,6%/year
Lending to poor households in 64 poor districts as stipulated by the Government Resolution No.30a in 2008
3,3%/year

Near Poor Households

Lending to near poor households
7,92%/year

Students

Lending to disadvantaged students
6,6%/year

People in need of loans for job creation

Lending to business establishments owned by war invalids and handicapped persons
3,3%/year
Others...
DEPOSIT INTEREST RATE
Term
Deposit Rate
Overnight
3,04%/year
1 week
3,23%/year
2 week
3,5%/year
Others...