VISITORS







Press Release
Updated: 2023-06-15 14:14:57
VBSP's Trade Union worked with the Korean Finance Union delegation
(VBSP News) On the morning of June 13, at the VBSP's headquarters, the Korean Financial Industry Trade Union (KFIU) delegation led by KFIU's President of Political Affairs Choi Jae Young had a meeting with the Union of VBSP.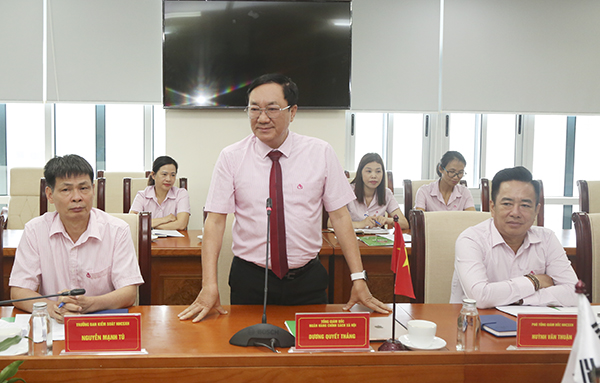 General Director Dương Quyet Thang speaks at the meeting
Receiving and working with the delegation were Vice Chairman of Vietnam Banking Union Tran Hoang Tuan; General Director of VBSP Duong Quyet Thang; Head of Supervisory Board Nguyen Manh Tu; Deputy General Director Huynh Van Thuan; Vice Chairman in charge of Trade Union of VBSP Nguyen Hoang Phuong.
Glad to welcome the KFIU delegation, General Director Duong Quyet Thang said that it is a joy, pride and honor for VBSP to share experiences on organizational model, functions, tasks, and operational results during more than 20 years.
As a unique bank, the largest provider of comprehensive finance for poor households and policy beneficiaries in Vietnam, VBSP has become an effective credit channel, making an important contribution to the effective implementation of policies, objectives and tasks of the Party and State on poverty reduction, job creation, human resource development, social security assurance, political security stability, and social order at locality.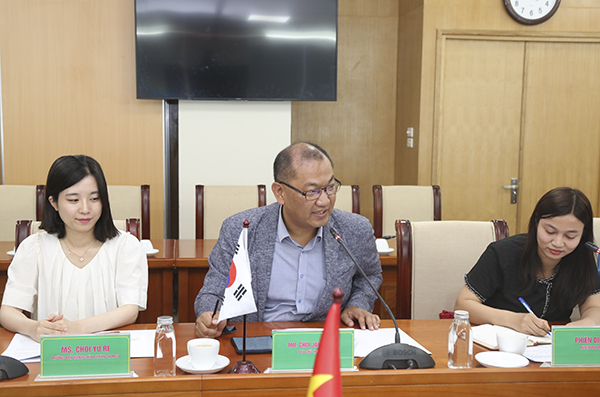 KFIU President of Political Affairs Choi Jae Young discusses at the meeting
Over the past 20 years, VBSP has established more than 168 thousand Savings and credit groups, nearly 11 thousand transaction points in communes and wards, with the method of serving people at home and disbursing and collecting debts in the commune in order to minimizing costs for poor households and policy beneficiaries who are enjoying preferential capital. Up to now, the total VBSP outstanding loans has reached more than VND 302 trillion with over 6.6 million households.
With wisdom, qualifications and enthusiasm, VBSP's staffs and union members have been making efforts to build VBSP to develop more and more sustainably. Trade unions always play a good role as a bridge between Party organizations, professionals and cadres, union members and employees, performing important responsibilities and "missions" for the poor, meeting the aspirations, strengthening the people's trust with the Party and State.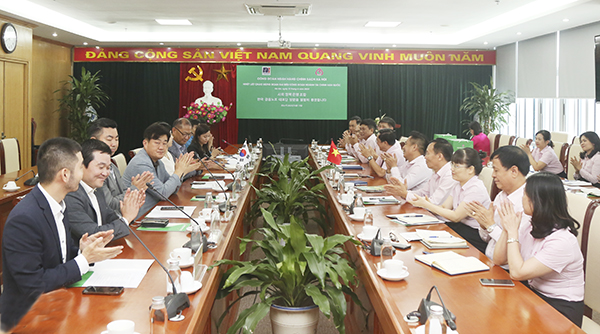 The scene of the working session

On behalf of the KFIU delegation, Mr. Choi Jae Young - Chairman of KFIU on political issues thanked the VBSP's Trade Union for taking the time to welcome the delegation, and highly appreciated the role of the VBSP's Trade Union in motivating union members, employees complete professional tasks, support poor households and other policy beneficiaries to effectively access preferential loans to create livelihoods and stabilize their lives; at the same time carry out social security work as well as organize movement activities, propaganda and education of union members and laborers.
The working session took place in an open atmosphere, the two sides exchanged contents of mutual interest, hoping to have the opportunity to contact, exchange and cooperate in the future, creating conditions for staffs to better understand the customs and habits of the two countries; contributing to strengthening the solidarity and friendship between the Korean Financial Industry Union and the Vietnam Banking Union in general and the VBSP's Trade Union in particular.
vbsp.org.vn
LENDING INTEREST RATE
Poor Households

Lending to poor households
6,6%/year
Lending to poor households in 64 poor districts as stipulated by the Government Resolution No.30a in 2008
3,3%/year

Near Poor Households

Lending to near poor households
7,92%/year

Students

Lending to disadvantaged students
6,6%/year

People in need of loans for job creation

Lending to business establishments owned by war invalids and handicapped persons
3,3%/year
Others...
DEPOSIT INTEREST RATE
Term
Deposit Rate
Overnight
3,04%/year
1 week
3,23%/year
2 week
3,5%/year
Others...