VISITORS







Press Release
Updated: 2023-02-01 16:17:31
Timely funding for people to rise up and change their lives
(VBSP News) In recent years, policy credit activities have played a very important position and role in the effective implementation of policies on poverty reduction, job creation, new rural construction, and social security assurance, contributing to the socio-economic development of Dai Loc district (Quang Nam).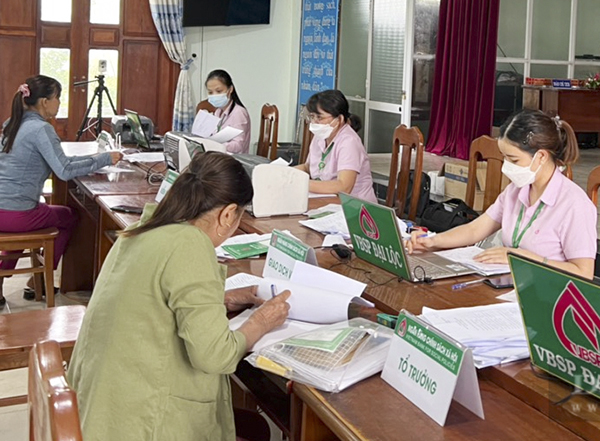 Policy credit capital as a platform for people in Dai Loc district to change their lives
Credit quality is improved
According to Mr. Dang Van Ky - Vice Chairman of the District People's Committee and Head of the Representative BOD of VBSP in Dai Loc district, said: From the beginning of the year until now, the BOD of the district VBSP has synchronously implemented many solutions to improve the quality of operations. The district VBSP promptly allocated and adjusted capital sources to localities and assigned capital mobilization targets.
Recently, the district is very interested in policy credit activities. As a result, in 2022, VBSP in Dai Loc district has successfully completed the loan outstanding growth target assigned by the superior bank. Total capital by the end of 2022 will reach more than VND 404.6 billion, an increase of more than VND 34.1 billion compared to the beginning of 2022. Of which, central capital is more than VND 325.2 billion; local capital is more than VND 21.4 billion; mobilized capital is more than VND 57.8 billion. Total outstanding loans by the end of 2022 reached more than VND 404.6 billion, an increase of VND 34.1 billion compared to the beginning of 2022, an increase of 9.2%.
Total savings deposit balance reached more than VND 57.8 billion. In which, mobilized through organizations and individuals reached more than VND 35.8 billion; mobilized through savings and credit groups reached more than VND 22 billion. The result of profit collection is 100% of the amount of interest receivable.
Currently, VBSP in Dai Loc district continues to well implement social policy credit activities, in order to ensure the correct and effective implementation of regulations, constantly improve the material and spiritual life of the people, contributing to well implement the district's socio-economic target programs.
Continue to provide capital for people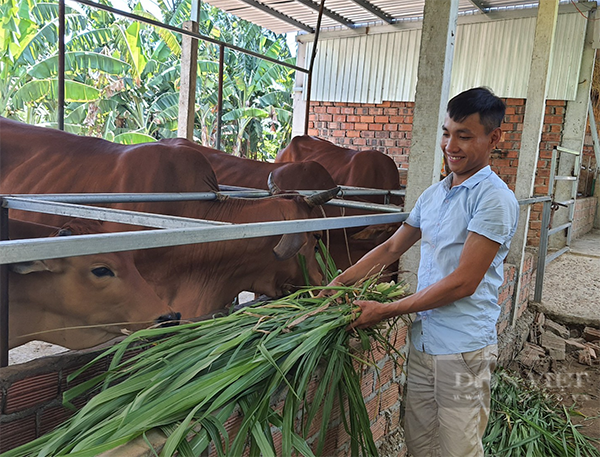 With policy credit, Dai Loc farmers firmly believe in building new economic models
Director of VBSP in Dai Loc district Le Tan Hung said: Since the beginning of the year, the district VBSP has advised the District Party Committee, People's Council, People's Committee, and BOD to continue to pay attention to transfer capital to VBSP to supplement loans to poor households and other policy beneficiaries.
Especially lending to employees who need capital to restore and expand business projects and economic development after the COVID-19 pandemic. Along with that is lending activities for youth start-up projects, women starting businesses...
In addition, the district VBSP will promote propaganda about credit programs, regularly review the needs of the people, coordinate in preparing documents, focus on disbursing and lending to the right people and according to regulations; fast and sustainable credit growth, focusing on improving credit quality, doing well in collecting due debts for revolving loans; earning 100% of the interest receivable,...
From the above results, it can be seen that the quality of operation and quality of policy credit in Dai Loc district has made positive changes, reflected in both the gradual increase of total outstanding loans and the growth rate of annual credit.
Having achieved today's results is due to the strong participation of the Party committees, local authorities and mass organizations entrusted to perform well the tasks. Policy credit will contribute to the successful implementation of socio-economic development goals and tasks for Dai Loc district.
vbsp.org.vn
LENDING INTEREST RATE
Poor Households

Lending to poor households
6,6%/year
Lending to poor households in 64 poor districts as stipulated by the Government Resolution No.30a in 2008
3,3%/year

Near Poor Households

Lending to near poor households
7,92%/year

Students

Lending to disadvantaged students
6,6%/year

People in need of loans for job creation

Lending to business establishments owned by war invalids and handicapped persons
3,3%/year
Others...
DEPOSIT INTEREST RATE
Term
Deposit Rate
Overnight
3,04%/year
1 week
3,23%/year
2 week
3,5%/year
Others...