VISITORS







Press Release
Updated: 2022-12-29 15:17:02
20 YEARS ON THE JOURNEY OF POVERTY REDUCTION - Creating inner strength for the development of the country
(VBSP News) In 20 years of establishment and development, with the cooperation and participation of the whole socio-political system in social policy credit implementation, Vietnam Bank for Social Policies (VBSP) has promoted its role as an economic leverage tool for the Government to help the poor, near-poor households and other policy beneficiaries to access policy credit to develop production, create jobs, raise income, improve living conditions, rise out of poverty, contributing to the realization of the goal of "Rich people - strong country - democracy - justice - civilization".
VBSP currently has 10,435 transaction points in communes, wards and towns nationwide
Promoting innovative lending methods
Only 60km from Hoai Nhon town, in village One, An Toan commune, 61 out of 84 households were poor. Although there were many policies to support local economic development and the fact that VBSP did not limit capital sources for localities, as well as loan size for households, lending was not easy. Mr. Dinh Van Ken - Head of the Savings and Credit Group (SCG) in village One, a Ba Na ethnic minority, said: the Government, the commune mass organizations and himself had encouraged poor households many times to borrow capital for economic development, but only 49 members agreed, because they were afraid of risks and did not dare to borrow. Some people did not even have the sense to rise up but relying on the Government and charities.
The journey out of poverty was a long and tough one. Ken at the age of 35, still lived with his wife and 3 children in poverty. Seeing his children grew up every day in extreme poverty, he determined to borrow VND 20 million from the Poor Household Program in 2009 to buy a cow, however the cold climate made the cow die. He did not give up and accumulated money to pay off the bank loan, and then continued to borrow VND 50 million from the Poor Household Program to raise a buffalo and pigs. By 2020, Mr. Ken paid off his debt and stepped off the list of poor households. From his accumulated breeding experience, he continued to borrow VND 95 million from the Program for the Post Poor, and then borrow VND 90 million from the Job Creation Program to expand the herd of buffalo and black pigs following OCOP product of An Lao district. Currently, he has a herd of 25 buffaloes along with income from taking care of 50 hectares of protection forest and extracting honey. He has also built a solid wooden house and bought a refrigerator and a television for his family. Recently, he has just renovated and expanded his house to participate in the exploitation of local community tourism. His story and production experiences were shared in the SCG.
The story in An Toan commune gives more awareness on the difficulties and hardships of VBSP in the early days of its establishment. In early 2002, poor households accounted for nearly 30% of households nationwide. Service areas were mostly with difficult terrain and underdeveloped infrastructure. In many mountainous provinces and the Mekong Delta, the percentage of communes that did not have a car road to the People's Committee headquarters ranged from 30% to 80%. In addition, the different cultures of 54 ethnic groups and outdated self-sufficient production practices rooted in thousands of generations made the task of "bringing Government capital to the village" even more difficult.
VBSP's credit officers became one of the key pioneers with local authorities to support people in doing business and reducing poverty. Although the story of carrying capital to highland villages by foot or to people in flooded areas by boat now belong to the past, it is a part of the history associated with the long journey of policy credit implementation
Right from the first days of operation, VBSP has built, maintained and regularly consolidated and perfected the specific credit management method, with the implementation of direct lending method entrusting some works in the lending process through mass organizations (Vietnam Women's Union, Vietnam Farmers' Union, Vietnam Veterans Association and Youth Union); organized transactions at commune transaction points; coordinated with local authorities and mass organizations to establish SCGs in hamlets and villages.
The entrustment method has brought into play the advantages of mass organizations with a network and tens of thousands of officers in all communes, hamlets, villages; their rich experiences in social work to propagate policies, change people's awareness; integrate policy credit programs with economic development programs of associations and localities; guide production methods and support training in production and business techniques. The poor and other policy beneficiaries gradually change their thinking and ways of doing things; actively borrow capital to invest in production, create jobs and improve lives; step by step approach to commodity production and credit relationship; eliminating the idea of relying on the State's grant.
Commune transaction point with fixed monthly transaction date is a unique breakthrough initiative of VBSP, a step forward in reforming administrative procedures, to bring credit capital to people in a timely manner, contributing to the implementation of the Comprehensive Financial Strategy to people in rural and mountainous areas.
Building a system of policies to support sustainable development
The rapid and strong development of the country's economy after Vietnam officially opened for international economic integration in 2007 also poses new problems in the design and implementation of social credit policies to harmoniously combine between economic growth and implementation of social justice with the goal of multidimensional, inclusive and sustainable poverty reduction, implementation of new rural construction criteria and resolution of urgent issues facing from the socio-economic development of the country.
In that context, VBSP not only promotes its role as an extended arm of the Government to implement preferential credit policies, but from the actual implementation of the policy, it also gradually promotes the role of a bridge between the poor and disadvantaged groups with State and Government agencies, proposes and advises many new credit programs, expand policy beneficiaries, raise loan size to meet the urgent needs of the people.
From the initial 3 credit programs, VBSP has now had more than 20 credit programs designed into a synchronous policy system with multi-dimensional support, helping to solve basic and essential problems in life of the poor and other policy beneficiaries; limiting and repelling black credit; contributing to promoting socio-economic development under the direction of the Party and State, creating big changes in poor, ethnic minority and mountainous areas; contributing to narrowing the gap between regions in the country and successfully implementing the National Target Program on sustainable poverty reduction, new rural construction, social security assurance, stabilizing social order, social safety, national security; strengthening and consolidating the people's trust in the Party and State. Vietnam became one of the countries to fulfill the United Nations' Millennium Development Goals at the soonest, a bright spot in poverty reduction in the world.
On November 22, 2014, the Secretariat of the Party Central Committee issued Directive No. 40-CT/TW on strengthening the Party's leadership in social policy credit. It once again affirmed and unified in the orientation and awareness of the role of social policy credit in poverty reduction, job creation, and social security assurance. This is an important milestone in the implementation of social policy credit over the past 20 years as well as creating new changes in policy credit work with the strong participation of the Party committees and local authorities. By November 30, 2022, entrusted capital from localities at all levels reached VND 29,098 billion, an increase of 7.6 times compared to before Directive No. 40-CT/TW.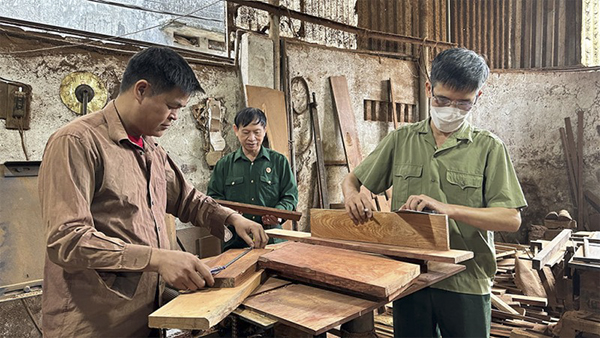 Policy capital helps many veteran households in Dong Anh district to develop traditional handicrafts
As for Veteran Nguyen Van Duy, Ha Khe village, Van Ha commune, Dong Anh district (Hanoi), although he already had a traditional carpentry job from his father, due to lack of capital, it was not until he borrowed VND 30 million from the Program for Newly Escaped fromPoverty to buy materials, repair the carpentry workshop, his family's life gradually improved.
Vice Chairman of Dong Anh District Veterans Association Nguyen Van Duc said that the effectiveness of preferential credit flows from the Government and localities has contributed to helping 72% of veterans have a good and wealthy life. They are becoming the nucleus of the district's enrichment by contributing to the district construction budget, creating jobs for hundreds of workers. This is also the foundation for Dong Anh towards the goal of meeting the enhanced New Rural standard by 2023.
In the past 20 years, policy credit has supported nearly 6.3 million households to overcome the poverty line, created jobs for more than 5.9 million workers (of which more than 141 thousand migrant workers), supported more than 3.8 million disadvantaged students to continue studying, helped buy more than 84,000 computers and online learning equipment for students, built more than 16.8 million rural clean water and sanitation projects, built nearly 729 thousand houses for the poor and other policy beneficiaries, supported purchase/rent-purchase for more than 29.7 thousand social houses...
Social policy credit has contributed to reducing the poverty rate nationwide: in the period 2001 - 2005 from 17% to 7%; period 2005 - 2010 from 22% to 9.45%; period 2011 - 2015 from 14.2% to 4.25%; period 2016 - 2021 from 9.88% to 2.23%. These results contribute to join hands with the whole country to support 5,813/8,227 communes (accounting for 70.7%) meet the new rural commune standard; of which 803 communes meet the new advanced rural standards and 94 communes meet the model new rural standards...
vbsp.org.vn

LENDING INTEREST RATE
Poor Households

Lending to poor households
6,6%/year
Lending to poor households in 64 poor districts as stipulated by the Government Resolution No.30a in 2008
3,3%/year

Near Poor Households

Lending to near poor households
7,92%/year

Students

Lending to disadvantaged students
6,6%/year

People in need of loans for job creation

Lending to business establishments owned by war invalids and handicapped persons
3,3%/year
Others...
DEPOSIT INTEREST RATE
Term
Deposit Rate
Overnight
3,04%/year
1 week
3,23%/year
2 week
3,5%/year
Others...