VISITORS







News & Events
Updated: 2022-10-05 10:39:30
Inclusive finance supports labor export
(VBSP News) Over the past years, Sa Dec city (Dong Thap) has had many migrant workers abroad for limited terms, which is not only a solution to create jobs but also an opportunity for workers to get rich. Defining the migrant workers abroad lending program as a major policy of the Party and State, VBSP has actively implemented many measures to promote labor export in the locality.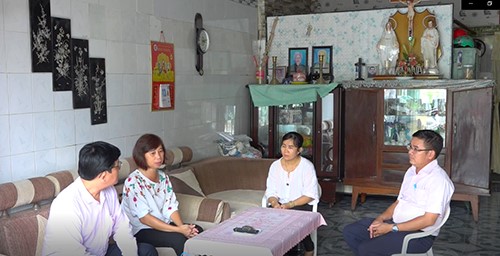 Thanks to a loan from the migrant workers abroad lending program of the VBSP in Sa Dec City, Ms. Vu Thi Kim Yen's son (second from left) now has a stable income in Japan, and the family economy has improved
According to statistics, from 2014 to now, Sa Dec city has 413 migrant workers in markets such as Japan, Korea, Taiwan, Malaysia... From the beginning of the year until now, the city has had 39 workers have left the country, reaching over 49% of the plan in 2022. The preferred market for workers to choose is Japan, because of its high income and good working conditions. The average income of employees is from VND 15 million to more than VND 30 million/person/month. Thanks to their foreign currency income, they have helped many families overcome difficulties, stabilize their lives, contribute positively to the economic development process and reduce the rate of poor households in the locality.
In order to create the best conditions for migrant workers, VBSP always focuses on timely solving procedures to support labor export loans so that people can boldly register to participate, thereby limiting the situation that the family of the worker has to borrow black credit to have enough expenses to work abroad.
Previously, mainly living by selling lottery tickets, the family life of Ms. Vu Thi Kim Yen in hamlet 1, ward 3 was very difficult. In 2020, from the local advice on the program to work abroad, she boldly registered her son, Nguyen Thanh Giau, to work abroad in Japan. Life is inherently difficult and the cost of exporting is too great for her, thanks to VBSP's the migrant workers abroad lending program, she borrowed VND 79 million to cover her son's exporting expenses. In the past 2 years, from the accumulated money, her son has sent home a total amount of VND 480 million, helping his parents pay debts to the bank. At present, the family has improved its economy and has risen to a good middle-income household in the locality.
From 2018 to now, VBSP transaction office in Sa Dec City has disbursed labor export loans to 76 households with total outstanding loans of nearly VND 4.7 billion. It can be said that the activity of sending laborers to work abroad for a limited time in the province in general and Sa Dec City in particular in recent years has shown effective results. After more than 10 years of restarting the program of sending workers to work abroad with a limited time with the participation of the whole political system, the number of young people applying to work abroad increases. The jobs and income of the migrant workers are quite stable. The sending of laborers to work abroad for a limited time has become a potential new direction for Dong Thap workers on the path to start up, rise to enrich themselves and their families, and contribute significantly to the local socio-economic development
vbsp.org.vn
LENDING INTEREST RATE
Poor Households

Lending to poor households
6,6%/year
Lending to poor households in 64 poor districts as stipulated by the Government Resolution No.30a in 2008
3,3%/year

Near Poor Households

Lending to near poor households
7,92%/year

Students

Lending to disadvantaged students
6,6%/year

People in need of loans for job creation

Lending to business establishments owned by war invalids and handicapped persons
3,3%/year
Others...
DEPOSIT INTEREST RATE
Term
Deposit Rate
Overnight
3,04%/year
1 week
3,23%/year
2 week
3,5%/year
Others...