VISITORS







News & Events
Updated: 2022-09-22 09:33:07
Policy credit helps people living in the highlands escape from poverty
(VBSP News) Luc Nam is one of the four mountainous districts of Bac Giang province, with many communes, villages and hamlets facing special difficulties and a high poverty rate. In recent years, credit programs implemented by VBSP branch in Bac Giang province have brought remarkable changes in socio-economic development, sustainable poverty reduction, and new rural construction in the area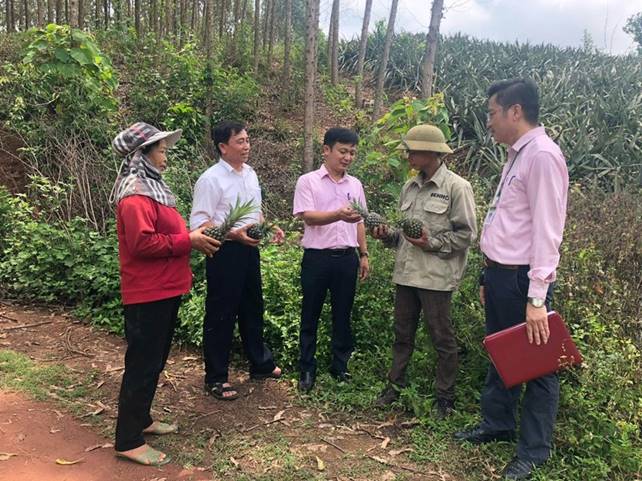 Credit officer of VBSP in Luc Nam district discussed the use of preferential loans from VBSP to grow pineapples for specialized cultivation in Dong Cong village, Bao Son commune
Chairman of the People's Committee of Bao Son commune, Luc Nam district, Luong Xuan Hoa shared: Economic conditions in the locality still have many difficulties, the percentage of ethnic minorities accounts for more than 60%. Over the past time, policy capital has created "leverage" to help people intensively cultivate hill gardens and forest gardens, step by step get out of poverty and get rich. The rate of poor households is reduced to 17.3%. Many people have used the preferential capital to plant high economic value cultivars.
For example, Mr. Vi Van Tuan in Dong Cong village, the Dao ethnic group was a poor household. In 2020, he borrowed VND 100 million from VBSP in Lục Nam district to build a model of growing pineapples on hills according to VietGAP process, now he has a stable income, his life has improved markedly. "Although the last harvest was at the time of the COVID-19 outbreak, the consumption was still favorable, averaging VND 150 - 200 million per year. Thanks to the timely support, my hometown's pineapple products have been recognized for 3-star quality", Mr. Tuan confided.
Like Mr. Tuan's family, thanks to preferential capital, Luc Nam district has had tens of thousands of turns of poor, near-poor households and households that have just escaped from poverty, developing production and business, creating more jobs, increasing income, and improving the quality of life.
Director of VBSP in Luc Nam district, Trinh Huu Ngoc Nam said: Throughout the 20-year journey of construction and development, despite facing many difficulties and challenges, especially during the recent outbreak of the COVID-19 pandemic which seriously affected all aspects of society, including policy credit, but with the spirit of solidarity, our Transaction Office actively followed the direction of the superior bank and leaders, localities, deploying many appropriate solutions, focusing on mobilizing financial resources, organizing timely transfer of capital to the right beneficiaries.
By May 31, 2022, the total capital of the VBSP in Luc Nam district reached VND 721 billion, an increase of VND 31.3 billion compared to the end of 2021, of which the entrusted local budget capital transferred to the VBSP is more than VND 18.7 billion. That result confirms the efforts of VBSP in Luc Nam district in finding and mobilizing capital sources to fully and promptly meet the people's borrowing needs.
That result also affirms that Party committees and local authorities always pay attention and direct the implementation of Directive No. 40-CT/TW and Conclusion No. 06-KL/TW of the Secretariat on social policy credit in concentrating capital sources from the State budget on a unified management and balancing, arranging local budget transfers through VBSP to supplement capital for lending to poor households and other disadvantaged groups at the same time.
In addition, VBSP in Luc Nam district also strengthened co-ordination with mass organizations and local authorities to inspect and supervise borrowers, using preferential capital for the right purposes, effectively, continue to receive files to disburse according to the assigned plan.
vbsp.org.vn
LENDING INTEREST RATE
Poor Households

Lending to poor households
6,6%/year
Lending to poor households in 64 poor districts as stipulated by the Government Resolution No.30a in 2008
3,3%/year

Near Poor Households

Lending to near poor households
7,92%/year

Students

Lending to disadvantaged students
6,6%/year

People in need of loans for job creation

Lending to business establishments owned by war invalids and handicapped persons
3,3%/year
Others...
DEPOSIT INTEREST RATE
Term
Deposit Rate
Overnight
3,04%/year
1 week
3,23%/year
2 week
3,5%/year
Others...