VISITORS







News & Events
Updated: 2022-08-23 15:23:09
The leader of Savings and Credit Group dedicated to inclusive finance
(VBSP News) Mr. Tran Thanh Tri from Thuan Phat Hamlet, Hoa Thuan Ward, Cao Lanh City (Dong Thap) has been a leader of the Savings and Credit Group for nearly 20 years. During his work, Mr. Tri has always been active, dedicated to his work and well managed the policy credit capital.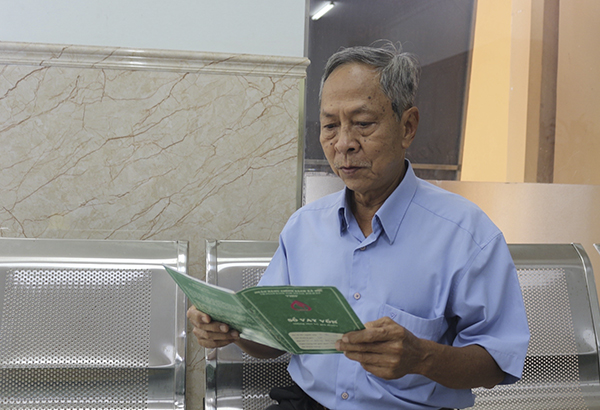 Mr. Tran Thanh Tri is always actively learning about VBSP credit programs
As the leader of the Savings and Credit Group for many years, Mr. Tran Thanh Tri has always been respected by the people of Thuan Phat hamlet, Hoa Thuan ward. In the past, their lives were very difficult. Thanks to the attention of the Party Committee, the Government, the War Veteran Association in Hoa Thuan ward and VBSP branch in Dong Thap province, people have been able to access preferential loans. They mainly concentrate in production, business, trading and service, only a few people are hired laborers. In 2022, the rate of poor households and near-poor households of the cluster is the lowest in the whole ward.
The Savings and Credit Group managed by Mr Tri has 45 members, with outstanding loans of more than VND 1.9 billion, including 5 lending programs: Post-poor Households Program, Near-poor Households Program, Job Creation Program, Disadvantaged Students Program and Migrant Workers Program. The loan has helped the members to serve production and business, trade, breed, improve the garden and buy tools for production and business of individuals and families to stabilize their lives.
Under his guidance and strict management, the borrowers used effectively the loan for the right purposes. In addition, the propaganda to mobilize members to participate in saving money every month has also changed their awareness. Initially, there were very few members participating because they did not fully understand the meaning of saving money, however, Mr. Tri and the Management Board of the group mobilized each member to save money every month. Currently, the group has been able to mobilize 100% of households to maintain monthly savings, the savings balance by June 30th, 2022 is VND 171 million.
Mr. Tri shared: "In order to do well the role of the leader in managing the group's activities, I am always aware of my responsibilities, which are understand clearly the VBSP's operations and how people can access and use preferential loans effectively, gradually develop household economy and improve living standards of local people. Therefore, I always participate fully in training courses of VBSP. Since then, I have gradually accumulated experience and found my own solutions and orientations to manage the group in the most effective way".
vbsp.org.vn
LENDING INTEREST RATE
Poor Households

Lending to poor households
6,6%/year
Lending to poor households in 64 poor districts as stipulated by the Government Resolution No.30a in 2008
3,3%/year

Near Poor Households

Lending to near poor households
7,92%/year

Students

Lending to disadvantaged students
6,6%/year

People in need of loans for job creation

Lending to business establishments owned by war invalids and handicapped persons
3,3%/year
Others...
DEPOSIT INTEREST RATE
Term
Deposit Rate
Overnight
3,04%/year
1 week
3,23%/year
2 week
3,5%/year
Others...