VISITORS







News & Events
Updated: 2022-07-21 10:05:32
VBSP continues sharing experiences on social policy credit to APRACA Secretary General
(VBSP News) In the morning of July 19th, 2022 in Hanoi, Deputy General Director of VBSP Hoang Minh Te had a meeting with Secretary General of Asia Pacific Rural and Agricultural Credit Association (APRACA) Prasun Kumar Das, on the occasion of his visit to Vietnam to attend the Regional Policy Forum and 75th Executive Committee Meeting of APRACA.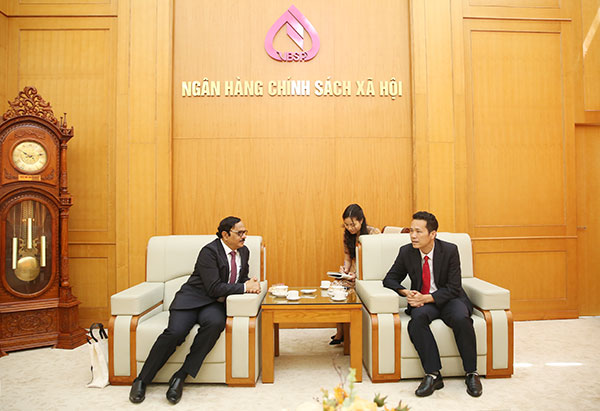 VBSP Deputy General Director Hoang Minh Te shared 20 years of VBSP's experience
APRACA was established in 1977 with the goal of promoting cooperation and exchange of information and experience in rural finance, contributing to the development of agricultural production, improving self- control, improving the social welfare of rural poverty in the Asia-Pacific region. Currently, APRACA has total of 87 members in 24 countries around the world. VBSP became a member of APRACA in 2005 and has always been an active member participating fully in APRACA's activities until now.
As an active member of APRACA, VBSP has developed cooperative relationships with many members of APRACA such as the Bank of Agriculture and Agricultural Cooperatives of Thailand (BAAC), the Rural Agricultural Bank of Philippines, National Bank for Agriculture and Rural Development (NABARD) of India, Japan Financial Institution (JFC)…
VBSP Deputy General Director Hoang Minh Te said that in recent years, VBSP has effectively implemented preferential credit programs, contributing to the implementation of the national target program on poverty reduction, job creation and social security. In the current period, VBSP is actively implementing preferential credit policies to support the poor and other policy beneficiaries to overcome difficulties caused by the COVID-19 pandemic, contributing to socio-economic recovery and development.
During this visit and working session, Mr. Prasun Kumar Das - Secretary General of APRACA hoped that in the next time, VBSP would continue to share experiences as well as exchange information about social policy credit with APRACA members.
Source: vbsp.org.vn
LENDING INTEREST RATE
Poor Households

Lending to poor households
6,6%/year
Lending to poor households in 64 poor districts as stipulated by the Government Resolution No.30a in 2008
3,3%/year

Near Poor Households

Lending to near poor households
7,92%/year

Students

Lending to disadvantaged students
6,6%/year

People in need of loans for job creation

Lending to business establishments owned by war invalids and handicapped persons
3,3%/year
Others...
DEPOSIT INTEREST RATE
Term
Deposit Rate
Overnight
3,04%/year
1 week
3,23%/year
2 week
3,5%/year
Others...