VISITORS







Press Release
Updated: 2022-07-12 09:42:46
$380 million has been delivered to vulnerable groups for economic recovery
(VBSP News) On July 2, VBSP held a conference to implement tasks in the last months of 2022. General Director Duong Quyet Thang attended and chaired the conference.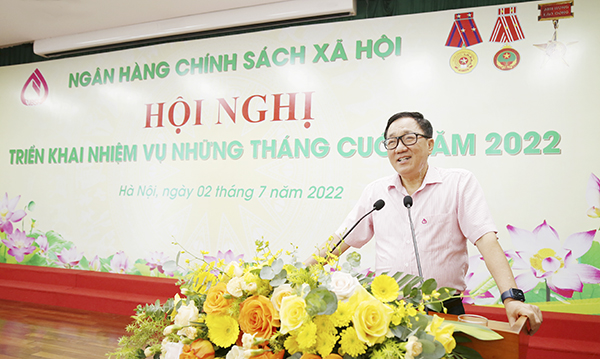 General Director Duong Quyet Thang speaking at the Conference
Speaking at the conference, General Director Duong Quyet Thang said that in the first 6 months of 2022, despite facing many challenges due to the COVID-19 pandemic, VBSP actively followed Resolution No. 01/NQ -CP dated January 8, 2022 of the Government on the main tasks and solutions to implement the socio-economic development plan and the state budget estimate in 2022; Directive No. 01/CT-NHNN dated January 13, 2022 of the Governor of the State Bank on organizing the implementation of key tasks of the banking sector in 2022; Resolution of the Board of Directors of VBSP; especially the Government's Resolution No. 11/NQ-CP on the Socio-Economic Recovery and Development Program to urgently deploy to ensure a good response to the demand for credit capital for production and business, restoring production of poor, near-poor households and other disadvantaged groups.
As of June 30, 2022, VBSP has disbursed VND 8,896 billion ($380 million) for the national program of socio-economic recovery and development under Resolution 11 with more than 213,000 borrowers, in which:
Job creation program: VND 6,832 billion with 142,359 customers

Loans for students to buy computers and equipment for online learning: VND 654 billion for 65,593 customers

Social housing program: VND 1,259 billion with 4,050 customers

Loans to non-public preschools and primary schools affected by the COVID-19 pandemic: VND 151 billion with 1,851 customers
In addition, in the context of the COVID-19 pandemic, VBSP has proactively coordinated with relevant agencies to promptly provide loans to employers to pay wages to employees when they stop working and after restoring production. From the implementation to the end of the disbursement on March 31, 2022, 63 provincial and municipal branches disbursed loans to 1,548 employers with an amount of VND 4,787 billion to pay salaries for more than 1,2 million turns of workers.
VBSP has drastically organized the implementation of the policy quickly and promptly to the target customers, actively contributing to promoting the effectiveness of the policy, showing the Government's concern and sharing to those affected by the COVID-19 pandemic.
| | |
| --- | --- |
| Branches | 63 |
| District transaction offices | 627 |
| Savings and Credit Groups | > 170,000 |
| Commune transaction points | ~ 11,000 |
| Total asset | VND 286.169 billion (+11.6%) |
| Total outstanding loans | VND 273.541 billion (+10.2%) |
| Active customers | > 6,4 million |
| Total lending turnover | VND 62.966 billion |
| The bad debt | 0,7%/total outstanding loans |
*As of June 30, 2022
Social policy credit has supported investment capital for production and business, created jobs for nearly 495,900 employees, helped more than 3,100 thousand workers to work abroad for a definite time; helped more than 12,800 disadvantaged students to continue studying; built nearly 921,000 clean water and sanitation works in rural areas; built 703 houses for poor households and more than 4,400 social houses…
vbsp.org.vn
LENDING INTEREST RATE
Poor Households

Lending to poor households
6,6%/year
Lending to poor households in 64 poor districts as stipulated by the Government Resolution No.30a in 2008
3,3%/year

Near Poor Households

Lending to near poor households
7,92%/year

Students

Lending to disadvantaged students
6,6%/year

People in need of loans for job creation

Lending to business establishments owned by war invalids and handicapped persons
3,3%/year
Others...
DEPOSIT INTEREST RATE
Term
Deposit Rate
Overnight
3,04%/year
1 week
3,23%/year
2 week
3,5%/year
Others...