VISITORS







News & Events
Updated: 2022-07-06 09:32:18
Promote digital financial inclusion for the poor and other marginalized groups
(VBSP News) On July 5, 2022, in Hanoi, VBSP and MasterCard held a signing ceremony on cooperation agreement for developing digital products and services for VBSP's customers that will contribute to the national strategy on financial inclusion and digital transformation.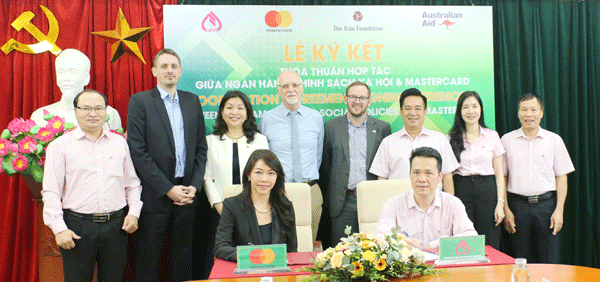 VBSP and MasterCard signed a cooperation agreement
Attending the signing ceremony of cooperation agreement were Mr. Benjamin Davis, First Secretary of the Australian Embassy; Mr. Michael DiGregorio - the Asia Foundation's Country Representative in Vietnam; Ms. Winnie Wong - MasterCard Country Manager for Viet Nam, Cambodia & Laos; Leaders of VBSP and representatives of some operational departments at VBSP Headquarters.
The basis of cooperation between the two parties stems from the project "Mobile banking - Financial inclusion and economic empowerment for low-income people and women in Vietnam", with the sponsorship by the Australian Department of Foreign Affairs and Trade and the coordination of the Asia Foundation in the period of 2019 - 2023. Accordingly, MasterCard will support VBSP in the procedure of joining MasterCard's official membership with globally advanced and prestigious digital payment service system in developing card issuance services, consulting on digital transformation and information technology strategy according to cooperation agreement plan.
At the ceremony, VBSP Deputy General Director Hoang Minh Te said: "The cooperation between VBSP and MasterCard on developing banking products and services based on modern technology to enhance accessibility to banking services, improve access to non-cash payment services for the poor and other vulnerable groups".
On MasterCard's side, Ms. Sharon Chew - Senior Vice President, Head of Customer Solutions, South-east Asia, MasterCard said that "Financial inclusion is important as it helps individuals, households, and businesses achieve an improved quality of life, economic growth, and resilience. By working together closely with like-minded partners such as VBSP, MasterCard is leveraging its technologies, knowledge, and expertise to provide financial access to more vulnerable sections of society, so that they can participate seamlessly in the digital economy and realize their goals of success and financial security. VBSP has been delivering key financial services and solutions that meet the rapidly changing needs of the poor and other disadvantaged people. And we at MasterCard are proud to be part of their journey and look forward to bringing in more technologies and solutions to achieve financial and digital inclusion in Vietnam".
With the mission of implementing policy credit for the poor and other marginalized groups in order to contribute to poverty reduction and social security, VBSP is improving the quality of products and services to meet the financial needs of the poor and other marginalized groups quickly and conveniently, in line with the industrial revolution 4.0.
Vbsp.org.vn
LENDING INTEREST RATE
Poor Households

Lending to poor households
6,6%/year
Lending to poor households in 64 poor districts as stipulated by the Government Resolution No.30a in 2008
3,3%/year

Near Poor Households

Lending to near poor households
7,92%/year

Students

Lending to disadvantaged students
6,6%/year

People in need of loans for job creation

Lending to business establishments owned by war invalids and handicapped persons
3,3%/year
Others...
DEPOSIT INTEREST RATE
Term
Deposit Rate
Overnight
3,04%/year
1 week
3,23%/year
2 week
3,5%/year
Others...