VISITORS







News & Events
Updated: 2022-05-20 09:33:56
An Giang province supports people in socio-economic recovery and development
(VBSP News) Implementing Resolution 11NQ/CP about the socio-economic recovery, the VBSP branch in An Giang province has disbursed to 181 customers approaching preferential credit programs, with a total outstanding of over VND 8.4 billion.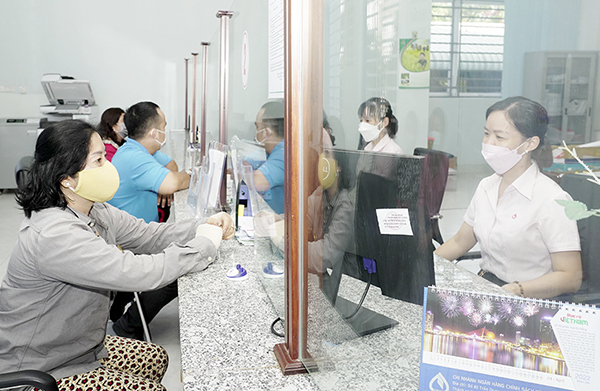 People come to commune transaction points to receive loans
Accordingly, there are 146 customers borrowing from job creation loan schemes with the disbursement amount of VND 8 billion. Moreover, 34 customers took a loan from the program to support students to buy computers, online learning equipment and cover study expenses, in the amount of VND 0.34 billion. The VBSP branch also lent VND 100 million to a customer for repairing a social house.
In the following time, the VBSP branch in An Giang province will focus on effectively implementing the preferential credit policies under Resolution 11/NQ-CP of the Government for poor households and other policy beneficiaries. Concurrently, continue to promote the propaganda and dissemination of lending policies to all individuals and organizations that need and qualify for loans can access the policy. Thus, it will create conditions for people who are affected by the COVID-19 pandemic to access capital to restore production and business, and stabilize their lives...
Vbsp.org.vn
LENDING INTEREST RATE
Poor Households

Lending to poor households
6,6%/year
Lending to poor households in 64 poor districts as stipulated by the Government Resolution No.30a in 2008
3,3%/year

Near Poor Households

Lending to near poor households
7,92%/year

Students

Lending to disadvantaged students
6,6%/year

People in need of loans for job creation

Lending to business establishments owned by war invalids and handicapped persons
3,3%/year
Others...
DEPOSIT INTEREST RATE
Term
Deposit Rate
Overnight
3,04%/year
1 week
3,23%/year
2 week
3,5%/year
Others...