VISITORS







News & Events
Updated: 2022-04-15 16:08:15
Go Dau district inspects and supervises lending to poor households
(VBSP News) The BOD of the VBSP branch in Go Dau district (Tay Ninh province) has just organized a delegation to inspect and supervise loans to poor households and other policy beneficiaries from the entrusted fund of 4 socio-political organizations in Hiep Thanh commune.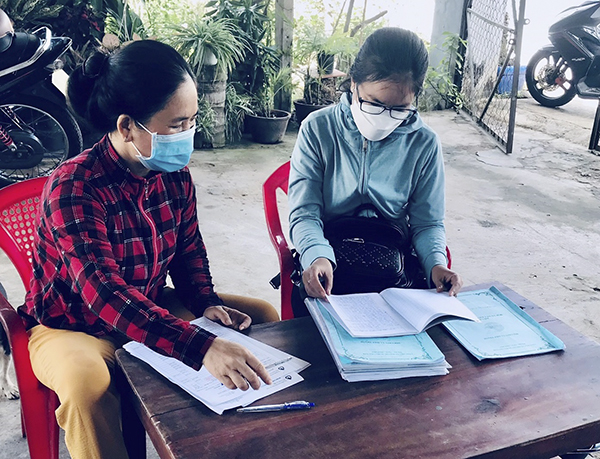 Nguyen Thi Hiep - Head of the Department of Labor, Invalids and Social Affairs of Go Dau district checked at borrower's houses
In 2021 and the first 3 months of 2022, the VBSP branch in Hiep Thanh commune has disbursed 608 customers with over VND 14.4 billion. In which, there are 27 poor households and households that have just escaped poverty were approached with policy credit with an outstanding loan is more than VND 1.2 billion. Moreover, loans to support job creation, job maintenance and expansion have been supported to 88 employees. Credit loans also helped 37 students with difficult circumstances with nearly VND 1.3 billion. Total outstanding loans in the commune reached above VND 42.8 billion. The overdue debts accounted for 0.18% of total outstanding loans.
The inspection group highly appreciated the effectiveness of implementing preferential credit programs in the commune. Besides, the group requested local leaders to implement Resolution 11/NQ-CP dated January 30, 2022 of the Government on the program of socio-economic recovery and development. In particular, the credit will focus on the following schemes: Job creation credit scheme, Loans for individuals and households to purchase and rent a social house, house for workers; lending to new construction or renovation or repair of houses, Loans for disadvantaged students, Loan for non-public preschool and primary education institutions that must stop operating for at least 01 months according to the requirements of epidemic prevention and control.
Vbsp.org.vn
LENDING INTEREST RATE
Poor Households

Lending to poor households
6,6%/year
Lending to poor households in 64 poor districts as stipulated by the Government Resolution No.30a in 2008
3,3%/year

Near Poor Households

Lending to near poor households
7,92%/year

Students

Lending to disadvantaged students
6,6%/year

People in need of loans for job creation

Lending to business establishments owned by war invalids and handicapped persons
3,3%/year
Others...
DEPOSIT INTEREST RATE
Term
Deposit Rate
Overnight
3,04%/year
1 week
3,23%/year
2 week
3,5%/year
Others...