VISITORS







News & Events
Updated: 2022-04-15 14:26:22
Support people for sustainable poverty reduction
(VBSP News) Sustainable poverty reduction is a major policy of the Party and State with profound humanity. In recent years, policy credit activities in Tay Ninh province have gained great efficiency, effectively contributing to the implementation of the sustainable poverty reduction program, building new rural areas, and ensuring social security.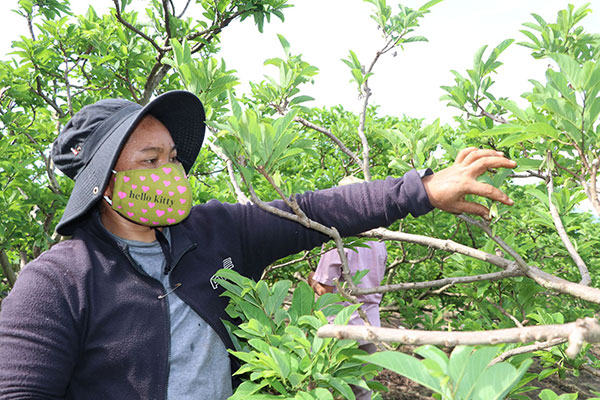 Customer Cao Thi Me Len takes care of the custard apple garden that is bearing fruit for the next crop
Ms. Cao Thi Me Len (39 years old), Khmer people, living in Thanh Dong hamlet, Thanh Tan commune, Tay Ninh city has more than 3 public lands to grow custard apple, located at the foot of Ba Den mountain, given by her parents to do business. She spent much on the custard-apple garden in the hope of stabilizing her family life, but it was really not enough.
A few months ago, with the introduction and guidance of the Farmers' Association of Thanh Tan commune, she was able to borrow VND 50 million from the branch of VBSP in Tay Ninh province to hire more workers and buy more fertilizer. The "reinforcement" at this right time helps her family to be very excited and more motivated to work.
Thanks to the right investment, her custard apple garden has been harvested with high yield (usually harvest two crops per year). The custard apple also has high quality so the output price is stable. After the first harvest, after deducting expenses, her family made a profit of about VND 80 million, higher than before. Ms. Len excitedly said that thanks to borrowing loans from the provincial branch of VBSP in time, she had capital to make custard apple more effective.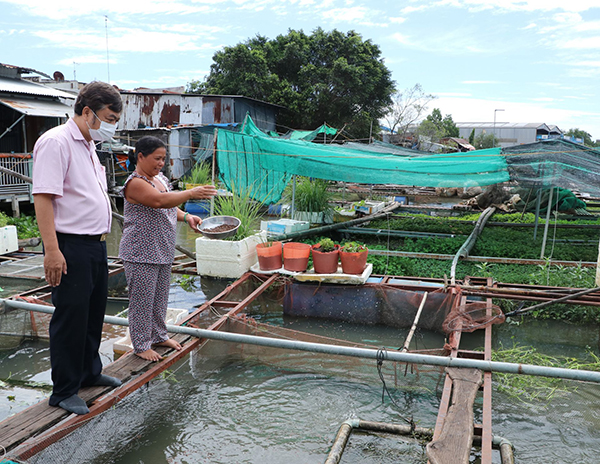 Ms. Tran Thi Thuy was very excited when she received loans from VBSP to stabilize her life
Ms. Tran Thi Thuy lives in Ben Keo hamlet, Long Thanh Nam commune, Hoa Thanh town lives by farming fish in the Vam Co river. Also from the loan from the provincial branch of VBSP introduced by the commune Women's Union, she was first given a loan of VND 30 million to develop fish farming. Thanks to this capital, her family gradually stabilized livestock production, earning enough to support a family of 5 and spending money to repay loans on time. In February 2022, she received a second disbursement with doubled capital to develop more fish farming area. She said, on average, her family earns more than VND 20 million a month and has a stable life.
Ms. Nguyen Thi Ngoc Anh - Vice Chairwoman of Chau Thanh District Women's Union said that in the past time, the Union has disbursed over VND 150 billion for over 5,000 women members, contributing to the local implementation of poverty reduction, helping members have conditions to develop family economy.
With the operating motto "Understand deeply, serve dedicatedly", the provincial branch of VBSP has made efforts to bring credit funds to the hands of the beneficiaries. From capturing people's thoughts and aspirations, VBSP has implemented products and services in the direction of "Public democracy, services at home, disbursement in communes" through a network of activities throughout the province, with 94 transaction points located at the headquarters of 94 commune People's Committees. In addition, the provincial branch of VBSP also coordinates with local authorities and mass organizations to manage 2,635 savings and credit groups evenly and effectively.
Along with focusing on credit growth from the beginning of the year, the work of consolidating and improving credit quality is always an important task. The provincial VBSP has closely coordinated with entrusting mass organizations and branches and levels to focus on implementing solutions to strengthen and improve the quality of policy credit.
vbsp.org.vn
LENDING INTEREST RATE
Poor Households

Lending to poor households
6,6%/year
Lending to poor households in 64 poor districts as stipulated by the Government Resolution No.30a in 2008
3,3%/year

Near Poor Households

Lending to near poor households
7,92%/year

Students

Lending to disadvantaged students
6,6%/year

People in need of loans for job creation

Lending to business establishments owned by war invalids and handicapped persons
3,3%/year
Others...
DEPOSIT INTEREST RATE
Term
Deposit Rate
Overnight
3,04%/year
1 week
3,23%/year
2 week
3,5%/year
Others...