VISITORS







News & Events
Updated: 2022-03-07 09:36:51
Borrowing policy credit to enhanced life
(VBSP News) Vo Liet commune, Thanh Chuong district (Nghe An) is a mountainous area. The number of poor households in this area reduces significantly, thanks to the preferential loans of VBSP and the attention of the Party. Typical among these families is Mr. Hoang Van Hung's household in Truong Ky village.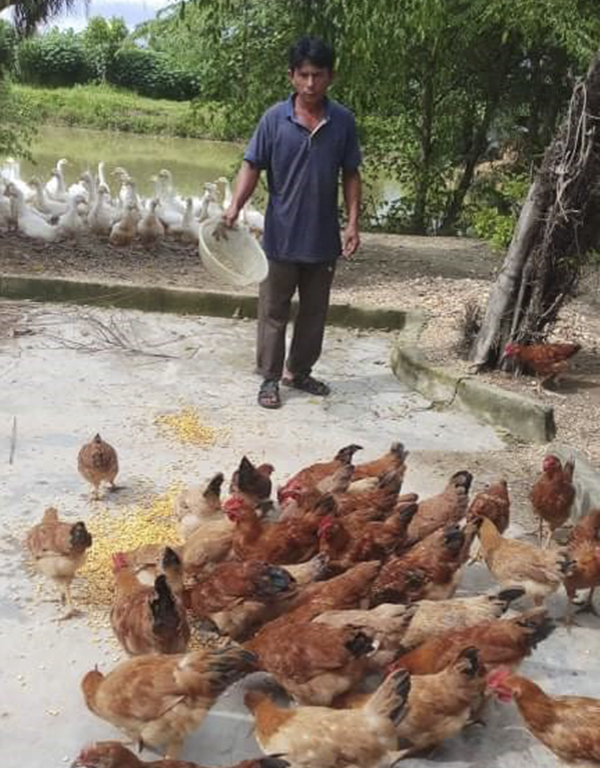 Hoang Van Hung's chicken farm
Hoang Van Hung was born in a poor household. He joined irrigation construction courses in Binh Dinh province after finishing grade 7/10. Hung has experienced lots of different jobs such as construction worker, farmer, etc. After all, Hung decides to start his own business in his hometown. He becomes a farmer after his marriage. His life meets a lot of difficulties.
Hung's family was listed as poor-household and was admitted to the Vietnam Farmer's Union in Truong Ky hamlet. With his ability and desire to learn, Hung has gained some valuable experiences. Besides, the local government let Hung visit and learn experiences on family economic development in other localities. Hung and his wife step by step built up the family economic model to escape from poverty.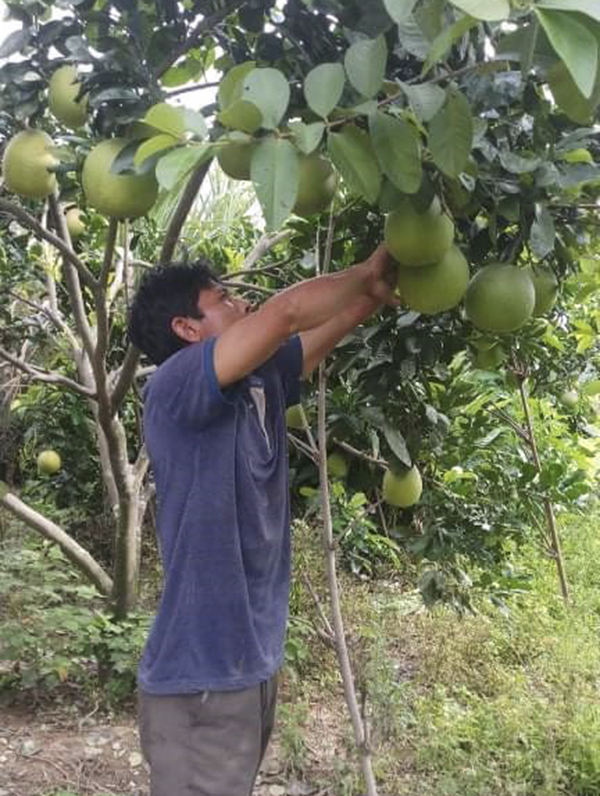 Hoang Van Hung's fruit garden
Hung shared that he was introduced and encouraged by the Vietnam Farmer's Union to the VBSP's policy credit capital to develop his economy. Hung borrowed VBSP VND 50 million to invest in a buffalo. After a while, Hung gained 4 buffaloes and earned some money. In addition, he received 7000m2 to invest in farming, raising chickens and fish, etc.
Hung is doing his best to develop his own farm. For example, he learns from his experiences, accepts the risks. Hung also seeks to learn from experienced farmers, veterinary staff and actively participates in training courses in social media.
In recent years, Hung's income has increased significantly. In 2015, Hung's family was one of the poor households. Thanks to the economic model, he has escaped from poverty and gotten rich in such a short time. His eagerness to learn was also highly appreciated by the Vietnam Farmer's Union. Hence, he was elected to the committee.
Hung shares that his journey started from the VBSP's policy credit, especially the policy credit programs for poor people. The programs have created opportunities for poor households to develop economically and escape from poverty. Hung always makes his effort in learning, developing his business, applying advanced technical processes in farming activities.
Over these years, he has been selected and rewarded by the Vietnam Farmer's Union in Vo Liet commune as a productive farmer. Besides, he has been certificated by the People's Committee of Vo Liet commune as a productive farmer and businessman in the period of 2016 - 2020. Mr. Hung is considered a bright example of economic development.
Vbsp.org.vn
LENDING INTEREST RATE
Poor Households

Lending to poor households
6,6%/year
Lending to poor households in 64 poor districts as stipulated by the Government Resolution No.30a in 2008
3,3%/year

Near Poor Households

Lending to near poor households
7,92%/year

Students

Lending to disadvantaged students
6,6%/year

People in need of loans for job creation

Lending to business establishments owned by war invalids and handicapped persons
3,3%/year
Others...
DEPOSIT INTEREST RATE
Term
Deposit Rate
Overnight
3,04%/year
1 week
3,23%/year
2 week
3,5%/year
Others...