VISITORS







Press Release
Updated: 2022-02-23 15:41:22
Thanh Oai district improves loan efficiency
(VBSP News) Thanks to the policy capital, many poor, near-poor and policy households in Thanh Oai district (Hanoi City) have focused on developing production and business, gradually stabilizing their lives, actively contributing to the implementation of poverty reduction goals, ensuring social security in the area.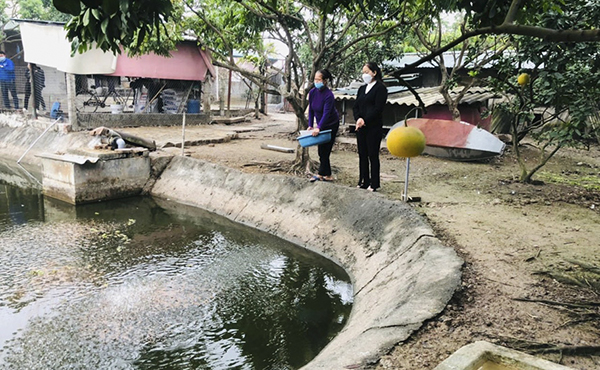 Many poor households in Lien Chau commune, Thanh Oai district have been granted loans from VBSP to develop production and stabilize their lives
Ms. Nguyen Thi Thuan from Lien Chau village in Lien Chau commune said: In 2021, when the COVID-19 pandemic broke out, her family's clothing manufacturing facility was greatly affected. However, thanks to VBSP's loan, her family has stabilized production. "My family borrowed VND 50 million from VBSP, which has promptly supported my family to overcome difficulties and maintain production during the complicated development of the pandemic" said Ms. Thuan.
In mid-2021, Ms. Nguyen Thi Dung in Kim Lam village, Lien Chau commune was supported with a loan of VND 50 million from VBSP to maintain production and develop duck farming. "This is the third year that my family has received a policy loan. Thanks to this loan, from poor households, my family has escaped from poverty, stabilized our lives, and had the opportunity to develop economically" said Ms. Dung.
According to Mr. Nguyen Van Huong - Head of the Savings and Credit Group in Phuong My village, My Hung commune, this is an agricultural village so it is necessary to raise livestock, and grow fruit trees. Thanks to the policy capital, many households have opened many services such as milling, plowing, commercial business, raising buffaloes, cows, pigs, chickens, forming a model of fruit trees, fish ponds, etc. bringing high economic efficiency. The group is implementing 7 credit programs for policy beneficiaries and all of them are actively promoting.
Director of VBSP transaction office in Thanh Oai district Nguyen Trung Son said: In 2021, VBSP's loans have helped 5,556 customers get loans, in which, there are 32 turns of poor households, 38 turns of near-poor households, and 88 turns of newly escaped from poverty households get loans. In addition, the policy capital has helped 3,375 turns of people to create jobs… In 2022, the transaction office will continue to closely coordinate with mass organizations in the district to review loan beneficiaries, timely disburse loans to the right people; timely support capital sources for households to maintain production, develop the economy, rise out of poverty and enrich their families. Since then, households have more conditions to contribute to the new rural construction in the locality.
Assessing the policy capital in the district, Vice Chairman of Thanh Oai District People's Committee Nguyen Khanh Binh said: In 2021, the policy capital has created jobs for more than 3,400 workers; constructed and renovated 2,013 clean water works and 2,013 rural environmental sanitation works. The VBSP's loan has actively supported poor households and other policy beneficiaries to develop production and business, improve living standards, and actively contribute to the achievement of the goals of poverty reduction, job creation, and social security. In 2021, the whole district has 143 households escaping from poverty, 318 households escaping from near poverty thanks to the policy capital and support activities of the city and the district.
vbsp.org.vn
LENDING INTEREST RATE
Poor Households

Lending to poor households
6,6%/year
Lending to poor households in 64 poor districts as stipulated by the Government Resolution No.30a in 2008
3,3%/year

Near Poor Households

Lending to near poor households
7,92%/year

Students

Lending to disadvantaged students
6,6%/year

People in need of loans for job creation

Lending to business establishments owned by war invalids and handicapped persons
3,3%/year
Others...
DEPOSIT INTEREST RATE
Term
Deposit Rate
Overnight
3,04%/year
1 week
3,23%/year
2 week
3,5%/year
Others...