VISITORS







News & Events
Updated: 2022-01-19 16:09:26
Economic development in ethnic minority-inhabited area
(VBSP News) Son La province is home to 12 ethnic groups. 85% of Son La's population is ethnic minority. Over the years, Son La has made the most of Government support programs to build infrastructure to boost socio-economic development in mountain localities. As a result, the lives of ethnic minority people in the province have significantly improved.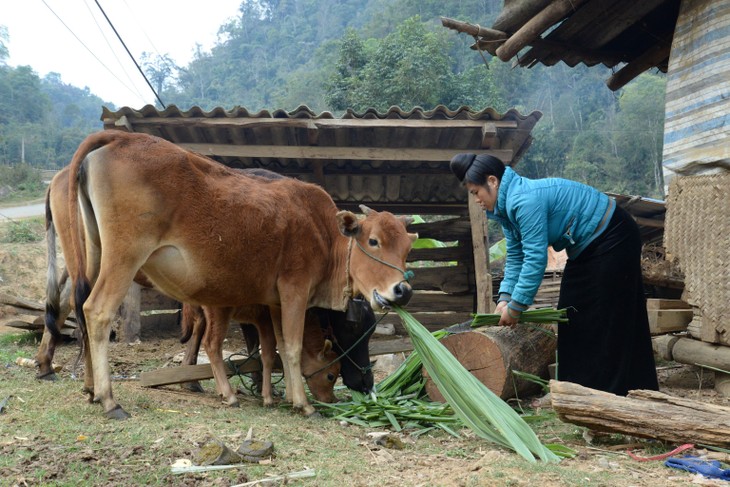 Thanks to VBSP's loans, many households escaped from poverty
With loans borrowed from VBSP in Moc Chau district, Sung Thi Gia and her family in Ta Phenh hamlet began livestock production and cultivation. As a result, her family's life has improved remarkably.
Gia said, "Thanks to the support of the local authorities, we borrowed enough money to plant 200 orange trees and raise pigs and chickens. Since 2019 we've sold 4 to 5 tons of oranges, hundreds of chickens, and dozens of pigs each year. My family's economic and living conditions have remarkably improved."
Tan Lap commune in Moc Chau district has 15 hamlets with ethnic minority people accounting for 90%. Thanks to support programs and policies on poverty reduction and new rural development, local people have seen improvements to their lives.
Ban Van Phuong, Vice Chairman of Tan Lap commune's People's Committee, said, "Thanks to Party guidelines and State policies, people's lives have significantly improved. Many households can now buy household utensils. In the coming years, the government will create favorable conditions for local people to escape from poverty."
According to Lu Van Chung, Head of Yen Chau district's Ethnic Affairs Section, "Many ethnic minority households have learned to use technology for production, do intensive farming, and restructure crops toward commodity production to rise out of poverty. The number of poor households has dropped each year. Much investment has been made in infrastructure, significantly changing the outlook for rural areas. Local education, training, and health care continue to improve."
Other places in Son La besides Yen Chau and Moc Chau district, have implemented programs and policies to help ethnic minority people, with particular attention to education, health care, and culture.
Luong Van Toan, Deputy Head of Son La province's Committee of Ethnic Affairs, said preserving and promoting ethnic minority cultural values is a high priority.
"All the policies have contributed to the socio-economic development of the areas that have ethnic minority residents. Roads, electricity, irrigation, schools, and other infrastructure has significantly improved. These policies have helped reduce poverty rate 3-5% every year while raising local people's awareness, improving farming methods, boosting incomes sustainably, raising living standards, and establishing a market economy," said Toan.
vovworld.vn
LENDING INTEREST RATE
Poor Households

Lending to poor households
6,6%/year
Lending to poor households in 64 poor districts as stipulated by the Government Resolution No.30a in 2008
3,3%/year

Near Poor Households

Lending to near poor households
7,92%/year

Students

Lending to disadvantaged students
6,6%/year

People in need of loans for job creation

Lending to business establishments owned by war invalids and handicapped persons
3,3%/year
Others...
DEPOSIT INTEREST RATE
Term
Deposit Rate
Overnight
3,04%/year
1 week
3,23%/year
2 week
3,5%/year
Others...