VISITORS







News & Events
Updated: 2022-02-10 09:13:45
Over 5,600 near-poor households, exceeding the near-poor standard for preferential loans
(VBSP News) Although affected by the COVID-19 epidemic, the credit quality in District 6 (Ho Chi Minh City) has been improved and promoted effectively. In particular, the execution of Directive 40-CT/TW dated November 22, 2014 of the Party Central Committee's Secretariat on strengthening the leadership in policy credit has contributed to the achievement of sustainable poverty reduction, job creation, ensuring social security in the local area.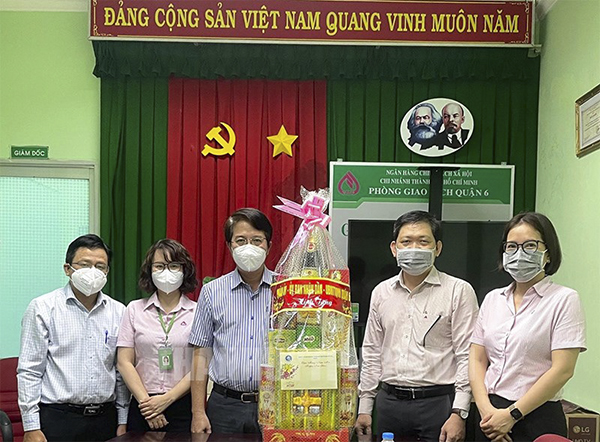 Vice-Chairman of the People's Committee of District 6, Mr. Le Thanh Binh visited and gifted to the VBSP transaction office in District 6 on the occasion of the Lunar New Year in 2022.
As of December 31, 2021, the lending turnover of the VBSP transaction office in District 6 reached VND 95,931 million. The total outstanding loans reached VND 253,778 million, an increase of 11.60% compared to the previous period, which completed 100% of the assigned credit plan. The growth of outstanding loans mainly focused on the jobs creating programs and loans for students with difficult circumstances.
In 2021, the VBSP transaction office in district 6 has disbursed to 5,653 near-poor households and households exceeding the near-poor standard. In which, 1,057 near-poor households took a loan to develop the economy, therefore stabilizing jobs và income. Furthermore, nearly 4 thousand employees have been maintained and created new jobs; over 500 students from disadvantaged families can access loans for schooling; 23 households whose land has been acquired has been supported the fund, 2 enterprises borrowed capital to pay wages for labourers having their contract suspended and pay wages to restore production. Moreover, VBSP transaction office has reduced 10% interest rates in 3 months of October, November and December 2021 for all outstanding loans due to the impact of the Covid-19 epidemic.
Mr. Tran Le Duy, the Director of VBSP's transaction office in District 6, shared that the effective implementation of policy credit makes an important contribution to promoting local socio-economic development, ensuring social security, political stability and social order. In particular, despite being heavily affected by the COVID-19 epidemic, the total outstanding loans increased sharply with decreased bad debts ratio.
In the future, VBSP will continue to coordinate with local authorities to promptly and deploy policy credit, ensuring that 100% of households are beneficiaries and eligible for loans. Implement synchronously solutions to consolidate and improve the quality of credit for social policies. At the same time, enhance people's awareness of using policy credit to invest effectively and repay responsibly.
Vbsp.org.vn
LENDING INTEREST RATE
Poor Households

Lending to poor households
6,6%/year
Lending to poor households in 64 poor districts as stipulated by the Government Resolution No.30a in 2008
3,3%/year

Near Poor Households

Lending to near poor households
7,92%/year

Students

Lending to disadvantaged students
6,6%/year

People in need of loans for job creation

Lending to business establishments owned by war invalids and handicapped persons
3,3%/year
Others...
DEPOSIT INTEREST RATE
Term
Deposit Rate
Overnight
3,04%/year
1 week
3,23%/year
2 week
3,5%/year
Others...