VISITORS







Press Release
Updated: 2022-04-12 09:21:59
Policy capital helps people and businesses overcome difficulties
(VBSP News) The COVID-19 pandemic has had a great impact on the lives of employees and employers. To promptly support people, workers, businesses, the Government and Hanoi City have implemented many practical support programs, especially from policy capital. Thanks to that, many workers and businesses initially overcome difficulties and restore production and business.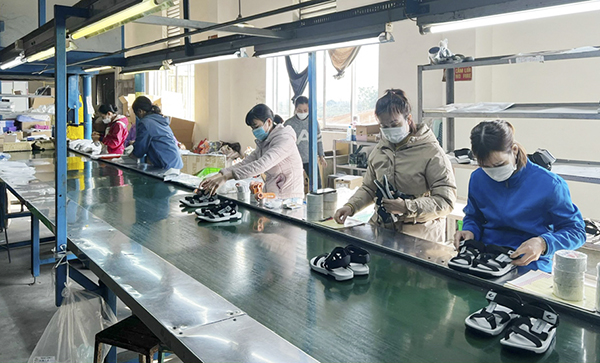 Borrowing at VBSP is very convenient, quickly helping Hong Phuc Shoe Co., Ltd (Bien Giang ward, Ha Dong district) to promptly pay salaries to employees
Ms. Khuong Thi Thu Huyen's family in Yen village, Thach Xa commune, Thach That district works as a carpenter. However, for the past 2 years, due to the COVID-19 pandemic, her family's production has faced many difficulties and their income is not stable. Before the COVID-19 pandemic, Huyen's factory had nearly 20 employees, but now there are only 10 employees. Fortunately, the family has just received a loan of VND 70 million from the VBSP's capital to buy more machinery and materials, helping the family gradually restore production.
Also a policy loan recipient, Director of Hong Phuc Shoes Co., Ltd. Phung Manh Tuyen (Bien Giang ward, Ha Dong district) was pleased that the loan procedure at VBSP was very convenient and fast, with 0% interest rate. It helped the company promptly pay salaries for employees to ensure their lives; and at the same time help the company's operations not be stopped.
According to Deputy Director of VBSP Transaction Office in Thach That District Duong Quoc Manh, by the end of February 2022, the total outstanding loans of 9 policy credit programs of the unit is VND 474.6 billion, reaching 100% of the plan. In which, 77 poor households have access to capital of nearly VND 2.8 billion; 230 near-poor households borrowed nearly VND 9.3 billion; 977 newly escaped from poverty households borrowed more than VND 39 billion; 7,100 households borrow to create jobs with more than VND 303 billion... Although this capital is not large, it helps business households in the district overcome difficulties, restore production and business activities.
Deputy Director of Hanoi VBSP branch Pham Van Quyet said: In 2021, Hanoi People's Committee and district People's Committee transferred VND 1,247 billion through VBSP to supplement loans; In which, VND 500 billion is provided for workers affected by the COVID-19 pandemic to borrow loans to restore production and business. In particular, in 2021, implementing Resolution No. 68/NQ-CP of the Government on a number of policies to support employees and employers facing difficulties due to the COVID-19 pandemic, the branch timely implements Decision No. 1990/QD-TTg dated November 26, 2021 on reducing lending interest rates for policy credit programs at VBSP, totaling VND 22.8 billion, for 963,835 loans in the last months of the year 2021.
In 2022, the branch will continue to coordinate with departments and branches to advise the Hanoi People's Committee to allocate VND 900 billion of budget capital that has been entrusted additionally for VBSP to focus on lending to poor households, near-poor households, people with disabilities, policy beneficiaries and employees, production and business establishments, etc. affected by the COVID-19 pandemic. Along with that, the branch coordinated with the departments and branches to advise the Hanoi People's Committee to promulgate the Regulation on lending to production and business establishments that are small and medium enterprises; cooperatives, business households; continue to implement loan policies for employers affected by the COVID-19 pandemic to pay salaries for work stoppage, pay salaries to restore production.
vbsp.org.vn
LENDING INTEREST RATE
Poor Households

Lending to poor households
6,6%/year
Lending to poor households in 64 poor districts as stipulated by the Government Resolution No.30a in 2008
3,3%/year

Near Poor Households

Lending to near poor households
7,92%/year

Students

Lending to disadvantaged students
6,6%/year

People in need of loans for job creation

Lending to business establishments owned by war invalids and handicapped persons
3,3%/year
Others...
DEPOSIT INTEREST RATE
Term
Deposit Rate
Overnight
3,04%/year
1 week
3,23%/year
2 week
3,5%/year
Others...