VISITORS







News & Events
Updated: 2022-03-31 11:10:39
Policy credit contributes to enhancing people's lives in Hoi An significantly
(VBSP News) Activities related to policy credit programs have been implemented effectively in Hoi An (Quang Nam) nowadays. Thanks to that, poor households and other policy-based beneficiaries are able to make ends meet, sustainability escape from poverty, and become wealthy.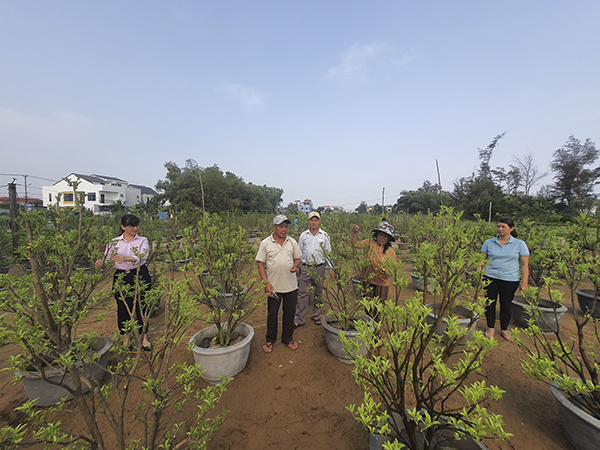 Motivated by the policy credit, Nguyen Thi Sau's family who lives in Cam Ha village, Hoi An has been successfully built a business model of kumquat trees with high economic efficiency
Policy credit helps people improve their life
Policy credit has contributed to enhancing people's lives in Hoi An for years. There are a growing number of economic production models that have been deployed successfully thanks to the policy credit programs. The Vice Director of the VSPB branch in Hoi An - Ms Nguyen Thi My shares that policy credit made positive impacts on sustainable poverty reduction and social security. The policy credit programs also support local people to invest in farming, feeding,... Hence, they escape from poverty and become wealthy. A typical example is the kumquat tree business model of Nguyen Thi Sau.
VBSP's cadres in Hoi An branch visited the kumquat tree business model of Nguyen Thi Sau at Trang Suoi hamlet, Cam Ha village. Sau said that her family was listed as a poor household and her life was difficult back then. In 2012, her family was able to borrow VND 30 million from the policy credit of the VBSP branch in Hoi An to escape from poverty.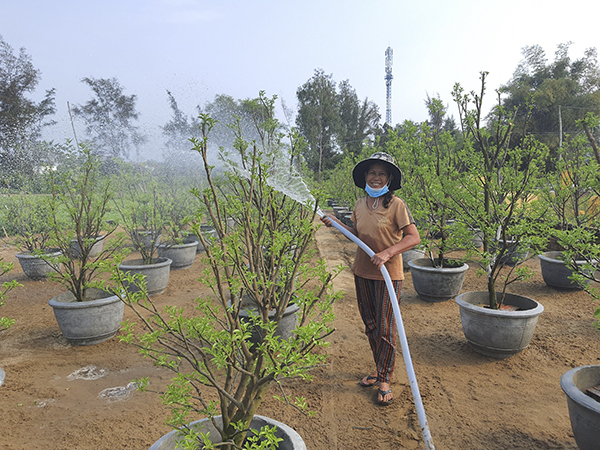 Sau's family step by step escapes from poverty and becomes wealthy thanks to the kumquat tree business model
After borrowing loans from VBSP, Sau has researched, learned from previous cases to build their business models. She and her husband invested in 100 trees in the first few years due to the low capital. After a few years, their kumquat tree business model has developed and brought stable economic efficiency. Hence, they increase the number of kumquat trees each year.
Realizing that the kumquat tree business model brings high economic efficiency, Sau's family continues to borrow VND 100 million from the VBSP branch in Hoi An to scale up. "There are 400 kumquat trees to be sold each year, with the price of VND 2 million per tree" - said Mrs Sau. The revenue she made each year is approximately VND 800 million with the interest of VND 300 million. Thanks to that, Sau is able to raise her kids, as well as build a new house, especially escape from poverty. By 2017, her family had returned the loan to the bank on time.
Sau would not come this far if the VBSP branch in Hoi An didn't lend her money in 2012. In order to have this property, Sau received great help from local authorities and socio-political organizations. In particular, the VBSP's capital has motivated her family to expand the model of kumquat cultivation and economic development.
Funding for policy beneficiaries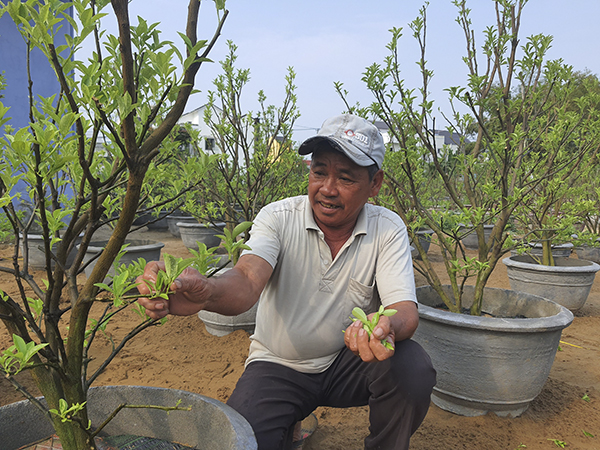 The policy credit has supported thousands of households in Hoi An invest in planting
Ms Nguyen Thi Anh Tuyet, the leader of the Savings and Credit group in Trang Suoi hamlet, Cam Ha village shares that, the huge advantages of VBSP loans were low interest with long lending time. Not only Sau but also other households in Trang Suoi village are supported by the policy credit programs to sustainability escape from the poverty
According to Mrs Tuyet, the Savings and Credit group has a meeting every month. The meeting is to mentor the member to build their business model, as well as deploy the loans. Thanks to that, there is no overdue debt and the disbursement is paid on time. The local people are able to develop their businesses such as planting kumquat trees, flowers, etc. to enhance their life. Until now, the number of members in the Savings and Credit group is 52 households with outstanding loans of VND 1 billion.
Currently, the VBSP branch in Hoi An manages a total outstanding loan of VND 177 billion, increasing by VND 11,2 billion compared to the previous period. In particular, Cam Ha village has 13 Savings and Credit groups with 542 members, entrusted by 4 socio-economic organizations. The total outstanding loan is VND 20 billion with the amount of saving loans being VND 1,26 billion.
The Director of the VSPB branch in Hoi An, Ms Le Thi Kim Anh shared that in the upcoming period, the branch would follow socio-economic development goals and orientations to continue implementing preferential credit policies to develop the economy. In addition, the branch will support local people to use the loans effectively, as well as scale up the business model, escape from poverty and become wealthy. Moreover, the branch will coordinate with the entrusting socio-political organizations to organize the preferential lending policies according to Resolution No. 11/NQ-CP, dated January 30, 2022, by the Government, of the program of socio-economic recovery and development, to meet the borrowing needs of the local people.
Vbsp.org.vn
LENDING INTEREST RATE
Poor Households

Lending to poor households
6,6%/year
Lending to poor households in 64 poor districts as stipulated by the Government Resolution No.30a in 2008
3,3%/year

Near Poor Households

Lending to near poor households
7,92%/year

Students

Lending to disadvantaged students
6,6%/year

People in need of loans for job creation

Lending to business establishments owned by war invalids and handicapped persons
3,3%/year
Others...
DEPOSIT INTEREST RATE
Term
Deposit Rate
Overnight
3,04%/year
1 week
3,23%/year
2 week
3,5%/year
Others...