VISITORS







Press Release
Updated: 2022-06-29 15:06:44
Technical assistance for VBSP's digital transformation and payment
(VBSP News) On the morning of June 15, 2022 in Hanoi, VBSP had a meeting with the World Bank (WB) and Earnst & Young Vietnam (EY) to kick off the project of technical assistance for digital transformation and payment for VBSP within the framework of the World Bank's support scheme to modernize the payment system of the State Bank in the implementation of the Comprehensive Financial Strategy.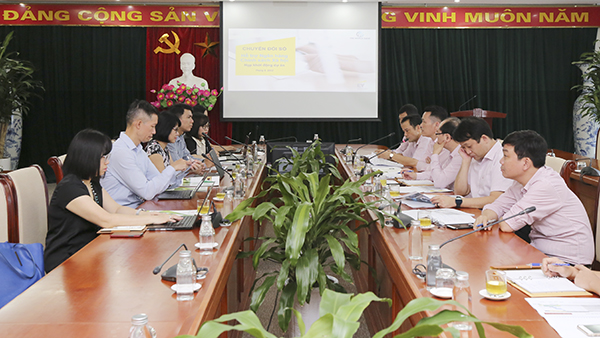 The landscape of the meeting
Digital transformation is the revolution of the whole people and it only succeeds when each citizen actively participates and enjoys the benefits that digital transformation brings. Therefore, VBSP aims to develop the information technology system in the direction of technological innovation, diversifying banking products and services, which are modern, safe, and high technology to enhance customer access to banking services and modernize the management and administration of VBSP, improve skills for VBSP staff and leaders.
To support VBSP in digital transformation, the World Bank has selected EY - one of the four largest leading professional auditing firms in the world, experienced in the field of strategic, financial and technological operation to share experiences, review the implementation of the digital transformation plan and current payment products and services of VBSP and make recommendations to VBSP.
At the meeting, EY presented the draft Technical Assistance Plan, proposed a coordination mechanism for the parties.
For VBSP, the implementation of the Project is expected to help VBSP implement the Digital Transformation Plan more effectively in order to enhance the capacity of VBSP in providing diversified and convenient services to VBSP's customers including the poor, ethnic minorities, migrant workers... nationwide, especially in rural, remote and mountainous areas.
In the coming time, VBSP will work with the WB and EY to agree on a work plan and coordination mechanism to participate in the implementation of the Technical Assistance Project with the highest efficiency.
Vbsp.org.vn
LENDING INTEREST RATE
Poor Households

Lending to poor households
6,6%/year
Lending to poor households in 64 poor districts as stipulated by the Government Resolution No.30a in 2008
3,3%/year

Near Poor Households

Lending to near poor households
7,92%/year

Students

Lending to disadvantaged students
6,6%/year

People in need of loans for job creation

Lending to business establishments owned by war invalids and handicapped persons
3,3%/year
Others...
DEPOSIT INTEREST RATE
Term
Deposit Rate
Overnight
3,04%/year
1 week
3,23%/year
2 week
3,5%/year
Others...