VISITORS







Press Release
Updated: 2022-08-15 14:07:12
Nayoby Attapeu branch (Policy bank of Laos PDR) visited and worked with VBSP branch in Kon Tum province
(VBSP News) From August 7-12, 2022, the delegation of the Nayoby Attapeu branch led by Mr. Bounlem Kivongsack - Branch Director visited and worked with VBSP branch in Kon Tum province.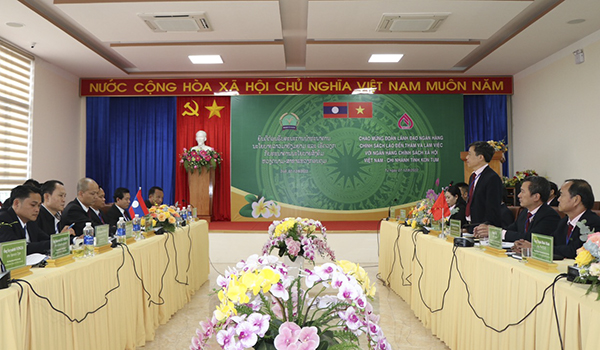 The scene of the working session
In the program, on the morning of August 8, the delegation had a working session with VBSP branch in Kon Tum province. The two sides exchanged information on the operation of the two branches in recent years and discussed preferential loan models to help the poor develop their economy and improve their lives. Nayoby Attapeu branch is particularly interested in the loan model through the form of entrustment and the operation of savings and credit groups, mass organizations. Currently, the VBSP branch in Kon Tum province has been signing entrustment contracts with 4 mass organizations, including: Farmers' Union, Women's Union, War Veteran's Association and Youth Union.
With the model of disbursement through the form of entrustment, the VBSP branch in Kon Tum province has built a network of 102 transaction points in 100% of communes and towns 1,666 savings and credit groups in 100% of villages to promptly, quickly and conveniently transfer preferential credit to beneficiaries.
Currently, Nayoby Attapue branch is operating in 2 provinces, Attapue and Sekong. Each province has a credit management board at three levels: province, district and village. From 2020, learning the model of VBSP to manage loans through entrustment with mass organizations, up to now, the branch has piloted it in 4 districts with 10 villages and 28 savings and credit groups.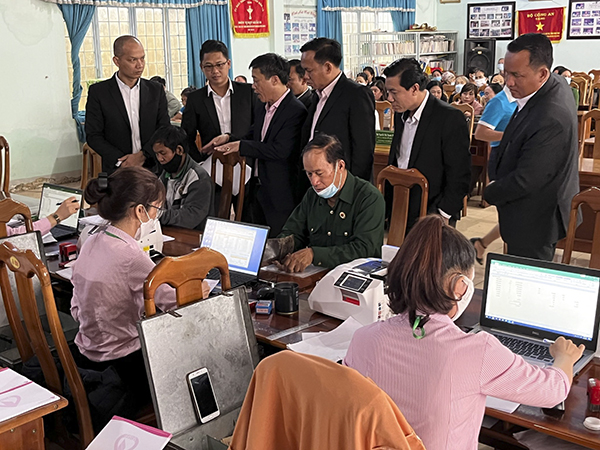 The delegation learned experience directly at the VBSP Commune Transaction Point
The exchange and learning experience this time is the basis for Nayoby Attapue branch to evaluate and continue to replicate the model of disbursement and capital recovery through entrustment in the coming time, in order to improve credit quality, helping people, especially the poor to effectively access and use preferential loans for economic development and social security. At the same time, connecting the friendship and solidarity of the two provinces of Kon Tum and Attapue in particular, the Socialist Republic of Vietnam and the Lao PDR in general.
vbsp.org.vn
LENDING INTEREST RATE
Poor Households

Lending to poor households
6,6%/year
Lending to poor households in 64 poor districts as stipulated by the Government Resolution No.30a in 2008
3,3%/year

Near Poor Households

Lending to near poor households
7,92%/year

Students

Lending to disadvantaged students
6,6%/year

People in need of loans for job creation

Lending to business establishments owned by war invalids and handicapped persons
3,3%/year
Others...
DEPOSIT INTEREST RATE
Term
Deposit Rate
Overnight
3,04%/year
1 week
3,23%/year
2 week
3,5%/year
Others...