VISITORS







Press Release
Updated: 2022-08-05 13:29:19
VBSP inclusive finance contributes to sustainable poverty reduction
(VBSP News) Thanks to the VBSP's credit programs in Go Dau district (Tay Ninh) to raise livestock for economic development, up to now, the number of poor households has been significantly reduced, only 19 households in Phuoc Thanh commune.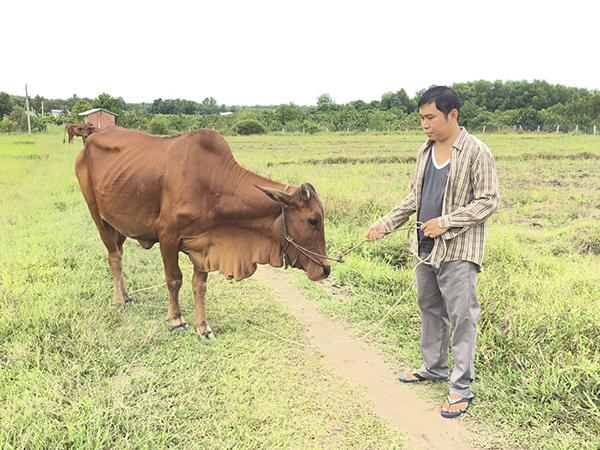 Customer Vo Hoai Anh develops cow husbandry from VBSP's loans
Chairman of Farmers' Union in Phuoc Thanh Commune, Nguyen Van Chua said: Over the past time, VBSP loans have created stable jobs for farmers, helping them have conditions to change careers and develop household's economy. The commune Farmers' Union continues to encourage people to use the policy capital for the right purposes to develop the household's economy, get rich legitimately, and contribute to the development of the local economy.
From the beginning of 2022 until now, the Farmers' Union of Phuoc Thanh commune has performed well the entrusted task for the poor and other disadvantaged groups. Currently, the union has 16 Savings and Credit Groups with 789 members. The outstanding loans reached more than VND 17.7 billion, in which, the credit program for poor and near-poor households was nearly VND 400 million, the credit program for creating jobs was nearly VND 2.6 billion, and the program for rural water and sanitation was VND 1.6 billion.
The credit capital of the VBSP district transaction office has brought practical effects, making an important contribution to the implementation of the goal of sustainable poverty reduction, ensuring social security, creating jobs, stabilizing politics and local social security.
Customer Vo Hoai Anh, born in 1984 in Phuoc Dong hamlet, Phuoc Thanh commune, has stable economic development from this capital. Before that, in 2018, he did not have a stable job. With advice and support from the commune Farmers' Union, he borrowed VND 50 million from VBSP's job creation program. As a result, he decided to buy 2 breeding cows. Thanks to effective care, up to now, his family's herd of cows has grown to 10, the family's economy is stable and living standards are improved, contributing to the development of the local economy.
vbsp.org.vn
LENDING INTEREST RATE
Poor Households

Lending to poor households
6,6%/year
Lending to poor households in 64 poor districts as stipulated by the Government Resolution No.30a in 2008
3,3%/year

Near Poor Households

Lending to near poor households
7,92%/year

Students

Lending to disadvantaged students
6,6%/year

People in need of loans for job creation

Lending to business establishments owned by war invalids and handicapped persons
3,3%/year
Others...
DEPOSIT INTEREST RATE
Term
Deposit Rate
Overnight
3,04%/year
1 week
3,23%/year
2 week
3,5%/year
Others...