VISITORS







News & Events
Updated: 2022-08-22 15:14:02
Serving customers at commune transaction points
(VBSP News) In order to support the poor and other disadvantaged groups to easily access policy credit, VBSP Transaction Office of Kien Hai district (Kien Giang) has brought professional activities to commune transaction points to serve their customers.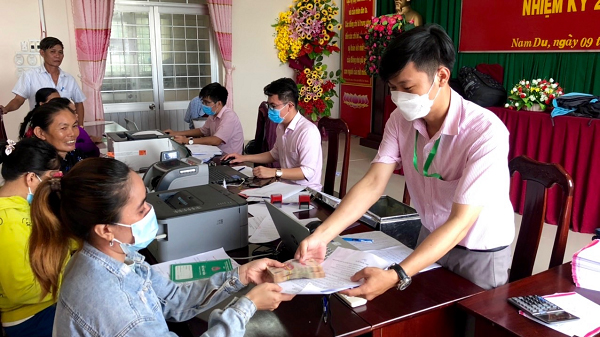 Customers are disbursed loans right at VBSP's commune transaction points
Kien Hai district has 4 communes; however, traveling is still difficult and far away from center. In the past, if people wanted to borrow loans for production and breeding, they had to move from the island to the mainland, which was both costly and time consuming, especially for the poor and other policy beneficiaries.
Understanding the difficulties of people at the island, VBSP Transaction Office of Kien Hai district has built a model of the Commune Transaction Team with the goal of bringing policy credit capital to the people in order to promptly promote social security and sustainable poverty reduction for people on the island. Accordingly, each commune People's Committee office is a transaction point of VBSP with a fixed transaction date every month, even on weekend. The operation of the commune transaction team is considered as a miniature bank, ensuring the full implementation of banking operations such as interest collection, savings collection, debt collection, disbursement, cash payment, entrustment fee withdrawal, commission etc…
Until now, VBSP Transaction Office of Kien Hai district has implemented 8 credit programs with outstanding loans of over VND 175 billion. It has given loans to more than 6.320 households, in which, 1.385 of poor and near-poor households.
According to Mr. Lam Ngoc Phong - Deputy Director of VBSP Transaction Office of Kien Hai district, the model of the commune transaction team is a distinctive feature of VBSP, which clearly shows the role of VBSP staff who always "understand deeply, serve dedicatedly". VBSP directly brings loans to people's residences to reduce travel costs for them and help them meet, discuss directly with bank staff and local leaders, promptly remove difficulties for people when they need loans for family economic development.
In addition to professional activities, the commune transaction team also held briefings with the Chairman of the commune People's Committee; the Head of the Poverty Reduction Committee and the entrusted mass organizations on propagating, disseminating and publicizing credit policies, interest rates for beneficiaries in the area, so that people can understand and access credit policies in a timely and accurate manner.
Thanks to the well-organized commune transaction points, over the past time, the credit work has been promoted effectively, the credit quality has been improved, the ability to collect debts has been increased, and overdue debts have been reduced; quality of entrustment activities, activities of savings and credit groups in Kien Hai district have been improved.
With the motto "Understand deeply, serve dedicatedly", in the coming time, VBSP Transaction Office of Kien Hai district will continue to improve the quality of operations at commune transaction points; strengthen the review and update of new documents, regulations and policies at transaction points so that people can access loans quickly. Simultaneously, integrating policy credit with agricultural and fishery extension programs, science and technology transfer and other capital sources to help the poor and other disadvantaged groups use capital effectively, step by step get out of poverty and stabilize their lives.
vbsp.org.vn
LENDING INTEREST RATE
Poor Households

Lending to poor households
6,6%/year
Lending to poor households in 64 poor districts as stipulated by the Government Resolution No.30a in 2008
3,3%/year

Near Poor Households

Lending to near poor households
7,92%/year

Students

Lending to disadvantaged students
6,6%/year

People in need of loans for job creation

Lending to business establishments owned by war invalids and handicapped persons
3,3%/year
Others...
DEPOSIT INTEREST RATE
Term
Deposit Rate
Overnight
3,04%/year
1 week
3,23%/year
2 week
3,5%/year
Others...