VISITORS







News & Events
Updated: 2022-09-21 09:55:45
Focusing on lending to ethnic minority households
(VBSP News) Implement Decree No. 28/2022/ND-CP of the Government on preferential credit policies for implementation of the National Target Program on socio-economic development in ethnic minority and mountainous areas in the period 2021 - 2030, phase 1 (2021 - 2025) (Decree 28), VBSP branch in Thua Thien - Hue province has been effectively disbursed capital to the right beneficiaries.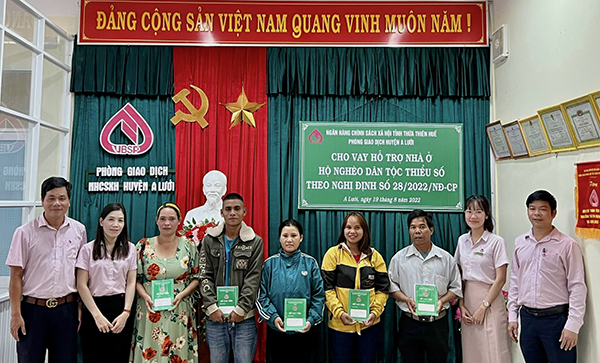 Ethnic minority households in A Luoi district receive housing loans
On the basis of the capital source under Decree 28 allocated by the central government with more than VND 28.9 billion, the branch advised the Head of the Board of Directors's Representative of the VBSP's provincial branch to allocate this credit capital to the districts and towns, including: A Luoi VND 22 billion; Nam Dong VND 5 billion; Phu Loc VND 850 million and Huong Tra Town VND 1.1 billion.
As of August 19 2022, the branch has lent VND 360 million to 9 poor households who are ethnic minorities to support housing construction. In which, 4 households in Nam Dong district borrowed VND 160 million and 5 households in A Luoi district borrowed VND 200 million. These are the first ethnic minority households in the two districts get benefit from the policy under Decree 28.
In order to implement effectively Decree 28, in the coming time, the branch will continue to direct the district transaction offices to coordinate with entrusted mass organizations to strengthen communication of credit policies under Decree 28 to widely disseminate to all people. Simultaneously, direct the subordinate units to appoint staff to guide the procedures, loan documents, and timely disbursed to borrowers. Along with the loan disbursement, the branch will strengthen the inspection and supervision of the loan process, capital use and debt repayment of the borrower, ensuring that the capital is used for the right purposes, efficiently, and guarantee the ability to repay the loan on time.
vbsp.org.vn
LENDING INTEREST RATE
Poor Households

Lending to poor households
6,6%/year
Lending to poor households in 64 poor districts as stipulated by the Government Resolution No.30a in 2008
3,3%/year

Near Poor Households

Lending to near poor households
7,92%/year

Students

Lending to disadvantaged students
6,6%/year

People in need of loans for job creation

Lending to business establishments owned by war invalids and handicapped persons
3,3%/year
Others...
DEPOSIT INTEREST RATE
Term
Deposit Rate
Overnight
3,04%/year
1 week
3,23%/year
2 week
3,5%/year
Others...