VISITORS







Press Release
Updated: 2022-09-19 14:44:04
Practical and effective preferential credit policies for the poor and other policy beneficiaries
(VBSP News) On September 7, the People's Committee of Binh Duong province held a conference to review 20 implementation years of Decree No. 78/2002/ND-CP dated 4th October 2002 of the Government on credit for the poor and other policy beneficiaries. Attending the conference were Nguyen Loc Ha - Member of the Provincial Party Standing Committee, Vice Chairman of the Provincial People's Committee; Bui Quang Vinh - VBSP Deputy General Director; and leaders of departments, agencies and localities in the province.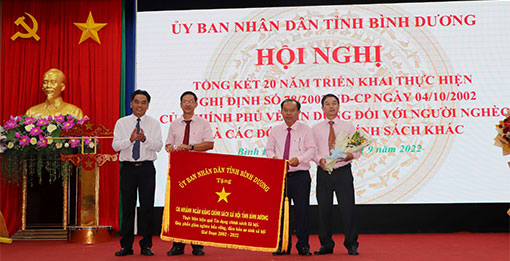 VBSP branch in Binh Duong province is awarded for its achievements over 20 implementation years of credit policy for the poor
Impressive numbers
During the 20 years, provincial leaders directed departments, agencies, branches and local administrations to coordinate with the VBSP branch to well implement preferential policies supporting the poor, near-poor people. Loan programs from the VBSP branch contributed to not only the implementation of the National Targeted Program for Sustainable Poverty Alleviation, but also ensuring the province's social welfare. Through mass organizations, credit funds entrusted by associations and mass organizations have reached hundreds of thousands of poor and near-poor households.
Total value of loans granted by the VBSP branch over the last 20 years reached more than VND 10,700 billion, with 445,610 turns of poor households and other policy beneficiaries; total debt collection was nearly VND 6,400 billion; total outstanding loans as of 31st July 2022 reached more than VND 4,440 billion, an increase of more than VND 4,358 billion compared to 2003.
Over the past 20 years, the VBSP branch and its district branches supported 66,805 turns of poor and near-poor households to get loans, creating jobs for 181,362 workers, contributing to reducing the unemployment rate, increasing income, and expanding production. These units disbursed loans for 43,585 students having difficult circumstances; loans for 141,049 households to build 282,098 rural clean water and sanitation works; built new houses for poor households, social housing with 707 houses; 237 turns of employers taking out loans to do severance payment, pay wages to resume production to 124,103 employees. This loan program helped 43,627 households get out of poverty, no households falling back into poverty.
To expand the network of savings and credit groups, strengthen supervision
In order to help the poor and policy beneficiaries to access preferential credit policies, the VBSP branch in Binh Duong province opened transaction offices and sessions in 89/91 communes, wards and townships of the province, and held on a fixed date every month; at least once a month including Saturday and Sunday. During this day, the bank performed disbursement, debt collection, interest collection, deposit opening and collection... This way saves time, is acclaimed by the people, brings high efficiency and is a step forward in administrative procedure reform.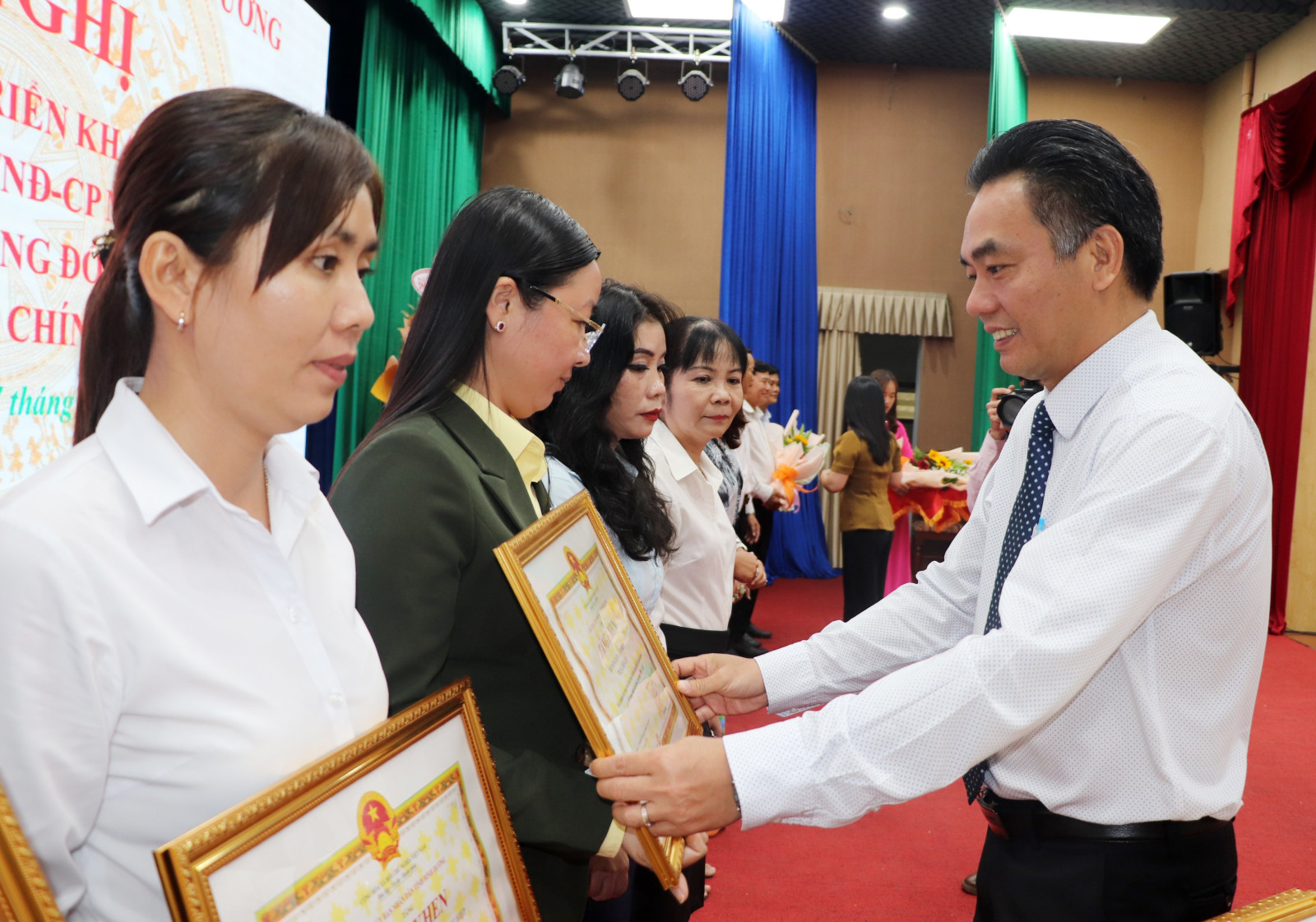 VBSP branch in Binh Duong province is presented certificates of merit from the Provincial People's Committee to excellent individuals in implementing loan program for poor households
VBSP branch in Binh Duong province constantly develops and expands the network of savings and credit groups. Currently, there are 1,640 savings and credit groups in all areas and hamlets of the province. With an average of 47 members/group, VND 50 million/member and VND 2,360 billion/team. the VBSP branch set standards to evaluate effectively the lending and debt collection, thereby bringing high efficiency. Savings and credit groups directly contact and work with borrowers, hence it plays a very important role in credit implementation, acts as a bridge between the banking system and borrowers, and is an extension of the banking system to each area, each hamlet. As a result, the Government's preferential credit fund was disbursed and transferred quickly, accurately and efficiently to the poor and other policy beneficiaries, ensuring publicity and democracy.
At the conference, Bui Quang Vinh said that VBSP branch had grown steadily thanks to the timely attention and direction of the Party committees and provincial leaders; become a good support for poor households and other policy households in difficult times. The bank gradually improved its own specific organization in accordance with conditions of the province. Particularly, the VBSP branch advised the Party committees and local administrations to well implement Directive No. 40-CT/TW of The Secretariat on strengthening the Party's leadership in social policy credit, thereby creating a larger and more effective loan source.
Speaking at the conference, Nguyen Loc Ha said that the VBSP branch was established in 2003 to provide preferential credit to the poor and other policy beneficiaries. After 20 years, the VBSP branch has well performed its tasks, made practical effects on the lives of people, especially poor households. This policy has been contributing to the implementation of national target programs for sustainable poverty alleviation, new rural construction and social welfare in the province. In the coming time, the VBSP branch system needs to closely coordinate with Party committees and administrations at all levels to develop high-quality human resources to meet task requirements in the new period.
baobinhduong.vn
LENDING INTEREST RATE
Poor Households

Lending to poor households
6,6%/year
Lending to poor households in 64 poor districts as stipulated by the Government Resolution No.30a in 2008
3,3%/year

Near Poor Households

Lending to near poor households
7,92%/year

Students

Lending to disadvantaged students
6,6%/year

People in need of loans for job creation

Lending to business establishments owned by war invalids and handicapped persons
3,3%/year
Others...
DEPOSIT INTEREST RATE
Term
Deposit Rate
Overnight
3,04%/year
1 week
3,23%/year
2 week
3,5%/year
Others...