VISITORS







News & Events
Updated: 2022-09-19 11:51:12
The effectiveness of VBSP inclusive finance
(VBSP News) Over the past years, VBSP in Ba Vi district (Hanoi city) has disbursed hundreds of VND billion through preferential loan programs, helping poor households and other policy beneficiaries have the opportunity to access with capital, invest in production development, gradually escaping from poverty and complete the criteria for building a new rural area.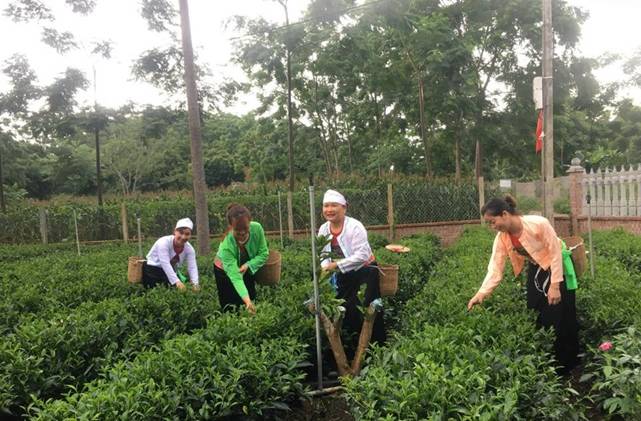 Model of growing safe tea by Ms. Dang Thi Thu Ha in village 3, Ba Trai commune
Bringing capital to people
With the motto of bringing capital closer to the people, creating conditions for the poor and other disadvantaged groups to access preferential capital, reducing travel time and costs, VBSP transaction office in Ba Vi district has 31 transaction points at communes and towns. At transaction points, preferential credit policies are publicly listed, borrowers transact directly on a fixed date every month in the presence of representatives of commune-level local authorities, entrusted mass organizations and group management board.
Determining the important role of credit capital in rural development, VBSP transaction office in Ba Vi district has coordinated with local authorities and mass organizations to link propaganda on credit lending policies with the new rural development program.
By the end of May 2022, the whole district had more than 100,000 turns of poor households and other disadvantaged groups getting loans from policy credit to develop production and business, increase income, and improve life with total outstanding loans reached VND 852.6 billion, in which, over 39,000 turns of poor households, near-poor households, post - poor households; 191 turns of poor households are ethnic minorities who lack productive land.
Ms. Dang Thi Thu Ha, a member in village 3, Ba Trai commune, Ba Vi district shared: "The commune and village Women's Union cooperated with the savings and credit group to create condition for my family to borrow VBSP's loan. Thanks to the loan to develop the family economy, our life has changed".
Creating motivation for new rural development
Besides helping households to develop production, policy credit also plays an important role in implementing and improving the quality of new rural criteria in Ba Vi district. Through the loan support programs, nearly 18,700 households escaped from poverty; over 33,000 laborers were created jobs; over 16,000 turns of disadvantaged students got loans to pay study expenses; more than 41,000 thousand clean water and sanitation works in rural areas were built and upgraded, nearly 1,600 poor households built permanent houses. Thereby, contributing to helping localities fulfill criteria on environment and food safety, residential housing in new rural development.
Chairman of Tan Linh Commune People's Committee Pham Dinh Hung said: The commune has reached the goal of the new rural development in 2021. To achieve this, beside other investment resources, VBSP's loans play a very important role in helping the people in the commune have conditions for economic development, rising out of poverty. Currently, there are only 12 poor households in the whole commune, accounting for 1%, achieving the target of poverty reduction in new rural construction.
In the past 20 years, policy credit capital has been invested to 100% of communes and towns in Ba Vi district, focusing on giving priority to lending to communes in ethnic minority areas, disadvantaged areas, mountainous communes, Minh Chau island commune, etc. Thereby, from an area with many difficulties, until now, Ba Vi district has achieved many positive results in new rural development. The district's poverty rate decreased from 3% in 2010 to 0.82% in 2021.
vbsp.org.vn
LENDING INTEREST RATE
Poor Households

Lending to poor households
6,6%/year
Lending to poor households in 64 poor districts as stipulated by the Government Resolution No.30a in 2008
3,3%/year

Near Poor Households

Lending to near poor households
7,92%/year

Students

Lending to disadvantaged students
6,6%/year

People in need of loans for job creation

Lending to business establishments owned by war invalids and handicapped persons
3,3%/year
Others...
DEPOSIT INTEREST RATE
Term
Deposit Rate
Overnight
3,04%/year
1 week
3,23%/year
2 week
3,5%/year
Others...