VISITORS







Press Release
Updated: 2022-12-02 10:08:57
Results of 20 years of cooperation between VBSP and Policy Research Institute - Ministry of Finance of Japan
(VBSP News) As for VBSP, in order to achieve success like today, first of all, thanks to the leadership and direction of the Party, the National Assembly, the Government and the State, the great efforts and determination of all VBSP's staff and the support of international organizations from the first days of VBSP's establishment. In particular, the long-term and sustainable cooperation relationship between VBSP and the Policy Research Institute (PRI) - the Ministry of Finance of Japan, the National Life Finance Corporation (current "JFC-Micro") through the Technical Support Project for VBSP for the period 2003 - 2011.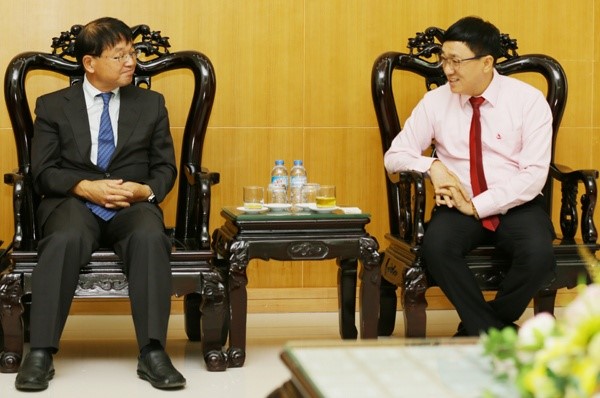 Mr. Daikichi Momma (left), Former President of PRI - Ministry of Finance of Japan, assessed: "The effectiveness and impact of the technical cooperation project with VBSP will be shared and replicated by us in other countries"
In Phase I (2003-2006), the PRI, in collaboration with JFC-Micro, conducted seminars to provide knowledge and expertise regarding credit investigation and analysis of small business, skills of customer interview and educational loans to the VBSP HQ executives, its HQ staff, branch managers. As a result of over three implementation years, 273 VBSP staff attended training seminars in Vietnam and Japan and then VBSP conducted in-house training for 9,893 turns of VBSP staff at branch level. Furthermore, since 2005, PRI has assisted VBSP in formulating its "Credit Analysis Materials", which include a "Guide for Credit Analysis for Job Creation Loan Program".
In Phase II (2006-2008), the PRI and JFC-micro gave lectures on the above "Credit Analysis Materials" and expertise on loan management and loans to newly established enterprises mainly to transaction office managers through seminars. As the outcome of these activities, for example, its credit analysis form for the Job Creation Loan Program was effectively revised and its credit analysis by the VBSP only became accepted by the government. Moreover, the seminar participants disseminated what they had learned from JFC-micro to other staff who had not participated through their in-house training.
In Phase III (2009 to 2011), PRI and JFC-Micro provided seminars to transfer the know-how on developing training materials and training the trainers regarding credit analysis methods of small businesses for enhancement of VBSP training staff ability. As a result of activities, VBSP has organized itself a three-day training course on credit analysis methods for small businesses using the training materials developed by the Training Center staff.
Currently, "Credit Analysis Materials" is still used by VBSP credit officers to investigate and analyze credit in lending activities in general, lending to small and medium enterprises; lending to entrepreneurs doing business in disadvantaged areas, lending to job creation, etc. Some branches have applied a part of the appraisal form in the "Credit Analysis Materials" to supplement the loan appraisal process of VBSP.
Appraisal skills, experience in credit assessment and analysis for loan programs in general and loan programs for small and medium enterprises, and job creation in particular have been clearly improved, especially for newly recruited staff. Thereby, credit quality has been improved, the rate of overdue and frozen debt of VBSP has decreased sharply and remained stable in the past few years at less than 0.8% of total outstanding loans.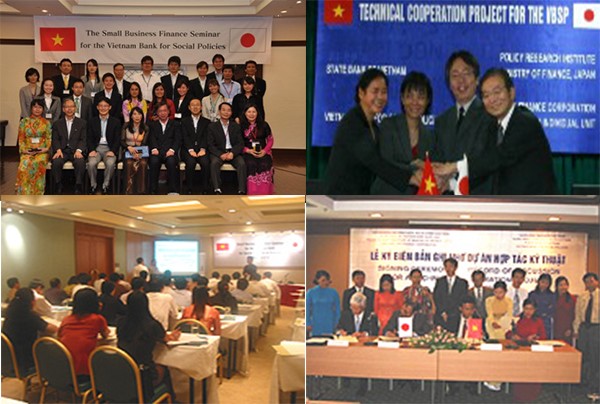 Technical cooperation between PRI, JFC-micro and VBSP has really brought positive results to VBSP's policy credit activities
By October 31, 2022, the total credit capital reached VND 293,470 billion, an increase of VND 286,365 billion (41.3 times) compared to 2002, the average annual growth rate of 21.3%.
In the past 20 years, policy credit has supported nearly 6.3 million households to overcome the poverty line, created jobs for nearly 5.9 million workers (of which more than 140,000 migrant workers), supported more than 3.8 million students to get loans to study, helped buy nearly 82,000 computers and online learning equipment for students, built nearly 16.8 million rural safe water and sanitation constructions, built more than 728 thousand houses for the poor and other policy beneficiaries, supported the purchase/rent-purchase of more than 28.4 thousand social housing houses, nearly 2,000 businesses and employers affected by the COVID-19 pandemic borrow capital to pay wages and restore production.
Policy credit has actively contributed to the implementation of the National Target Program on rapid and sustainable poverty reduction, ensuring social security, building new rural areas, contributing to reducing the rate of poor households across the country. The period 2001 - 2005 decreased from 17% to 7%; period 2005 - 2010 from 22% to 9.45%; period 2011 - 2015 from 14.2% to 4.25%; period 2016 - 2020 from 9.88% to 2.23%.
Mr. Hisao DAITO, Former Chief of International Cooperation Office (JFC-Micro) shared his thoughts and feelings when cooperating with VBSP: "Through seminars and meeting within the framework of the project, we know much more about the culture and people of Vietnam. With regard to VBSP staff, we appreciate that you are all very enthusiastic about and dedicated to acquiring the knowledge and experiences that we imparted. Personally, I did regard myself as a member of VBSP when I had a chance to work with you to prepare the "Credit Analysis Materials" in 2005. And the success of the project today is a testimony to the close coordination between the two sides in recent years".
vbsp.org.vn
LENDING INTEREST RATE
Poor Households

Lending to poor households
6,6%/year
Lending to poor households in 64 poor districts as stipulated by the Government Resolution No.30a in 2008
3,3%/year

Near Poor Households

Lending to near poor households
7,92%/year

Students

Lending to disadvantaged students
6,6%/year

People in need of loans for job creation

Lending to business establishments owned by war invalids and handicapped persons
3,3%/year
Others...
DEPOSIT INTEREST RATE
Term
Deposit Rate
Overnight
3,04%/year
1 week
3,23%/year
2 week
3,5%/year
Others...