VISITORS







Press Release
Updated: 2023-01-13 14:59:51
Performance results of VBSP in 2022
(VBSP News) On January 7, 2023, in Hanoi, VBSP held a conference to implement the 2023 mission. Secretary of the Party Committee of VBSP, Member of the Board of Directors - General Director Duong Quyet Thang chaired the meeting.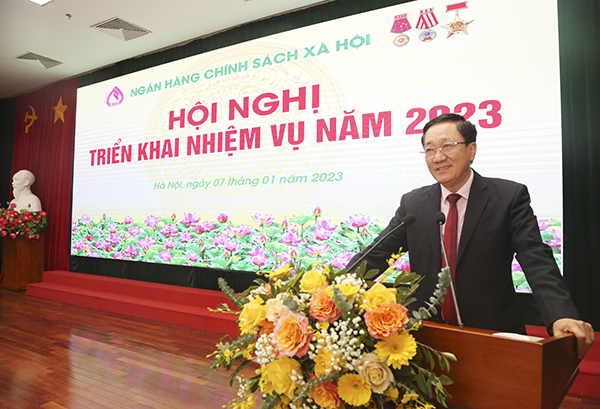 General Director Duong Quyet Thang spoke at the Conference
Attending the Conference were the Head of the Supervisory Board; Standing Deputy Secretary of the Party Committee of the VBSP; the Deputy General Directors; Chief Accountant; Vice President in charge of Trade Union; Chief of Office, Deputy Chiefs of Office; Directors, Deputy Directors of Operational Departments at the Head Office; and 63 branches of VBSP in provinces and cities, Training Center, Information Technology Center and Transaction Office.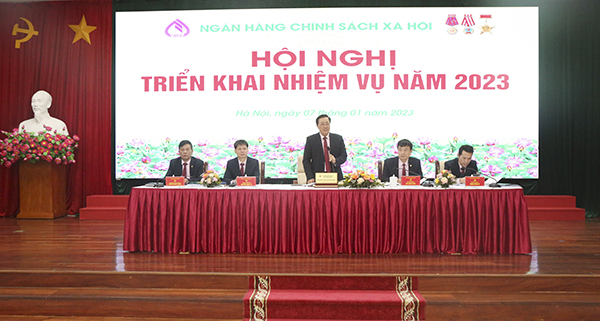 The Presidium of the Conference
By December 31, 2022, total policy credit capital reached over VND 297 trillion, an increase of VND 40,818 billion compared to 2021; in which the entrusted capital from the local budget reached VND 30,602 billion. The total outstanding loans of policy credit by the end of 2022 will reach over VND 283 trillion, with over 6.5 million active customers.
For preferential lending policies according to Resolution No. 11/NQ-CP, by December 31, 2022, the whole system has disbursed over VND 16 trillion; disbursing loans from credit programs with interest rate support of more than VND 93 trillion for over 2.2 million customers; providing 2% interest rate support for loans with lending interest rate over 6%/year, total support amount is VND 878 billion.
Besides the growth of outstanding loans of credit programs, debt quality continued to be maintained stably. The ratio of overdue and frozen debt accounted for 0.67% of total outstanding loans.
In 2022, social policy credit has supported and created jobs for nearly 879 thousand employees, helping over 7.5 thousand laborers to work abroad for a definite time; helping nearly 70,000 disadvantaged students continue studying; disbursing loans for nearly 86 thousand households to buy computers and learning equipment; helping nearly 1.1 thousand businesses borrow capital to restore production and business, pay wages to nearly 155,000 workers affected by the Covid-19 pandemic; building nearly 1.5 million clean water and sanitation works; building nearly 1.6 thousand houses for poor households to stabilize their lives, over 11.2 thousand social houses for low-income people... contributing to the effective implementation of 03 target programs on sustainable poverty reduction, new rural construction, socio-economic development in ethnic minority and mountainous areas.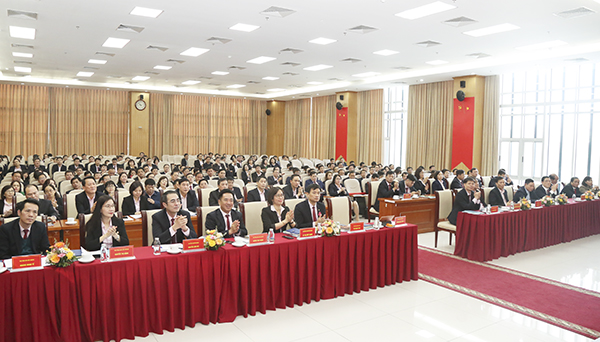 Delegates to the Conference
The General Director emphasized that the results achieved in 2022 are thanks to the deep attention of the leaders of the Party, the National Assembly and the Government; the support of ministries, departments, branches, committees and local authorities; the drastic and close direction of the Board of Directors, the Board of Management; the close coordination of the mass organizations entrusted with the determination and responsibility of the units in the system from the Head Office to the provincial and city branches.
vbsp.org.vn
LENDING INTEREST RATE
Poor Households

Lending to poor households
6,6%/year
Lending to poor households in 64 poor districts as stipulated by the Government Resolution No.30a in 2008
3,3%/year

Near Poor Households

Lending to near poor households
7,92%/year

Students

Lending to disadvantaged students
6,6%/year

People in need of loans for job creation

Lending to business establishments owned by war invalids and handicapped persons
3,3%/year
Others...
DEPOSIT INTEREST RATE
Term
Deposit Rate
Overnight
3,04%/year
1 week
3,23%/year
2 week
3,5%/year
Others...