VISITORS







Press Release
Updated: 2023-03-21 08:44:06
The exposure visit of the Nepal delegation of ASDP in Vietnam
(VBSP News) From March 14-20, 2023, the delegation of the Agricultural Sector Development Program (ASDP) - Nepal, led by Secretary of Ministry of Agriculture and Livestock Development - Govinda Prasad Sharma came to Vietnam in the exposure visit on agriculture, cooperatives and microfinance hosted by Vietnam Bank for Social Policies (VBSP).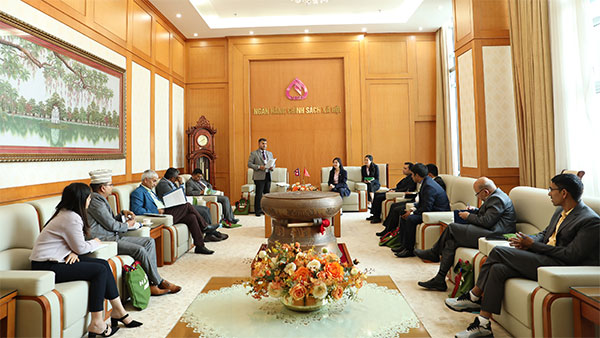 VBSP Deputy General Director Nguyen Thi Hang and representatives of some operational departments at VBSP Head Office worked with the delegation
In the working program, the delegation had a brief working session with VBSP Deputy General Director Nguyen Thi Hang to have a broad view of VBSP role in poverty reduction in Vietnam. As a government credit institution, operating for non-profit, VBSP is the largest bank providing inclusive finance for poor households and other policy beneficiaries in Vietnam.
During this session, the delegation learned about VBSP's experiences in credit policies, credit risk management as well as business models and project management to support the poor, contribute to sustainable poverty reduction in Vietnam. In addition, VBSP also shared with the delegation on financial education and digital financial services (SMS notification service, financial education application, policy credit management application, Mobile Banking digital banking application, etc.) for the poor and other disadvantaged groups.
In the program, the delegation visited the transaction office of VBSP in Ha Dong district and Mr. Nguyen Dinh Tuan's household in Group 6, Dong Mai, Ha Dong district, Hanoi, who was a borrower from VBSP. Tuan was a member of Savings and Credit Group under the Women's Union of Dong Mai ward. His household is a successful borrowing model of VBSP. He got a loan of VND 100 million from VBSP's job creation lending program to invest in gardening and planting fruit trees on 16,000 m2 of the leased garden land area (rent from state auction). Up to now, he has produced effectively and created jobs for 4 workers in the household. In the harvest or fertilizing season, he hired from 1 to 2 seasonal workers. The average annual revenue of the household is VND 400-500 million.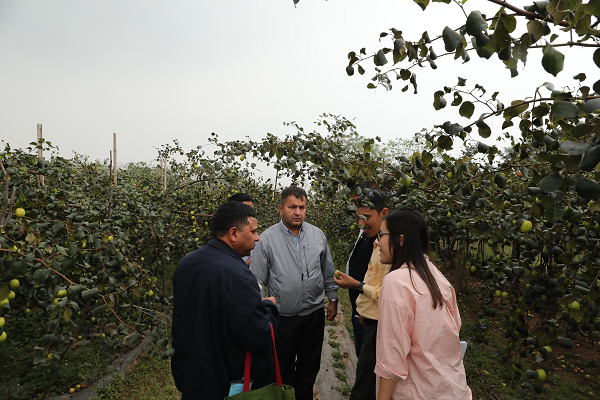 The delegation visited Mr. Tuan's garden and enjoyed jujube at his garden
To have a closer look at local agriculture and cooperatives, on 16th March, the delegation visited Commercial Smallholder Support Project (CSSP) office in Bac Kan city to learn about the effectiveness of the project. They were also taken to Nhung Luy cooperative to be introduced to value chain on zucchiniin Ba Be district, Bac Kan province. This is a typical product of Bac Kan province in general and of Ba Be district in particular with competitive advantages, known and favored by a part of consumers, so it has potential for development. Particularly, the Nhung Luy cooperative has produced products fromzucchinithat meet 5-star standards and are exported to Europe.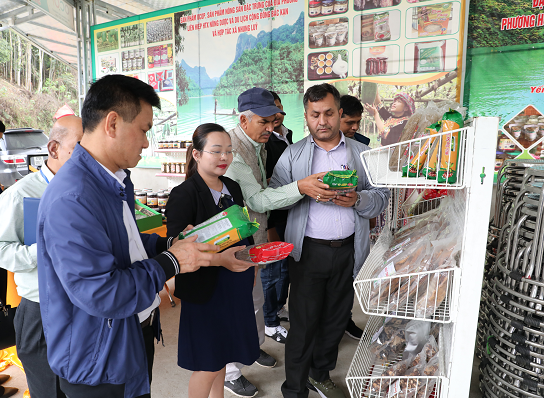 The delegation was introduced products sold in the market of the Nhung Luy cooperative in Ba Be district, Bac Kan province
On March 17, 2023, the delegation visited and worked with the Center for Agricultural Systems Research and Development (CASRAD). Theywere generally introduced about the Center byDr. Hoang Xuan Truong, Deputy Director of the Center anddiscussed on agriculture, value chains, agricultural services and shared experiences in implementing projects funded by IFAD in Vietnam. Then, the delegation visited a high-tech agricultural model funded by RDA Korea at the Vietnam Academy of Science and Technology. Experiences, techniques for growing and caring for strawberries and tomatoes were shared and guided by experts from Korea and Vietnam to the Nepal delegation.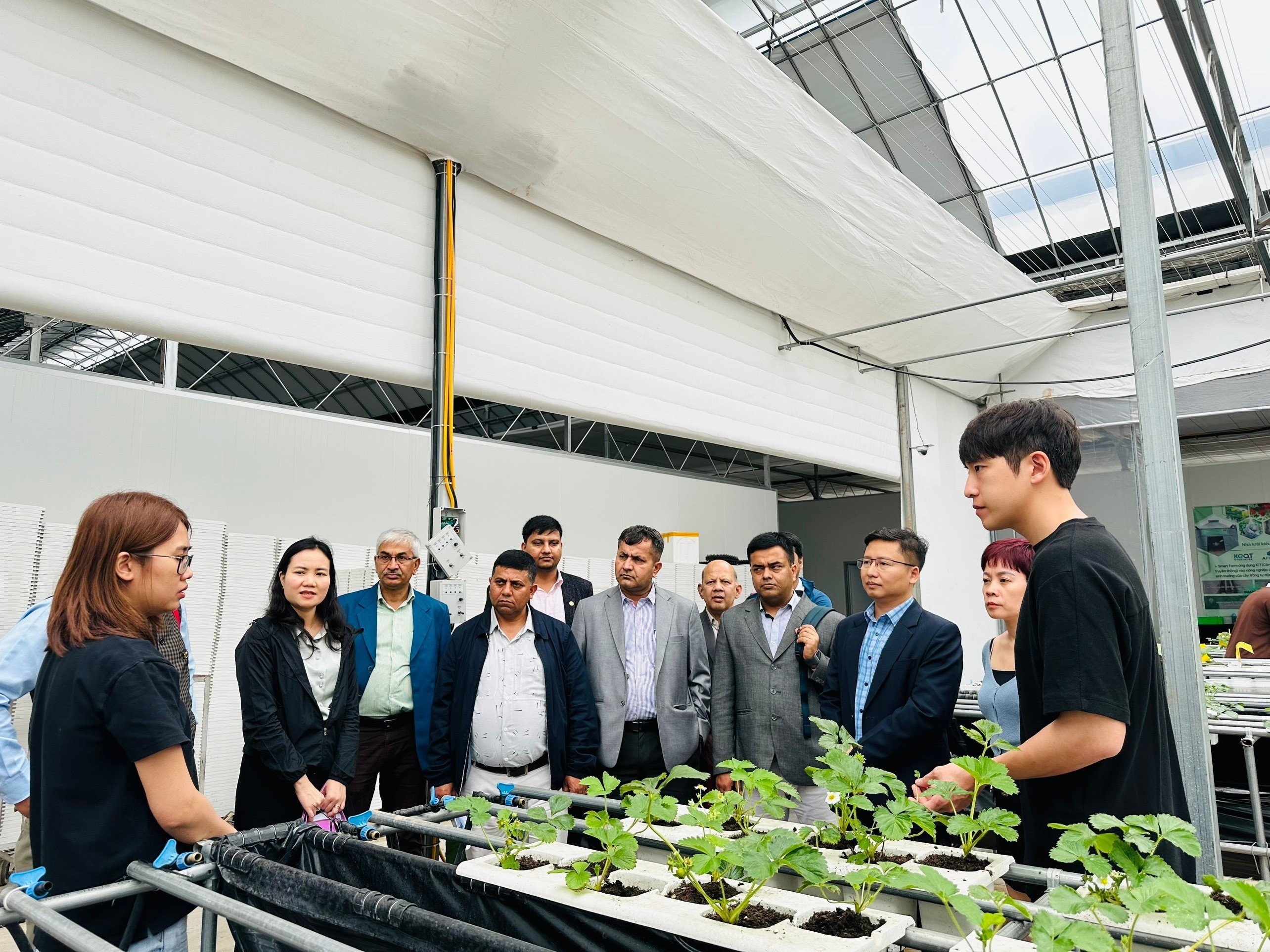 Korean experts share techniques and experiences of growing strawberries
Next day, the delegation visited Hai Phong - a coastal city, located in the East of the North Coast, an important pole in the economic triangle of Hanoi - Hai Phong - QuangNinh; located in two economic corridors: Kunming - Lao Cai - Hanoi - Hai Phong - QuangNinh and Nanning - Lang Son - Hanoi - Hai Phong; the port and a center for industry, service, logistics and tourism; the important traffic hub, the main door to the sea of the North, has advantages in transportation, processing, consumption and export of agricultural and aquatic products.
Agriculture and rural areas in Hai Phong have an important position and role in the industrialization and modernization of the city, contributing to sustainable socio-economic development, maintaining political stability and ensuring national security; preserve and promote cultural identity and protect the ecological environment. The city has always determined that agricultural economic development and new rural development are the top priority of both the political system and the whole society in the implementation of the socio-economic development strategy.With the advantage of geographical location, Hai Phong agriculture develops in all fields; Cultivation, animal husbandry, aquaculture, fishing and forestry production (associated with forest protection).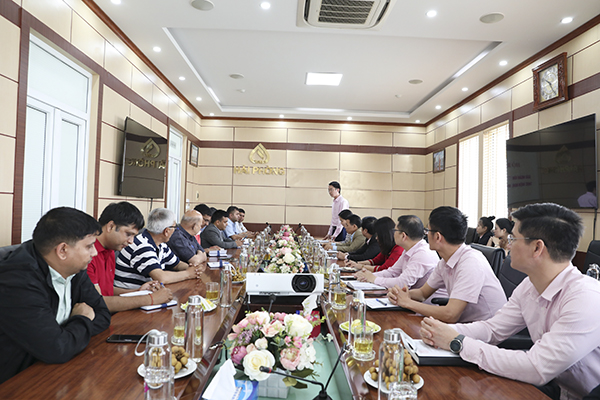 The delegation worked with representatives of local authorities in agriculture sector in VBSP branch in Hai Phong city
Agriculture Sector Development Programme (ASDP) is the project of Government of Nepal (GON) with the loan and grant support from International Fund for Agriculture Development (IFAD). ASDP aims to contribute to the achievement of Nepal's SDG1 and SDG2 targets by reducing poverty and nutrition insecurity amongst women and men in hill and mountain areas of Karnali Province. The Ministry of Agriculture and Livestock Development (MoALD) is the main executing agency of ASDP, with total funding of USD 68 million and implementation started from July 2018 for a period of six years. Goal of the ASDP is to contribute to the reduction of poverty and food insecurity among women and men in hill and mountain areas of Karnali Province. The Development Objective is to contribute to the income and food security of smallholders and disadvantaged rural groups involved in commercially-oriented production and marketing system in selected high value agriculture value chains.
vbsp.org.vn
LENDING INTEREST RATE
Poor Households

Lending to poor households
6,6%/year
Lending to poor households in 64 poor districts as stipulated by the Government Resolution No.30a in 2008
3,3%/year

Near Poor Households

Lending to near poor households
7,92%/year

Students

Lending to disadvantaged students
6,6%/year

People in need of loans for job creation

Lending to business establishments owned by war invalids and handicapped persons
3,3%/year
Others...
DEPOSIT INTEREST RATE
Term
Deposit Rate
Overnight
3,04%/year
1 week
3,23%/year
2 week
3,5%/year
Others...