VISITORS







News & Events
Updated: 2021-05-11 15:00:30
Sustainably escaping from poverty thanks to the newly escaped from poverty household lending program
(VBSP News) The newly escaped from poverty household lending program has been accelerated disbursement by VBSP in Phong Dien district (Thua Thien Hue), contributing to helping newly escaped from poverty households to have conditions for economic development, ensuring sustainable poverty reduction.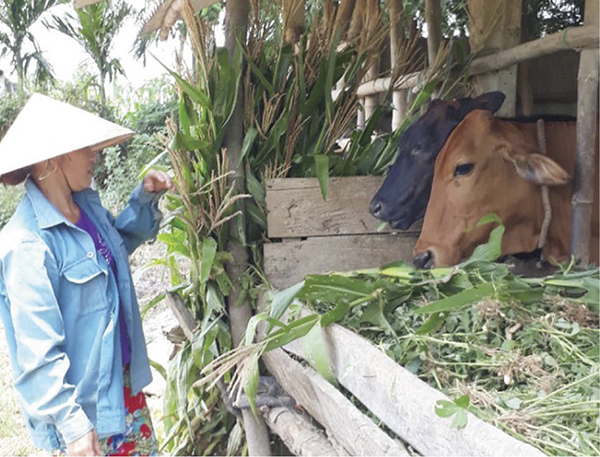 Thanks to VBSP's loans, customer Truong Thi Than Minh's family economy in Tu Chanh village, Phong Son commune, Phong Dien district becomes better
Currently, the maximum loan size of the credit program is VND 100 million/household, the maximum loan term is 5 years.
Previously, customer Truong Thi Than Minh's family was poor. Thanks to access to preferential loans from VBSP, she invested in breeding buffaloes and cows. After that, her family officially escaped from poverty and paid principal and interest to VBSP on time.
However, when being removed from the list of poor households in 2019, her family faced the risk of falling back into poverty because they did not have enough the capital to maintain the family economy. At that time, the leader of village savings and credit group and the district VBSP lent her family VND 50 million from the lending program for the newly escaped from poverty household. She invested in buying more cows and chickens, so she had a stable income of nearly VND 100 million/year.
Not only for Ms. Minh's family, the capital source of the lending program for the newly escaped from poverty household has effectively supported many households in Phong Dien district to escape from poverty sustainably. Accordingly, the district VBSP actively disbursed the allocated capital. As of March 31, 2021, the total outstanding loans of this credit program in the district reached VND 91,173 million with 2,664 active customers.
The President of the Women's Union of Phong Son commune, Chau Thi Tuyet, said "After receiving loans from the lending program for the newly escaped from poverty household, people focused on investing in cultivation, breeding, and development of host crops, effectively maintaining the capital management for sustainable economic development. Along with the credit program for poor and near-poor households, the lending program has made practical contributions to help households escape from poverty, stabilize their economic conditions and avoid falling back into poverty.
Director of VBSP of Phong Dien district Le Xuan Trung said: Immediately after receiving capital, the district VBSP assigned credit officers propagandize about new loan size and interest rates. Loan applications are quickly reviewed and evaluated, ensuring the right customers and loan purposes and promptly disbursing loans to households. In addition to capital disbursement, the district VBSP focused on coordinating propaganda and guiding the borrowers to use loans for the right purposes, regularly checking and urging the use of capital, debt and interest collection.
In the coming time, the district VBSP will strengthen solutions to well implement the credit plan assigned targets in 2021, ensure poverty protection and other last-mile populations, especially, the newly escaped from poverty household have access to loans to develop production and escape from poverty sustainably. Along with that, the coordination with mass organizations will be strengthened to manage entrust loans, improve credit quality in the area.
Vbsp.org.vn
LENDING INTEREST RATE
Poor Households

Lending to poor households
6,6%/year
Lending to poor households in 64 poor districts as stipulated by the Government Resolution No.30a in 2008
3,3%/year

Near Poor Households

Lending to near poor households
7,92%/year

Students

Lending to disadvantaged students
6,6%/year

People in need of loans for job creation

Lending to business establishments owned by war invalids and handicapped persons
3,3%/year
Others...
DEPOSIT INTEREST RATE
Term
Deposit Rate
Overnight
3,04%/year
1 week
3,23%/year
2 week
3,5%/year
Others...