VISITORS







Client success stories
Updated: 2021-05-05 11:04:26
Life stabilization thanks to policy budget
Base on accessing to preferential loans from VBSP and his committed struggle against, Mr. Lam Nghiem at Cai Gia hamlet, Hung Hoi commune, Vinh Loi district has settled down his life and escaped poverty sustainable.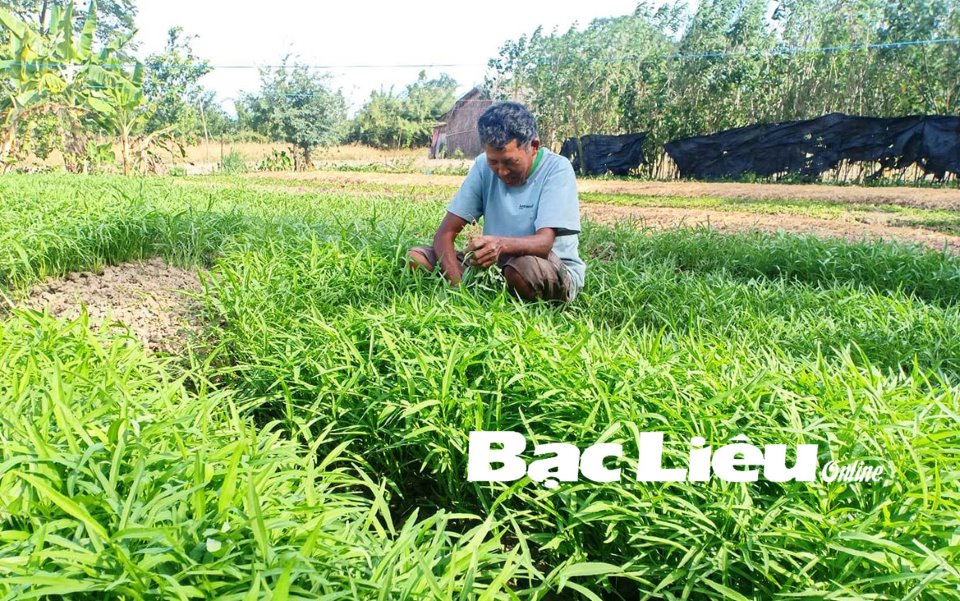 Lam Nghiem takes care of his vegetable garden
Recognizing the poor situation, Lam Nghiem and his wife always worked hard. However, due to the continued situation of the loss of product price, his family's life often faces many challenges.
Acknowledgement his hard-working, the People's Committee of Hung Hoi commune helped him get a preferential loan from VBSP branch in Vinh Loi district with VND 4 million. Using this budget, he invested in buying seeds and fertilizers to start a new crop. With his available experience plus his willingness to do business, he has a stable income and pays interest and capital in accordance with regulations. In recognition of his efforts, VBSP continued to increase its loan rate to VND 10 million and then to VND 20 million. From this support, he bravely developed a farming model, especially water morning glory. Up to now, every day after deducting expenses, he has an income of several hundred thousand VND. The use of a budget for the right purpose has helped a prosperous family economy. By the end of 2019, his household was identified for a sustainable escape from poverty.
He shared that he has received support from the local government and VBSP branch in order to have opportunities to invest in his effective model. Thereby, his family economy has developed and successful escape poverty.
baobaclieu.vn
LENDING INTEREST RATE
Poor Households

Lending to poor households
6,6%/year
Lending to poor households in 64 poor districts as stipulated by the Government Resolution No.30a in 2008
3,3%/year

Near Poor Households

Lending to near poor households
7,92%/year

Students

Lending to disadvantaged students
6,6%/year

People in need of loans for job creation

Lending to business establishments owned by war invalids and handicapped persons
3,3%/year
Others...
DEPOSIT INTEREST RATE
Term
Deposit Rate
Overnight
3,04%/year
1 week
3,23%/year
2 week
3,5%/year
Others...