VISITORS







Client success stories
Updated: 2022-03-22 09:30:19
Using policy credit to escape poverty
(VBSP News) Over these years, the movement of women escaping poverty launched by the Women's Union of Nam Dan district (Nghe An) has achieved many promising results. In which, there have been many advanced of adequately business models, which contribute to local socio-economic development. Following is a story of Dang Thi Nu in the Women's Union of Trung Can hamlet, Trung Phuc Cuong commune.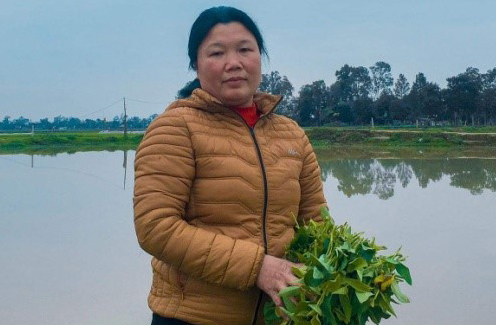 In 2002, Nu was married to Nguyen Huu Huong. Her family is listed as a near-poor household. Faced with hunger and poverty, she pondered on how to overcome difficulties and improve her family's economy. Therefore, she tries to experiment with every profession. Until 2020, with a help of the Women's Union, Nu has approached the policy credit with a loan of VND 100 million from the VBSP branch in Nam Dan district. She invested in building farms combined with fishing lakes, open fishing services, raise pigs, chickens and ducks.
Currently, the total poultry herd of her family is more than 1,500, 4 pairs of breeding cows, 20 pairs of breeding pigs and over 3 hectares of ponds for fish farming. With a strong will to rise, Nu's family has escaped poverty with the economic model bringing a stable income.
The preferential loan of the VBSP branch in Nam Dan district has helped Nu's family build a spacious house and has conditions to raise 3 children to study. Her family life is harmonious and happy, which achieved a typical culture and excellent performance in the locality.
She not only does well in business but also actively participates in the activities of the Women's Union and the Savings and credit group. She always supports the association's funds when organizing cultural and artistic activities and charity events. At meetings, she often shares her experiences with others. Moreover, she mobilizes women to make periodic savings deposits to help them both improve their sense of saving and have capital available to promptly support poor women's members in difficult circumstances.
Vbsp.org.vn
LENDING INTEREST RATE
Poor Households

Lending to poor households
6,6%/year
Lending to poor households in 64 poor districts as stipulated by the Government Resolution No.30a in 2008
3,3%/year

Near Poor Households

Lending to near poor households
7,92%/year

Students

Lending to disadvantaged students
6,6%/year

People in need of loans for job creation

Lending to business establishments owned by war invalids and handicapped persons
3,3%/year
Others...
DEPOSIT INTEREST RATE
Term
Deposit Rate
Overnight
3,04%/year
1 week
3,23%/year
2 week
3,5%/year
Others...