VISITORS







Client success stories
Updated: 2021-10-08 14:42:40
A conscientious leader of Savings and Credit Group
(VBSP News) Participated as a leader of the Savings and Credit Group for 10 years, Nguyen Thi Ly, a resident in group 7, Thuy Luong ward, Huong Thuy commune (Thua Thien Hue) has become a "concrete bridge" between VBSP and local people.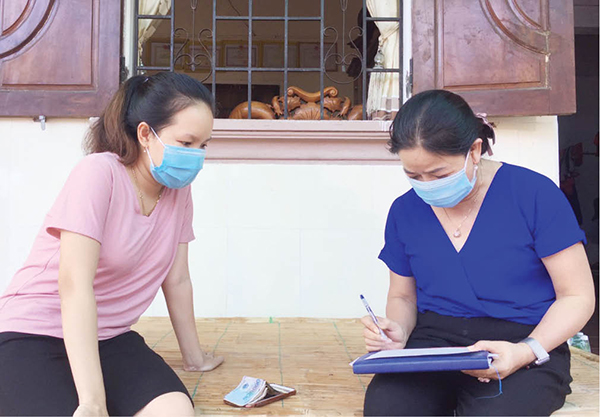 Nguyen Thi Ly (on the right) visits her members to collect their savings deposits
Ly was voted by all of her members to become the leader of the Savings and Credit group. She represents the group to sign a contract with the VBSP branch in Huong Thuy commune. At first, Ly met lots of difficulties in doing her job because of being inexperienced. To tackle these problems, Ly has actively participated in training sessions on loan management, as well as learn from other groups.
Poor and near-poor households that have the demand for borrowing money approach the VBSP loan easily, shared by Ly. However, there is still a growing number of poor and near-poor households. In order to bring equal opportunities for every household to approach the VBSP loans, Ly always learns actively, grasps the guidelines and policy, and takes full advantage of VBSP loans.
There is a group meeting held in 28 of each month to plan for further activities. Besides collecting interests and savings, farming techniques are discussed in the meeting. Lots of business models were built from these meetings. Due to the meeting, the group members are actively borrowing money, instead of hesitating.
Nowadays, there are 50 members in Ly's Savings and Credit group with a total outstanding loan of VND 1,6 billion. All members in the group managed by her strictly follow their commitment to pay interest and monthly deposits. The percentage of households paying monthly savings deposits is 100%. As a result, there is no overdue debt and outstanding interest. Additionally, all the members pay the debt on time.
Not only being a dedicated leader, but Ly also is an ideal example of escaping from poverty. Her family was listed as a poor household. In 2016, Ly approached the loan from VBSP. She borrowed VND 50 million to invest in 200 chickens and 4 cows. Until now, her farm has up to 18 cows. Thanks to her farm, Ly has paid her debt on time, besides fixing her house.
The president of the local Woman Union, Mrs Thuy Luong Hoang Mi, shared her thoughts about Ly. Due to Ly's dedication, all the members are able to approach the policy credit capital. Ly's group is considered as one of the typify groups of economic development. Although Ly met lots of problems when becoming a leader, her works are being recorded by the People's Committee. Ly receives various certificates in terms of her work.
In the context of COVID-19, Ly actively participates in activities related to preventing the pandemic. Thanks to her conscientiousness, the number of poor and near-poor households in the area reduces significantly.
Vbsp.org.vn
LENDING INTEREST RATE
Poor Households

Lending to poor households
6,6%/year
Lending to poor households in 64 poor districts as stipulated by the Government Resolution No.30a in 2008
3,3%/year

Near Poor Households

Lending to near poor households
7,92%/year

Students

Lending to disadvantaged students
6,6%/year

People in need of loans for job creation

Lending to business establishments owned by war invalids and handicapped persons
3,3%/year
Others...
DEPOSIT INTEREST RATE
Term
Deposit Rate
Overnight
3,04%/year
1 week
3,23%/year
2 week
3,5%/year
Others...