VISITORS







Client success stories
Updated: 2021-09-10 14:20:55
Funding for poor farmers to change their lives
(VBSP News) From the preferential loan of VBSP, farmers in Ba Ria - Vung Tau province have developed many effective economic models such as: raising wild boar, growing orchids, grey oyster mushrooms… which contributes to creating regular jobs for thousands of workers.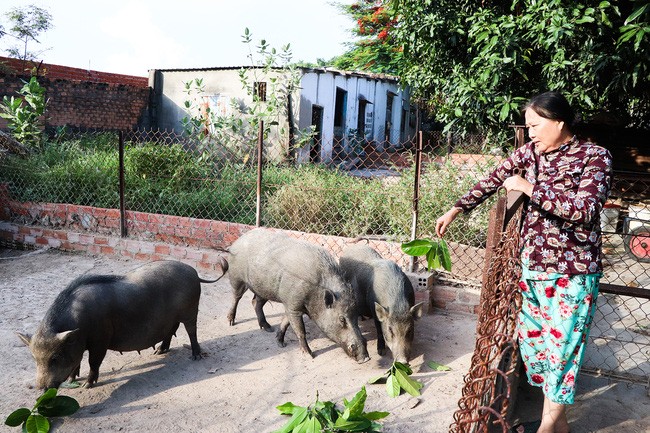 Huynh Thi To Mai's family has an income of more than VND 20 million per month from raising wild boar
Poor farmers have capital to grow orchids and raise wild boars
Through the introduction of the Farmers' Association of Long Hai town, recently, Ms. Tran Thi Than in Hai Binh neighborhood received a loan for business and production from VBSP Long Dien district. Holding VND 50 million in hand, Ms. Than and her husband plans that they would invest in growing vegetables and crops on an area of ​​more than 1,000 square meters in their garden to improve income and stabilize their lives.
Also provided with a preferential loan from VBSP, Ms. Huynh Thi To Mai from Hai Hoa neighborhood, Long Hai town shared that previously, her family was facing economic difficulties and lacked production capital. The family has been supported by the Farmers' Association to borrow VND 40 million from VBSP to raise wild boar and has paid back since 2019. In order to reduce cost, everyday, from 3 am, Ms. Mai goes to Long Hai market buys shredded vegetables and makes use of vegetable and fruit in the home garden, mixed with ground corn to feed boars. As a result, her family's hybrid wild boar meat is delicious and popular with customers.
"Last year, when the COVID-19 epidemic broke out, my family got a loan of VND 30 million from the Job Creation Program of VBSP to maintain the wild boar herd and raise more chickens and ducks. Thanks to the preferential loan, my family's life has improved day by day. The income of more than VND 20 million/month from selling pork and breeding pigs helps my family have a stable life, feel secure to take care of our children's education," said Mai excitedly.
Similarly, Ms. Phuong Ngoc Oanh's family in An Hoa hamlet, An Nhut commune, borrowed a loan of VND 50 million from VBSP Long Dien district to grow orchids in her garden. In the New Year's flower crop, her family got more than VND 80 million from selling orchids. Besides, she also received materials for garment processing to have time to take care of the family and have an extra income. Her family's economy is growing.
Appreciating the effectiveness of preferential credit, Mr. Nguyen Tuong Thanh - Vice Chairman of An Nhut Commune People's Committee affirmed: Over the past time, loan entrustment activities between mass organizations and VBSP achieved many positive results. Especially, in the context of the COVID-19 outbreak, preferential capital has helped poor and near-poor households to have capital to raise livestock, grow crops and do business. Most of the farm households in An Nhut commune effectively use VBSP's capital. Households increase their income to escape poverty, as evidenced by An Nhut commune, there are now only 7 poor households, a decrease of 140 households compared to 2016.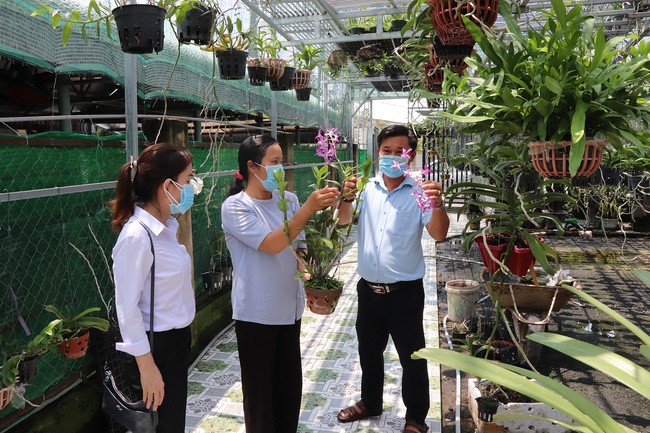 The model of growing orchids of her family Phuong Ngoc Oanh in An Hoa hamlet, An Nhut commune, Long Dien district (Ba Ria - Vung Tau)
Many economic models in An Nhut commune have been effective, such as growing orchids, growing grey oyster mushrooms, growing rice according to VietGAP standards, raising cows and ducks. The preferential capital also contributes to creating regular jobs for 2,803 employees; building hundreds of clean water and sanitation projects…
Duc Thinh
LENDING INTEREST RATE
Poor Households

Lending to poor households
6,6%/year
Lending to poor households in 64 poor districts as stipulated by the Government Resolution No.30a in 2008
3,3%/year

Near Poor Households

Lending to near poor households
7,92%/year

Students

Lending to disadvantaged students
6,6%/year

People in need of loans for job creation

Lending to business establishments owned by war invalids and handicapped persons
3,3%/year
Others...
DEPOSIT INTEREST RATE
Term
Deposit Rate
Overnight
3,04%/year
1 week
3,23%/year
2 week
3,5%/year
Others...