VISITORS







Client success stories
Updated: 2021-08-13 10:48:13
Effectiveness of policy credit in the studious land of Quynh Luu
(VBSP News) Quynh Luu is the northernmost district of Nghe An province, which has a tradition of studiousness for many generations. Over the years, the student loan program provided by VBSP has helped many families with financial difficulties to significantly reduces their financial burden to take good care of their children's education which contribute to human resource training for the period of industrialization and modernization of the country.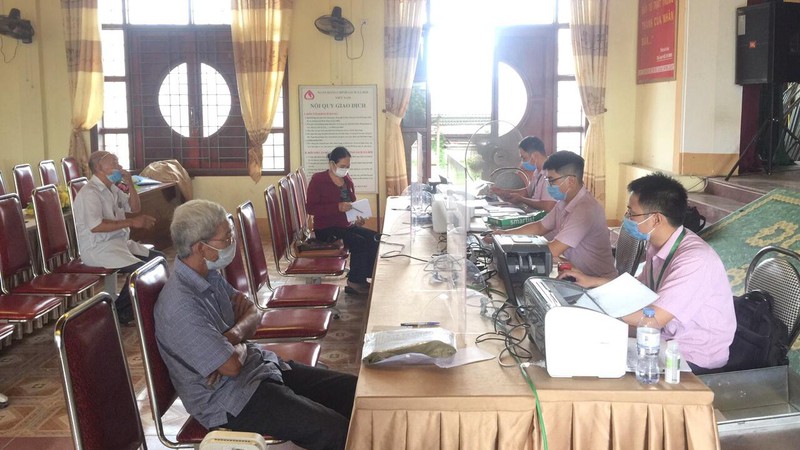 The transaction office of VBSP in Quynh Luu district doing transactions with people in the commune
The student loan program has profound social significance, increasing the trust of the people, especially poor households and other policy beneficiaries, towards the Party and State and has given wings to the dreams of thousands of students in the studious land to overcome difficulties, realize the aspirations of youth to become useful citizens for the society.
Spread the spirit of studiousness to each commune
Quynh village, Quynh Doi commune, although being poor but very studious, so far, the village has 3 academicians, 13 professors, 30 doctors and more than 1,000 bachelors. It has been named "Doctoral village". From the academic tradition of their seniors, the descendants of Quynh village today continue to follow the route of becoming moral, talented persons, contributing to the construction of an increasingly rich homeland. Especially over the past 10 years, thanks to favorable access to policy capital, the learning movement here has been active and achieved great results.
And in the poorest hamlet 5 of Quynh Tan mountainous commune with arid land, people's life is difficult and lacklustre. With programs and projects, especially with policy capital, people have the opportunity to develop agroforestry production, their children have can overcome difficulties to study so that their homeland prospered, contributing to changing the name from "poor hamlet" to "rich hamlet", "university hamlet".
Mr. Nguyen Dinh Tam's family is a shining example of overcoming difficulties and being studious. The family has many children and the economic situation was difficult, but Mr. Tam and his wife have tried their best to farm, plant forests and use rationally the loan from VBSP to raise their children to school.
Currently, his family has 2 engineers and 1 bachelor. Those are 3 students Nguyen Dinh Thanh, Nguyen Dinh Trung, Nguyen Dinh Bao, respectively, who graduated excellently at the Military Technical Academy and Hanoi University of Industry. They now have jobs with stable incomes and send money to their hometown to help their parents pay off the student loan program of VBSP with a total amount of VND 44.5 million.
Chairman of Quynh Tan Commune People's Committee Nguyen Thanh Tam said: As a mountainous commune, there are still many difficulties, but the learning movement here develops very strongly, especially in hamlet 5, always leading in the number of students who pass exams to university, colleges and contributed a lot of bachelors, engineers, doctors with solid careers and enthusiasm for the homeland.
The results are achieved by the important and practical support of policy capital. Currently, the outstanding policy credit in the district is over VND 20 billion, of which the student loan program alone accounts for 12% of the total outstanding loans with nearly 6,000 borrowing disadvantaged students.
Nourishing dreams in the mountains
The fact shows that Quynh Luu is one of the districts with high outstanding student credit program of Nghe An. The learning movement has spread throughout the district, from the mountains to the sea. With a large and divided area, the district VBSP often has to try to cope with a large workload to lend hundreds of thousands of loans.
However, upholding the responsibility of being a "fulcrum", the bank has transferred policy capital to poor families who are studious. Credit staff here always make efforts, dedication, and effective coordination with the authorities and mass organisations at all levels to organize effective implementation of the student loan credit program.
The new school year has come with open doors from colleges and universities waiting for the children of farmers in Nghe An. The transaction office of Quynh Luu district in particular, and the branch of Nghe An province in general, continue to accompany poor families who are studious, so that the policy capital from this humanitarian program will serve as a "fulcrum" for hundreds and thousands of students realizing their dreams of flying high, flying far, creating abundant human resources for their homeland and country.
Huu Thinh - Minh Du
LENDING INTEREST RATE
Poor Households

Lending to poor households
6,6%/year
Lending to poor households in 64 poor districts as stipulated by the Government Resolution No.30a in 2008
3,3%/year

Near Poor Households

Lending to near poor households
7,92%/year

Students

Lending to disadvantaged students
6,6%/year

People in need of loans for job creation

Lending to business establishments owned by war invalids and handicapped persons
3,3%/year
Others...
DEPOSIT INTEREST RATE
Term
Deposit Rate
Overnight
3,04%/year
1 week
3,23%/year
2 week
3,5%/year
Others...